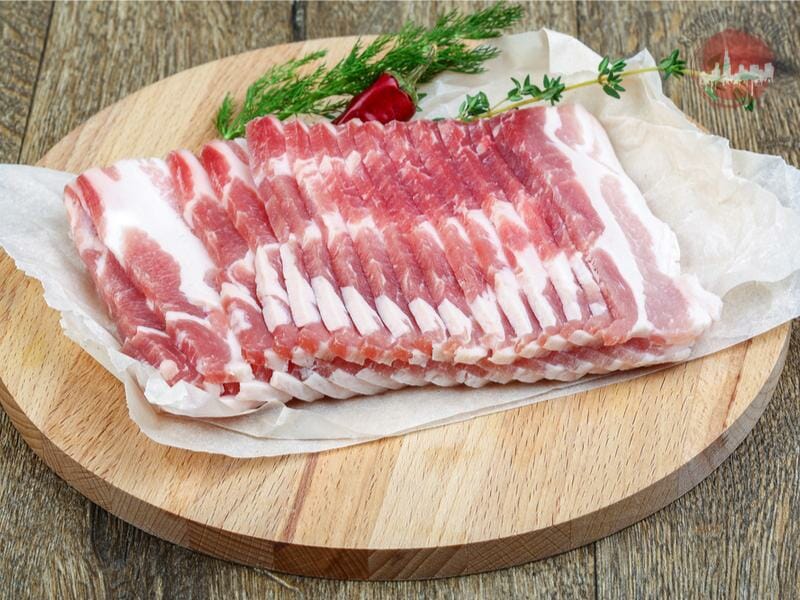 Start with a practical thick-cut bacon slab
Dry-cured bacon is the best for taking along for outdoor trips. On average a dry-cured slab can last for up to 10 days if you take it on an outdoor trip. You will need to slice it yourself but this gives you plenty of ready-to-cook bacon any time of the day. With larger slabs, you can make use of skinning knives that can slice-off the perfect pieces you want. To store your bacon you only need to wrap it up in a paper bag to control moisture.
Open Fire
If you have outdoor experience already this is a no-brainer, so you probably have a griddle on hand. If you don't, other suitable methods work just as quick. The obvious method is cooking it while hanging it over a stick. If it works so well for marshmallows, then why not use it to cook your bacon? These strips can alternately be skewered onto long shish kabob-like sticks so there's less risk of landing into a campfire.
Perhaps you've seen the paper bag method that does a quick and easy job if you want to enjoy cooked eggs with your bacon. The trick to this is layering strips of bacon at the bottom of a paper bag around the lowest edges. This keeps the egg from soaking through completely. You position the bag at the edge of your fire or place a sheet of thick tinfoil over smoldering coals and put your bag on top.
Alternatively, you can lay strips of bacon onto chef foil (the extra thick kind) and lay strips to cook over these coals too.
Cooking Racks
Bacon that's cooked on a wire mesh or a portable cooking rack is made easier if you don't have a pan or griddle. You can use the cooking racks used for cooling cookies and is small enough to fit in a backpack. There are smaller more portable metal cooking racks that are made for cooking bacon and even collect the grease too. This keeps smoke from the bacon grease at a minimum.
Bacon oven racks are also ideal for this since the folding rack fits inside the grease tray. When you're done, it can be packed away with the rest of your cooking supplies.
Griddle or a Pan
Nothing is better than the taste you can get from cooking bacon in a pan. It's great on sandwiches and in burgers if you've brought your favorite supplies. One item that always comes in handy to keep your bacon from getting too wrinkly is a grill press, here's test results of top selling ones. Even when you're up in the foothills, cooking doesn't have to be compromised. Meats can be cooked faster using a grill press, and that's the point when you're hungry.
You see these used on cooking grills at restaurants that cook-up nice and flat hash browns and burgers. They work well for bacon since the fat renders down and strips get shriveled-up. A decent-sized grill press keeps your bacon flatter but isn't limited to other types of cooked meats either.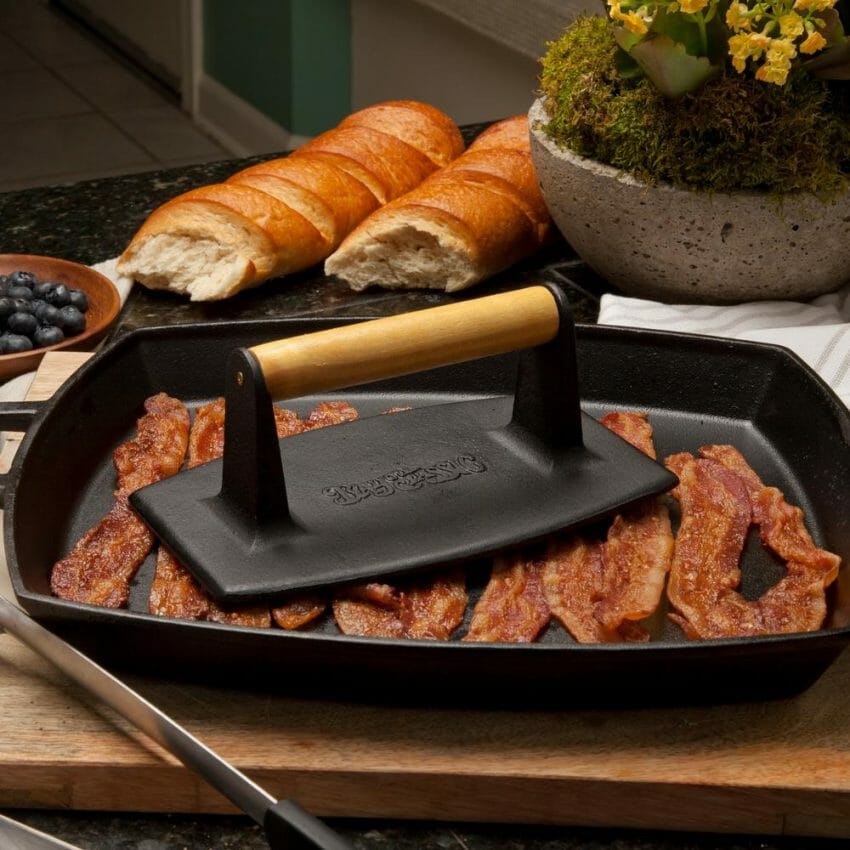 Outdoor Cook
No trip is complete without adding some BBQ to enjoy smoked wild meats. Some dry-aged bacon adds plenty of tasty flavors if you include it with venison dishes. It can be pretty useful if you grind-up venison and bacon to make venison burgers! Just be sure to bring along a portable meat grinder that can be attached to a decent-sized tree branch. Ideally, you can wrap bacon around chunks of venison to making poppers for campfire roasting.
Just put them on kabob skewers and make your wild game taste even better. Bacon can also be diced-up and added to venison stews. Because of the flavor profile, it removes the gaminess of venison and adds the appropriate amount of fat. Because dry-aged bacon is so versatile, it can be used in all your meals. And to be honest, who doesn't like good comfort food like bacon.
No matter where you happen to take your next adventure, be sure to bring enough dry-age bacon with you.