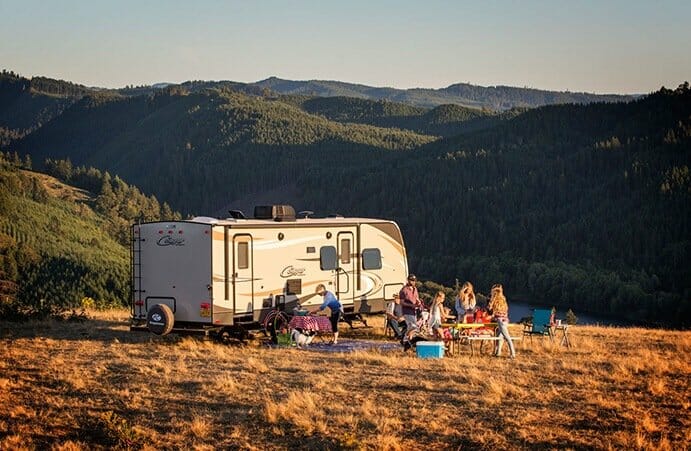 Are you considering going hunting with an RV?
It's a great idea and very much doable, although there are conditions that you must fulfill if everything is to go smoothly. The outdoors are amazing, but we must be careful to avoid unfortunate incidents.
Well, if it's your first time on an RV, ensure you know how to drive it; train if necessary. Also, take the time to familiarize with your RV; it will come in handy when you're stuck in the middle of nowhere.
So, are you thinking of going hunting with your RV? The following tips will guide you to get the best out of it and have a comfortable time.
The Location
What's your destination? There are parks and spots dedicated to RVs. Familiarizing with such locations is essential. First, it will save you a lot of trouble just in case you go to prohibited spaces. Secondly, the right area will offer a more comfortable and exciting stay.
The perfect location will make your hunting trip more successful. Plus, you can plan your itinerary better when you have the site in mind. For example, you can check the weather forecast to prepare your clothing and foods to carry with you.
A Good Mattress
You'll be sleeping in the wild, are you well prepared? Just because you're not resting on your home bed doesn't justify compromising the quality of your sleep. There are mattresses available on the market today perfect for your RV.
Like purchasing any other bedding, the RV mattress must complement your sleeping habits for it to give you the best sleeping experience. It should have the right firmness feel, sleep cool, supportive and cozy. It also needs to be the perfect fit, a size too big or small can offer some discomfort.
You'll be handling a firearm, and your safety is of the highest priority. Handle guns when you're at your best to avoid accidents. Being at your best requires having sufficient rest so that you'll be alert the next day.
Come Prepared
Preparation is crucial for your trip. The majority of us find this step too tasking while others will take it for granted. It's the line that stands between you enjoying your hunting trip or it becoming a total disaster.
I find that when I organize the tools that I'll need or check out the map to my destination, things turn out better. In case of a flat tire, do you have an extra wheel or other equipment you'll need to change the tires? These are just a few examples of the things you'll need.
Plan to the Smallest Detail
Preparation and planning go hand in hand. With planning, you can create a checklist to help you remember all the items you'll need for the trip. Plan to the smallest detail to avoid unnecessary surprises. Budgeting also falls here.
Whether you're hunting with a bow and arrow or a gun, there are several locations which will be suitable for you to go with your RV. It will be just as fun as staying in the wild with a tent. If you get tired in the middle of your excursion, you can take a break in your RV.
I've identified four tips that have helped me in my previous RV hunting trips, and which will also guide you to get the most out of your trip. Have fun on your trip.