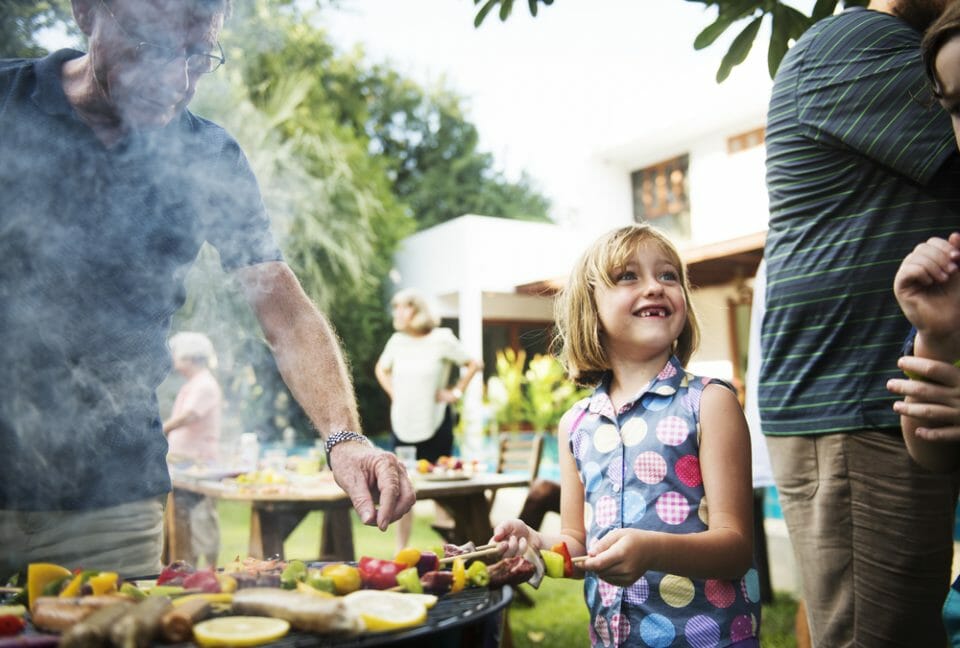 The sun at its peak, the school's out and the summer is in full swing. You must be excited to spend this vacation relaxing and basking in the sun and what a great way to enjoy summer than having your meals outside.
After all, is it really summer if you don't have at least one BBQ party in your backyard.
Read on to find out some of our best times for a party as smooth as a summer breeze. So get your best shades, turn up the music and get ready to party.
Plan your theme
Picking a party theme is important for deciding the menu, decorations, and invitations. Set your date and send out invites ahead of time so that guests can free their schedule to attend the party.
Early Prep is Key
This especially applies to food. You will save a lot of stress if you prepare your food ahead of time. Prepare salads, appetizers the day before and keep all ingredients for sandwiches ready so that you can prepare them quickly.
Set up your decorations the day before so that you can make any last-minute adjustments if necessary.
Seating Arrangements
Keep a long table to place food so guests can easily pick food as they go. Cover your table with a classic checkered cloth or coordinate colors according to your theme.
Make sure to have folding chairs, picnic blankets, rugs and cushion for a hearty conversation spot.
For a rustic vibe, you can also opt for benches with a long table. See what we are talking about at patiofurniture.com.
Spice Up Your Cooler
What is a summer party without cool refreshments to fight the heat, right?
Instead of setting up bottles on the table, fill a wheelbarrow or plant pot with ice and place your bottles there. Another option is to keep bottles with made–of-ice buckets to give a summery look.
Alternatively, you can deck out the drinks in a bar cart. For sodas, take it up a notch by decorating cute crates and attach patterned straws.
Let the Guests Know the Menu
Set up a charcoal black painted plywood board and write the menu for the day. Let guests know beforehand about the menu and ask them about any dietary restrictions.
To keep everyone happy, have vegetarian, gluten-free and dairy-free options.
Appetizers
Some great appetizer ideas are greek pasta salad, lime wings, tulip tomatoes, veggie rolls, cubed fruit with feta, grilled asparagus are great crowd-pleasers
Try to make appetizers bite-sized or your convenience.
Fire up the Grill
The star of the party is BBQ meat so you must ensure that you use the best charcoal smoker grills for best results. Before firing up the grill, stamp on or write down medium, rare or well done on cut-up parchment paper.
Then place them on each plate, out the meat in corresponding plates after grilling. This way guests can choose according to their preference and you will be a stress-free host.
Set up a cute condiments section giving a wide variety of options in labeled tiny buckets. Using popsicle sticks as labels which serve doubly as a spreader is also a great idea.
Besides the usual cheeseburger, the grilled chicken you can also keep seafood options like grilled shrimp, scallops, salmon to bring variety.
Sweet tooth
After all the meat, guests would definitely crave sweets. A handy ice cream tip is to freeze ice cream scoops in a cookie sheet and roll them during dessert time. This way you will avoid messy, melted ice cream.
Blackberry cobbler topped with ice cream, banana split kebabs, popsicles are great dessert options that will leave guests licking their fingers.
Stay Hydrated
Keep an assortment of drinks to battle the summer heat. The classic lemonade never fails. Other options include alcohol-free fruit infused water, mint juleps, blackberry mojito, sangria.
Fruit slushes are also great to cool refreshments. You can also go fancy by setting up a watermelon keg.
Add hibiscus syrup to tall glasses of iced tea for a lovely red tinge.
Décor
For table décor set up a floral tablecloth linens over classic checks. Welcome guests with floral napkins or butterfly napkin rings or a simple flower stem at their seats.
Decorate the table flea market birdcages with a candle-corralling centerpiece, or fill them with flowers. A cheaper alternative is dipping dollar store candles in colorful acrylics. A simple centerpiece can be made from potted plants wrapped in napkins with kitchen twine on a tray.
A suspended centerpiece or overhead pampas grass makes a dreamy atmosphere.
Hollowed out pineapples and watermelons make beautiful vases for your table.
Entwine porch railings with Christmas lights with muffin cups punched over the light bulbs for a flowery look. Make simple banners using leftover party napkins or watercolors.
Keep the Essentials Basket Handy
Ensure that your guests stay comfortable by keeping the necessary amenities in a picnic basket. Bug spray, sunscreen, hand wipes, fans and for a chilly afternoon keep light blankets.
Kid Entertainment
"Mom, when are we going home?" are words no host wants to hear. Keep the young party-goers entertained by having fun activities throughout the day.
Fill up a kiddie pool with water mixed with gentle dish soap and let the kids take turns dipping in giant bubble wands. Alternatively, slowly pull a hula hoop around a kid in the middle of the pool to surround them with a giant bubble.
Giant Jenga, water balloons, cornhole are fun games to keep them occupied.
Say no to the Bugs
Nothing is as annoying as having bugs on your food. So place pretty pots of herbs near your food.Natural insect-repelling plants like lavender, mint, rue, and tansy ward off insects whilst brightening your tabletop
If you have a fire pit, burn some sage to repel insects at night and enjoy the aroma.
Remember to cover drinks with patterned cupcake liners and pack side dishes in single-serving lidded jars for a pretty and practical solution. Spoon individual portions into the containers, then set out one for each guest.
Prepare Your Summer Soundtrack
What is a party without music and summer is the best time to sway with the beat. Make a playlist with upbeat songs suitable for all ages.
Light it up
Your BBQ party doesn't have to end once the sunsets. Keep the party going after sundown by lighting up your fire pit. Hang up string lights over the fences or around the deck. You can hang or cluster lanterns on the ground for an ambient look.
Make sure there is adequate light near the refreshments table so that guests can see them at night.
Games and Entertainment
BBQ parties are great excuses for games. Keep a pack of vintage cards ready for the post-lunch slump. You can also set out Frisbees, Wiffle balls, badminton rackets, and croquet.
If you have an inflatable pool, opt for pool games like water polo for an enjoyable afternoon.
For your nighttime fun, set out blankets and cushions and marathon your favorite movies with family and friends. Don't forget the popcorn!
Conclusion
After all the hassle of the party, you want to ensure that guests don't litter everywhere so get colorful, enameled, labeled buckets to make cleaning easier for you. With these tips make your next backyard BBQ party something to remember for years to come. Happy summer!