A crossbow is basically a bow and arrow with more technical and modernized features. If a bow and arrow was used by prehistoric people as a tool for war and to gather food, the crossbows of today are commonly used for hunting. Using a crossbow allows hunters to have quick accuracy and remain motionless while they're hunting. Depending on the type, crossbows also improve the shooting range and aim of hunters. Aside from hunting, crossbows can also be utilized for competitive sports, as a tool for practice, or simply to have fun. However, buying any type of crossbow doesn't guarantee that you'll be able to experience all of its benefits right away. Buying a crossbow is similar to making any other important purchases – you have to consider a lot of factors first so that you can get your money's worth.
Crossbows now come in a wide variety of designs, models, and styles, each having its own set of pros and cons. With the number of options, you can choose from, you might become so overwhelmed that you end up buying a crossbow that is either inappropriate for your skillset or one that doesn't meet any of your expectations. You can steer away from this direction by considering the following factors before buying:
Recommendations and reviews: Buying a crossbow for the first time can be challenging. Aside from the options available to you, this purchase will entail the cost. Realizing after the fact that you bought a crossbow that doesn't suit your needs and preferences is the last thing you want to worry about. To narrow down your search and ensure that you're getting value for what you're paying, ask for recommendations from friends and family. If crossbow hunting is a tradition in your family, ask them about the best brands in the market. If your friends are fond of competing with crossbows, inquire if they know a particular business that sells high-quality and durable crossbows.
Aside from your own social circle, you can also use the World Wide Web to search for reviews of popular crossbows. You should also take the time to review a brand's website, as well. The information you get from these platforms can help set your expectations.
Primary use: As mentioned, crossbows can be used for many reasons. Before heading out to scout for your first crossbow, determine how and where you are going to use it. Will you use it for hunting with your friends and family in the woods? Will you use it for an upcoming competition? Or do you just need one for fun? The use of the crossbow should be one of the first considerations before buying. A crossbow designed for hunting sometimes can't be used for just for fun, and vice versa. The weight and size of the crossbow vary for each use.
Speed: Speed is an important factor when it comes to crossbows. You'll never become a better hunter if your crossbow works too slow, right? If you want to own a crossbow that is fast and powerful, opt to buy a compound bow. A crossbow that has recurve bows doesn't offer the same fast features because of its design. The bolt that you use with your crossbow can also impact its speed. Make sure that you're buying a crossbow that effectively handles the bolts you're eyeing to use.
Using the wrong bolt with a certain crossbow will adversely affect the quality of your shot. This can even cause damage to your crossbow. To avoid experiencing either of these scenarios, carefully read the list of bolts suitable for a crossbow. Every manufacturer provides this document.
Noise: You should be aware of the noise that a crossbow makes – especially if you're planning to use it for hunting. Noise can easily distract any animal, making it hard for you to hunt properly. Crossbows equipped with parallel limbs produce less noise compared to other types of crossbows. This is an excellent choice for hunters.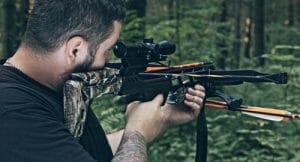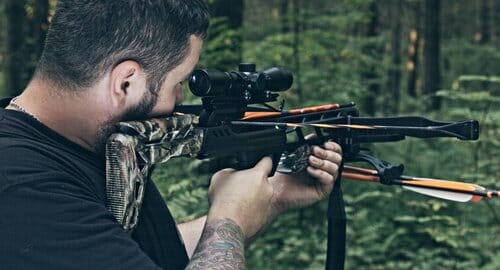 Weight: The weight of the crossbow can have a significant impact on its performance. A heavy crossbow is better for hunting as its weight can keep the crossbow in place. A lightweight crossbow, on the other hand, is a more suitable choice if you're going to move around or hike a lot with your crossbow. That way, the weight of your crossbow won't get in the way of any of your activities.
Frame and structure: Buying a crossbow is similar to buying a new pair of shoes – you need to buy the option that fits your frame and structure. Comfort should always be on top of your list when buying a crossbow because, regardless of how expensive or innovative a crossbow is, if it doesn't fit you perfectly, you'll still end up with inaccurate shots and disappointing results. Buying a crossbow that fits your frame and structure doesn't only improve your shots, but it will also provide comfort.
Be Wary When Seeking Perfection
Usually, buying your first crossbow would mean buying the "perfect" crossbow. This mindset can become your motivation to start and continue your search. But keep in mind that the "perfect" crossbow doesn't come in one model or one style alone. Your friend's definition of a perfect crossbow might be different from yours. So when you're buying your first crossbow, pay attention to your abilities, dimensions, goals, and needs. Make sure that the crossbow you buy fits your preferences, not someone else's. If you want to buy a new compound bow, check bowsandarrowspro.com.