It is stressing to work in a disorganized kitchen. I know most of you agree that it is chaotic to look for the cooking utensils when preparing a meal.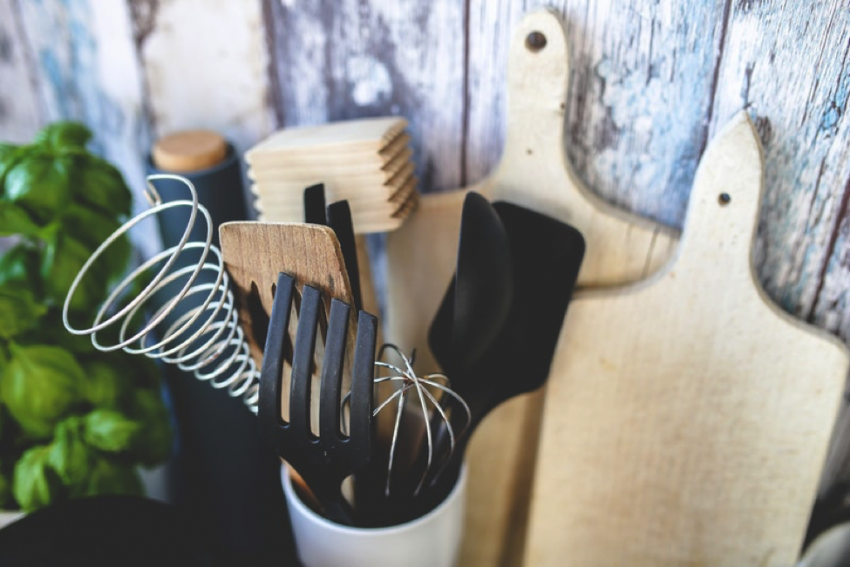 Having an easy way of spotting the items you need in the kitchen saves you time and stress.
We definitely want to have our cooking tools within reach but keeping the kitchen orderly is the main challenge. Kitchen drawers are mostly cluttered with many utensils ranging from wooden spoons to whisks.
So how do you make your kitchen easy to move around by having your utensils organized?  Count yourself lucky today because I am going to give you 7 smart ways to organize your cooking utensils.
Fix shelves and drawers
Drawers provide a good solution for improving orderliness and smartness in the kitchen.
Install drawers at the bottom of the kitchen cabinet to help you create space for storing your kitchen tools. Drawers are helpful when it comes to reaching the back side of the cabinet easily.
Drawers are also suitable because you'll avoid digging in your cabinets to access your cooking utensils. Instead, you just pull out the drawer and pick out your tools.
You can also create extra spaces or make most out of your drawer spaces using diagonal drawers. They will give you space as they add extra length to help you store your cooking utensils in order.Installing shelves in your cabinets create extra space. Adding more shelves will help you create easily accessible small stacks.
Put specific utensils in a designated drawer and cabinet.Finding cooking utensils can be a big headache! Designating each cabinet, drawer and a shelf for specific kitchen tools can ease the unnecessary stress. It will also ensure an orderly and smart kitchen.
It's easy to relocate cooking tools in the cabinets and drawers without messing up the kitchen. Always make sure you place items you use frequently near the front of your cabinet. This way, it will be easy for you to reach them without disarranging others.
Storing similar cooking utensils at the same place helps not only to find them quickly but also makes the kitchen look smart.
Use hanging hooks
You can decide to put hanging hooks on the walls of your kitchen cabinet or inside its doors. You can do this by placing your hooks on either above your kitchen sink or behind your cookers.
Hanging hooks can help you store your cooking utensils smartly in the kitchen. They can hold items firmly and neatly. For instance, you use them to hold your pans, towels, measuring jars, and decorations.
You may also use a pegboard on the wall and use it to hold items. It helps you clear cooking tools such as pans and pots in the cabinet creating extra space to store other tools.
Use a lazy Susan
A lazy Susan is essential in many ways. It helps keep your utensils neatly and you won't have to dig to find the items you need. A lazy Susan can be kept either in a cabinet or pantry.
Installing a lazy Susan under your kitchen cabinet can help you to hold and arrange your cooking utensils easily. It can be turned with ease to access any item that you need.
So, consider installing a lazy Susan and you say goodbye to digging through your drawers and add tidiness in your kitchen.
Install a magazine holder or file sorter.
Placing a file sorter or magazine holder in your kitchen cabinet is essential to help you arrange your cooking utensils in an orderly manner. It helps you store the tools upright. Your cabinet will hence be neat and all tools will be within your reach.  You can use a sturdy file sorter. It will help in arranging cooking tools uprightly such as lids and baking sheets.
Magazine holder and file sorter make your stored utensils look tidy.
Use kitchen trays
You can arrange your cabinet using small trays that are easy to remove. They will help to keep your cabinet straight. Trays can be a good solution if you frequently need to access the back of your cabinet.
You won't have to dig and clutter other cooking utensils. It is advisable to use small trays. They can be removed easily and replace when looking for items. Use of a smaller tray than your drawers can help you use the surrounding spaces. It will help you organize utensils such as chip clips, measuring cups and other tools neatly.
Using a towel bar
The other efficient way of organizing your cooking utensils is by installing a towel bar. You can also fix a shower curtain hooks. These can hang your tools neatly.
It is easy to fit curtains on the wall or inside the doors of your cabinet. You can then use a towel bar and canisters to hold various kitchen tools and utensils.
These smart ways will ensure your utensils are well organized. They will help you to keep your kitchen clean and ensure you don't have cluttered items all over.
Article Written By; Mira Gates