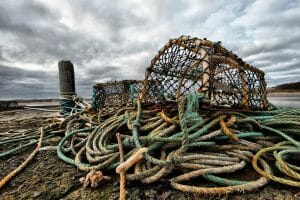 So, you want to be a master crab's man? But unlike every other neophyte wadding down to the beach in a fresh pair of whatever they deem to be fisherman's gear, you want results! You want to bring home a great haul, not just the expectation of one. But to do that, to stand out from the crowd, you have to be smarter than the average bear. It's not enough to intend to be better than everyone else, you have to be prepared. You, my intrepid friend, have to be better informed. So, let's get started, shall we?
So when is Crabbing season? When exactly is the best time to go out while maximizing the probability of a great catch? According to The Crabbing Zone, the best time is usually around mid-summer. There are a number of reasons for this, but it's primarily because crabs tend to go dormant during the winter time. Generally, this is between the months of November till the end of the springtime in May.
During the winter time, the crabs don't actually hibernate, but they borrow at the bottom of the ocean, or whatever body of water you choose to do your fishing in and become a lot less active. This means it becomes very difficult to catch crabs during the winter and early spring months. But just because it's the middle of May, doesn't mean that you're more likely to catch more crabs. Crab activity is actually more closely related to the water temperature than the time of year. In fact, the best fishermen will often monitor both air and water temperatures in their chosen fishing locations in order to pinpoint the best times to fish. Some commercial watermen will even delay starting their operations for up to a month or more in order to
maximize profitability in the shortest amount of time. Also, be aware that sometimes water temperatures can stay depressed because even though its warm during the day, nighttime temperatures remain too low for the overall average water temperature to start rising. So If the water stays cold due to an extended winter, it doesn't matter what time of the year it is, you are going to struggle.
Here are a few final tips to help you along before we go:
Regularly check the water and air temperatures around your fishing area before you start going out looking to catch crabs.
You always want to go out crabbing when the tide is coming in. It's best to try and time it so that when you are deploying your traps, the tide is still coming in. That way all your traps are already baited and out in the water when it is high tide. This is the best time to catch crab. So go online and look up a tide schedule for your area.
In some areas, state biologists actually conduct surveys and studies of the crab populations in that area to help and regulate the local crabbing industry. These studies can be a wealth of information for the more determined crabber. So why not look them up in your area and see what you can learn?
And that's all folks. A quick and easy guide for the beginner crabber. There is a lot more to learn so keep at it. Good luck and stay safe, but most of all, happy crabbing!