Every deep sea fishing excursion is a new adventure for both the experienced fisher and someone fishing for the first time. Enjoying the open ocean as you explore different areas is relaxing and rewarding.
While it does require a different skillset than any other type of fishing, there are plenty of resources online to guide you through a transition. Websites like Fishstainable are a great starting place to learn about the differences that come with in deep sea and all kinds of fishing in general. However, we're going to help you start preparing for your trip with some pointers.
When going deep sea fishing for the first time, there are a couple key things to remember. These four tips will prepare you to travel across the vast ocean and help you bring in a big haul even on your first attempt.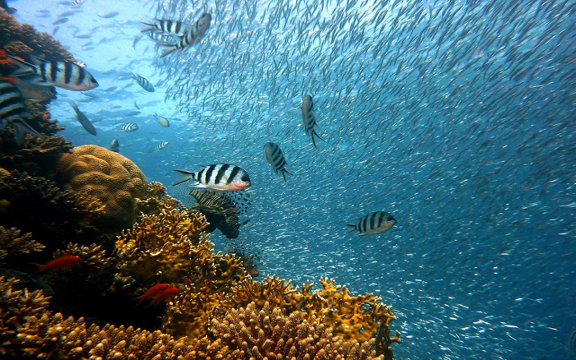 1. Pick the Right Spot
One of the main differences between deep sea fishing and other forms of fishing is it can be harder to find the right spot in the open ocean. While everything may look the same from the surface, the structures under the water determine if you can find fish there. While reefs or shipwrecks are known hot spots, they often attract smaller fish to the area.
Another way to find a prime location is to follow the birds of the area. Seagulls and herons are great indications that there is a school of fish nearby. While most of the fish in these areas will be small, there is also a good chance that there are larger fish hunting there as well. Track the small fish and use these schools to your advantage.
2. Bring a Local
When traveling out into the open ocean it can be hard to find reefs or shipwrecks even with a finder or map. The best solution for navigating quickly to the best spots is to find a guide. This can come in the form of a service willing to take you out and show you the area, or just a friend who is more knowledgeable about deep sea fishing in that part of the ocean.
Either way, having someone around who has some experience in the area will help you get results.
3. Get the Best Equipment
Switching to deep sea fishing may not seem like that large a jump, but there are some specific equipment changes you may need before sailing off. If you are trolling for big fish or going bottom fishing, there are a few minor differences for how you should equip yourself:
The best equipment for trolling:
6ft offshore fishing rod
Live bait
Hooks that are 5/0 or 7/0
If you are going to try your hand at bottom fishing:
6ft bottom fishing rod
Cut bait
Fish finder
7/0 circle hooks
4. Prepare for Anything
Like any other fishing trip, preparation is key. While you will need to bring the right equipment, you will also need a few other things for this kind of trip.
Be prepared for:
Possible motion sickness
Being out in the sun for hours
Broken rods
These factors are common for most fishing trips, but when you're out in the ocean, there's no way to come back to shore without ending the trip abruptly.
Final Thoughts
The most important thing to remember when fishing anywhere is to have patience. While deep sea fishing may be an entirely new adventure, this does not mean it is without frustration. Being prepared, having the right equipment, and bringing someone who knows the area are easy ways to secure a good fishing trip.