If you've never been camping before and want to dive right into purchasing equipment, but not sure where to start, read this article. Or maybe you've been camping a couple of times with friends or family and want to venture out on your own. Even if you've been camping before, or have even purchased a tent, this article will tell you exactly what you need to know to choose a great first camping tent.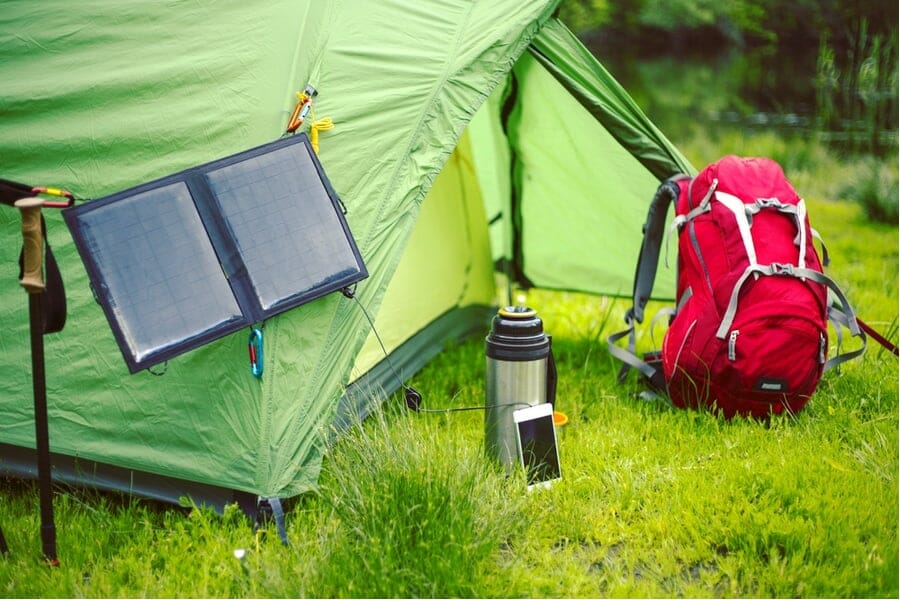 Should You Buy an Ozark Trail Tent?
Before we go any further, we need to talk about Ozark Trail Tents. You can read Ozark trail tent reviews for yourself, but here's the skinny: Ozark Trail Tents are a solid, middle-range tent for the budget-savvy camper. If you're just starting out, or only anticipate camping a few times per year, then definitely consider purchasing an Ozark Trail tent.
They aren't the top-of-the-line Black Diamond or Big Agnes, but if you're not wanting to be the next Bear Grylls, then they might be perfect for you. They'll give you good value for your money. Some of the positive features of an Ozark Trail tent include ease of setting up, spacious interior, heavy canvas floor, plenty of headroom to stand up, and relatively lightweight.
Furthermore, even if you have a huge family, and will need to purchase an eight- or ten-person tent, you won't break the bank. Some caveats of buying the Ozark Trail Tents are the following. First, Ozark Trail tents tend to be made of nylon, which is a cheaper material. Second, the poles are made of fiberglass and not metal, which can be susceptible to breakage or disfigurement. Finally, Ozark Tents don't include a rainfly, which is essentially the tent's umbrella.
So, with that in mind, let's get started.

What to look for when choosing your first camping tent?
First, approach purchasing a tent with the mindset that you are making an investment in outdoor diversion and fun for years to come. You don't have to break the bank to get a good quality tent, but neither do you want to skimp out and have something collapse on you in the middle of the night. A good tent will protect you from the elements, weather, insects, critters, and other campers (seriously, how long can the guy at the campsite talk your ear off?).
Know thyself—and also know your budget. That way, when you start analyzing features, you won't be tempted to shell out something way overpriced for little value. If you're a beginner camper, start out on the lower end of the scale–$50 is reasonable to begin.
Once you've decided on a budget range, ask yourself what kind of camping you'll be doing. If you're a beginner, and you plan on rolling up to the campsite in your car, plopping down, and pitching right away, you don't have to worry so much about weight. If you plan on doing some hiking, purchase a tent that is four pounds or less. (Most likely less—a little weight puts a lot of strain on your back after trekking all day through the forest.)
Next, determine when you will be camping and what kind of weather there will be. If you're a beginner, you will probably not be camping in the snow; if you opt for the temperature-friendly spring and summer, then you'll need a tent with good ventilation. Decide whether you need a three-season tent (spring, summer, and fall) or four-season (again, optimal for winter-weather). For most campers (especially novices), three-season is the way to go.
Now, think about how many people will use your tent. Usually, a good rule of thumb is bringing a tent big enough to accommodate one to two people more than the size indicates. In other words, if four people are planning on coming, it's best to purchase a six-person tent. This will allow everyone to have space for their personal belongings and to give everyone a little bit of breathing room. (Unless you want to be squished up.) Don't forget to consider any pets!
Finally, let's take a look at some of the essential features of your tent. Don't worry if you get lost—you can always go to your local outdoor store and ask the experts.
Tent height
Tents are usually measured from the ground to the topmost part (or "the peak"). Another good rule of thumb is to subtract 2-3 inches from the stated height on the packaging. Determine whether you're fine with a shorter tent (three and a half feet is good to just sit up in the morning), or you want to be able to stand up without stooping or hunching.
Tent material
arguably one of the most important aspects of the tent is the quality of the materials. Look for a tent with folded seams and double stitching. Test drive the tent in the store—gently pull the material away from the seam and see if you can see through it. If you can, this means the tent will leak, and no one wants to be a soggy camper.
Single-wall or double-wall
while single-wall tents are ideal if you want to save weight, double-walled tents help control condensation (from your own body heat and breath).
Rainfly
The rainfly is essentially the tent's umbrella. This key component will give you an extra layer of protection against the elements.
Tent Poles
Tent poles usually are made of fiberglass or metal. If possible, opt for metal, even if you don't plan on camping too often. Even better if you can find lightweight aluminum. They're sturdier and won't bend or snap in inclement weather.
Guy Lines
Guy lines are essentially a tension wire designed to add stability to the tent. You should look for loops in the middle of the tent to attach these wires. You don't want your tent to fly away like Dorothy's house in the wind.
Noseeum meshing
If you've ever been attacked by those tiny, orange devils, also known as "noseeums," then you know how vital proper meshing is.
Zippers
Even if you're a newbie, you'll be zipping and unzipping your tent a lot, so look for good, sturdy zippers. Preferably ones that one tear up your thumbs if they're too small.
Roof vent
A roof vent is nice if you're planning on spending the night with a lot of people. Opening the flap in the top will help circulate the air and keep everyone refreshed.
Stake loops
The key here is that there should be stake loops at the corner of your tent and in the center of each side. Plastic ones are liable to break, so avoid those.
Tub floor
The tub floor is the part that will separate you from any moisture or water in the ground, so make sure to get water-proof material.
That's it! With this article in hand, you now have the tools to correctly analyze the tent you want, according to the specifications that you need. Just remember—when it doubt, ask. Chances are, everyone has had the same question as you.