Camping gives a person the freedom to pitch a tent or build a bivouac, somewhere in the great outdoors, and the US has plenty of options.
Sometimes there is nothing greater than leaving the city behind, and heading off to somewhere unknown to you, with no one else around.
Unless you are planning on completely roughing it, and some like to do so, you may want to take a few accessories with you. A few home comforts perhaps, or some things to make your experience a little easier.
After all, not everyone wants to forage for edible berries and mushrooms. Some want to enjoy a hot and tasty meal around their campfire. One way to do this is to use solar-powered devices, so that there is no need for electricity, or to be on a designated campsite.
Why is solar power the way to go when camping?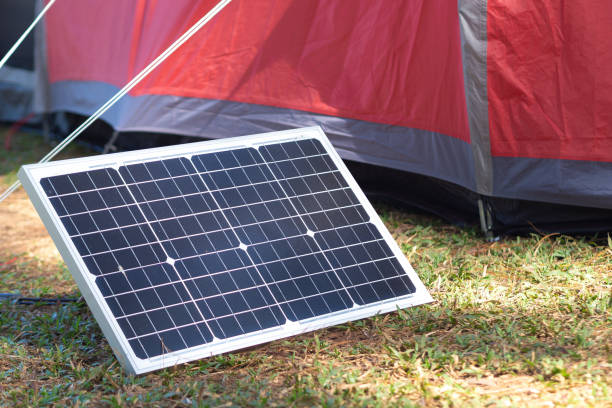 For some, camping means going to a campsite with all the amenities this entails, such as shower blocks, and an on-site shop.
For others though, it means getting away and going off-grid. Wild camping, or dispersed camping, means being away from designated sites and having no access to running water or power.
There are many areas in the US that this type of camping is allowed, and you can check with your local areas for guidelines. For instance, the Washington Trails Association gives tips on dispersed camping for that region.
Solar power gives you some extra comfort should you want it when you go wild camping because it gives you an alternative energy source.
What are the best solar gadgets for camping?
When it comes to solar power camping tools and gadgets, there are many. Some are more useful than others. These are some of the best and most useful ones, and maybe one or two will surprise you.
Never have a dead phone battery
Retaining a means of communication is important for any hiker or camper. Many people have gotten themselves lost or injured, and been unable to call for help.
Solar power banks are a convenient way to keep a ready supply of power for your smartphone, or alternatively, go bigger. There are many solar backpacks that can suit a person's needs and budget, and they can be used to keep devices fully charged.
Keep the lights on
Every camper has experienced batteries failing on them, or the realization that they forgot to pack spares. Solar-powered camp lights have no need for batteries, which means you will have less waste.
One essential item to take camping is a flashlight. There is a range of solar flashlights on the market now, and some of them last ten hours or so. The surprising thing about some solar flashlights is how strong they are, and their added value.
One particular solar flashlight has a range of 700 feet, and some of the others have added functions.
You can expect to find solar flashlights with beard trimmers installed, safety cutters, hammers, magnets for affixing, power banks, and SOS and emergency modes.
Always have a cold beer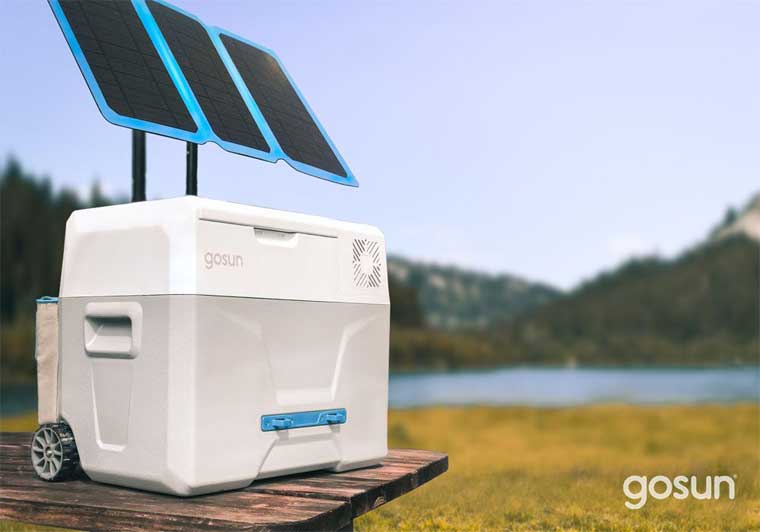 Another reason to have a solar flashlight is to help you root around in your ice cooler to find a cold beer. The problem with most coolers though is that they can't keep food cold forever.
Any guide to choosing the best cooler has to include one that is solar-powered. These devices mean you no longer have to endure melted ice and soggy food, and you'll always have cold beer.
Have a warm shower anywhere
It's true, even in the wilderness you can have a warm shower. Solar showers for campers are on the market now. While there is much to be said for getting back to nature, there is also a lot to be said for a hot shower, especially after a chilly night.
Have hot food in the middle of nowhere
The people behind Leave No Trace hold seven principles for clean camping and hiking. These include leaving no waste behind and minimizing the impact of campfires.
You can buy a camp stove that turns wood burning into electricity; useful for charging devices. But what about a totally solar-powered cooker instead?
This does not need to burn up any wood you find, which in turn adheres to the leave no trace philosophy even more, and also means no impact from making a campfire.
Admittedly though, taking a solar-powered BBQ into the wild isn't truly getting back to the wild.
Summary
Another accessory to consider is the solar jump starter. In fact, this accessory might come under essential items to take camping. No longer will you fear waking up to a dead car battery.
There are loads of camping accessories, but a few solar-powered ones can make your trip that little bit safer, and more comfortable. A flashlight is a must, and a power bank can help you to charge a GPS or a smartphone. Both are essential pieces of kit.