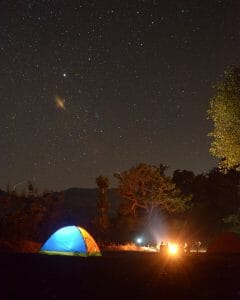 We all have different tastes and preferences when it comes to vacations and trips. For many, the perfect vacation is simply lazing around by the pool at a resort hotel, which is all well and good when you want to relax. However, it is also important to try and enjoy more active experiences and one of the ways in which you can do this is with a camping vacation where you get to enjoy natural beauty, the great outdoors, and a range of health benefits.
Camping is an activity that you can enjoy on your own, with your partner, or with friends and family. It is even ideal for those with kids, as it means you can treat the kids to a whole new experience and introduce them to the unique excitement that comes with camping. All you need is some key gear and equipment such as sleeping bags, tents, and Kelty backpacks to carry your gear around. This makes for a very affordable vacation experience as well as a unique and exhilarating one.
Some of the Key Benefits to Look Forward To
The health benefits that come with camping are plentiful and these are benefits that are great for adults and children alike. So, whether you are traveling on your own, with friends, or with your family, you can look forward to enjoying all of these vital health benefits as well as having a great time that you will remember fondly for many years to come.
One of the key benefits you get when you go on a camping trip is plenty of fresh air. With many of us juggling work and family commitments, it can be difficult to get out and about. When you are stuck in an office all day, you rarely get to see the light of day. In addition, the hobbies we have today such as spending hours on social media means we get out and about far less than we used to. When you go camping, you can enjoy an abundance of fresh air, which in itself provides many health benefits.
Another thing to bear in mind is that camping and outdoor trips are known to reduce anxiety and depression. Living without the stress of day to day life for a short while can work wonders for your mental health as well as your physical health. Simply being outdoors and taking in the sunshine, fresh air, and getting plenty of exercises will aid your health in surprising ways including reducing depression and anxiety.
Many of us fail to get enough exercise these days, which can have a serious negative effect on your health. However, when you go on camping trips, you will be able to enjoy plenty of outdoor exercises while also enjoying the chance to be close to nature. This will help to boost your fitness levels and enable you to enjoy a range of outdoor recreational activities.
These are just some of the wonderful health benefits you can look forward to when you opt for a camping trip.