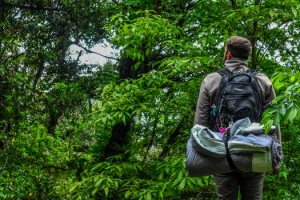 Everybody had experienced childhood.
There were times when the grown-ups would usually do all the preparations for us. For other parents, they let their kids do it and just remind them what else have they forgotten.
Camping, however, is not just for children or for those young at heart. It is for everybody who wants a getaway and a relaxation with nature.
You will just need a good backpack that could carry a lot of things. Then, read on these few reminders on what smart things to pack in it. After that, you'll be good to go.
1. Clothes
The first thing that you will need to know is how long are you going to camp. With that number of days in your mind, you'll know how many underwears, shirts, shorts, pairs of hiking socks and fun socks you are going to need.
Do not forget to bring light quick-drying clothes for warmer climates and thicker clothes for somewhere colder.
Meanwhile, things like a hooded jacket, gloves, sunglass, a hat, a bandana, and footwear including hiking boots are usually brought, but not as many as your everyday clothes. You could use and reuse these things. Just remember that they should suit the kind of climate your camping site will have.
Convertibles are good in saving space for your backpack. Though, reusing some clothes might not that be as hygienic as using different clothes each day.
Also, it is best to wear different clothes because they have different styles and designs. Subconsciously, you'd feel that every day is a different adventure.
So, if you have a backpack that could carry multiple things without giving you any inconvenience, then the better. You'll have a lot of choices for your outfit of the day. It might also have an extra space for an umbrella or any other waterproof garments, just in case, it will rain.
2. Foods, Utensils and Cooking Tools
Eating out or buying an already cooked meal will cost you more. Plus, where is the fun in it? Preparing or bringing your own meal is supposed to be a part of the camping experience.
Sandwiches and meals that could be served in bowls are great in camps. So, don't forget to bring a spoon, fork, knife, drinking cups, resealable plastic bags or aluminum foil for the food and plastic garbage bags for disposal.
Make sure that you have enough water too. If by any chance that your bottled water is not enough, then a trusted water source nearby is a good option. If not, water-purification tablets will always come in handy.
Bring your matches or lighter as well. This is together with some cooking tools depending on what you will cook (if you have decided not to bring an already cooked one or when you already finished eating all of them).
As we all know, camping feels to be incomplete without a bonfire. Your lighter or matches will surely be of great convenience for you here.
3. Gears and Pieces of Equipment
Whenever you encounter the words tents and sleeping bags, then sleeping time must have come to your mind as well.
Thus, whatever you bring for this purpose, be sure that it is of your own choosing.
We all have those preferences when it comes to these things like how do we like our blankets or we prefer to have none at all. So, bring whatever helps you to sleep faster, you will need all the rest you could get for your tomorrow's activities.
Personal gadgets like phones and camera are necessary gadgets to bring. Basically, you should not forget to bring spare batteries or power banks for these.
You will need your phone in cases of emergency and your camera is of course to record the things that happened in your camps. Remember to protect your valuables from the sometimes adverse conditions of an outdoor camp.
Some people won't feel complete if they could not bring their laptops. Again, when you have a good backpack that could help you carry a lot while separating these gears, then the better. Some gadgets were meant to have extra care and protection.
4. Medical Kit
You don't need to be anxious already. Nothing wrong will happen to you. Plus, your well-prepared medical kit will help you, should the need arises.
Aside from your personal medicines if you have any, there are some basic things you should always bring as much as possible.
This includes a lip balm for sun protection or for extremely dry lips, plasters for wounds, antiseptic cream for irritated skin, medicine for diarrhea or upset stomach, oral rehydration salts, and painkillers.
Wet wipes, hand sanitizers, small tubes of moisturizers, and toilet or tissue papers are not exactly medicines but you will need these too.
Be hygienically minded all the time when you are camping. This practice will save you from buying a lot of medicines in the future.
Conclusion:
Lastly, your backpack plays an important role here. If you are going skiing, I recommend you to take a look at these backpacks, these are really sturdy. 🙂
Choose something that could keep it all in and at the same time won't break and get damaged while you are traveling. Now, that seems to be a lot of common sense. However, we usually forget things when we are in a hurry. We recommend the best camera bag for street photography can be very convenient for these purposes because of their handy pockets.
Relax. You got this. Enjoy your travel outdoors.