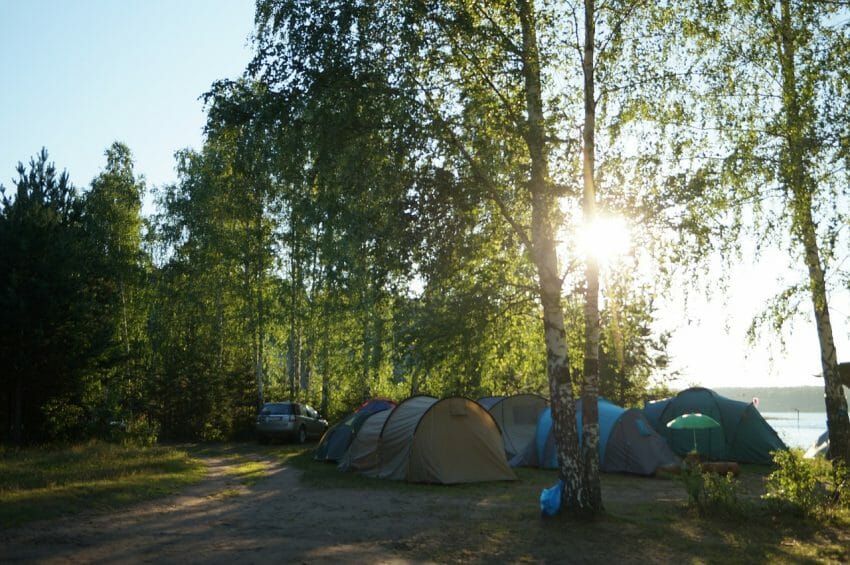 Shower tents are becoming increasingly popular and are especially useful if you want to stay clean on your next camping trip. If you're bringing your family along, keeping your whole crew clean can be a difficult task, especially if you don't have access to rivers or lakes. Furthermore, bathing with soap and shampoo in a lake can actually be quite harmful to fish and other wildlife.
What Is a Shower Tent?
Basically, these tents are designed with waterproof materials that enable campers to change, shower, bathe, and ultimately get clean with ease and privacy. Some of the best shower tents include towel bars and mesh caddies for gear storage, while others include locking doors and flexible showerheads.
Your shower tent isn't limited to just camping though. It's perfect for outings at the beach (rinse off sand and saltwater), parties, gatherings, and even at festivals. Some festivals can get very dirty, with only a few showers to share with thousands of people. Yuck!
Instead of relying on your antibacterial hand wipes to clean your body, you could definitely consider shower tents.
Features to Look for In a Shower Tent
Design. Some tents have 2 rooms, where one is for changing and one is for showering. These are usually a bit more expensive but the convenience is well worth it. There are also two main types of floor designs: fixed and removable. Fixed versions help keep bugs away, whereas removable versions are great at draining water.
Gear. Some models include a range of different gear storage options. It's quite convenient to have towel bars, mesh caddies, or even LED lights and soap holders.
Height. Make sure to pick a model that is high enough to accompany the tallest person in your group. Many of the best showers feature a high central ceiling, with some that are over 2m.
Privacy. Look for security and privacy features such as zipper-lock doors and non-see-through the mesh. One of the main reasons that shower tents were created was for privacy measures, so make sure that your chosen tent takes that into account.
Types of Shower Tents
The three main categories of shower tents (as well as portable camping showers) are solar-powered, propane-powered, and battery-powered.
Solar Powered. You might have guessed it already by the name. These models get the power from the sun and are a great option if you want to be eco-friendly. If you want to use solar-powered models, make sure that the place your pitching has lots of sun, otherwise, they won't work.
Propane Powered. This type allows you to quickly heat up the water. Yes! Most shower tents support hot water showering.
Battery Powered. These are fairly popular and run on batteries to heat the water and power your shower tent. Some tents also include LED lights for use in dark environments. Make sure that you check the battery life and if needed, bring a change of batteries or a rechargeable station such as a power bank depending on your model.
It's always best to be conservative with your showering times in order to maximize the benefits, especially when used by multiple campers.
How to Maintain a Shower Tent
Firstly, never smoke inside or around a shower tent as it will leave a bad smell, or even catch on fire. If you want to smoke, do it away from the tent.
Furthermore, to prevent the development of mold, it's best to make sure that your tent is dry before you fold it up. Keep it in the sun before you leave so that it dries out. If this isn't an option, make sure that you open it up when you get home and let it dry.
How to Setup and Disassemble a Shower Tent?
Shower tents are made with ease of use in mind, and therefore almost all of them are popup tents. This also makes them easy to fold and pack away so you don't need to waste your time trying to figure out how to pitch it. The best thing to do is to follow the manufacturer's instructions (a manual or quick start guide will be included) and practice at home before you go.
Staying Clean Without a Shower Tent
If you're not too fond of shower tents, a great alternative would be portable camping showers. They are much more portable and can also help you rinse off. As these are much smaller compared to camping tents, you should be conservative with your water and bring something to stand on so that you don't get muddy, such as sandals.
Compared to shower tents, they are the least complex option available. All you need to do is find somewhere to hang the shower in order to create the water pressure required for them to work.