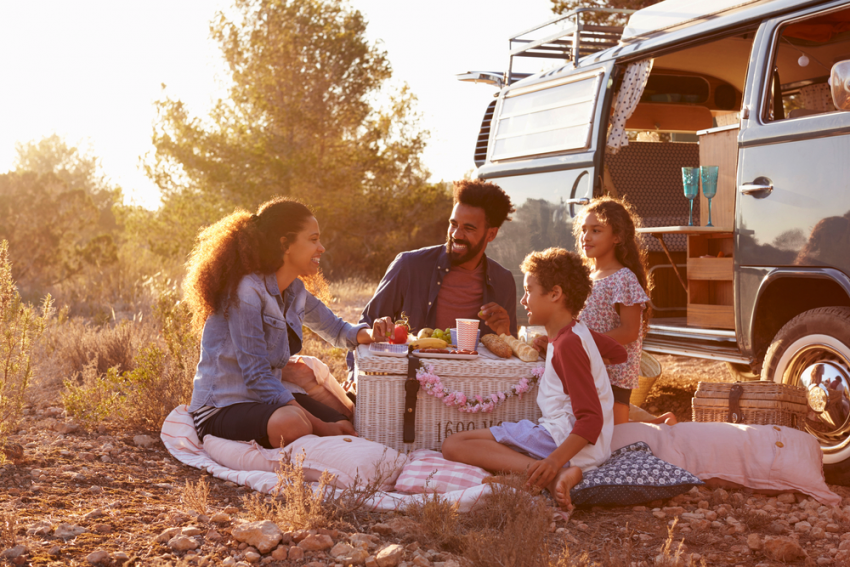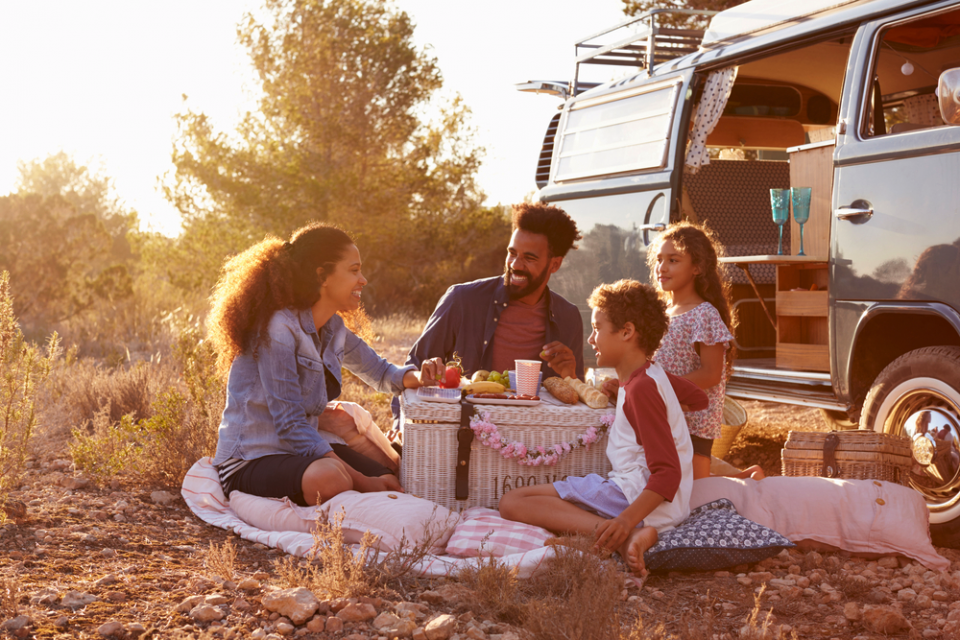 If you need to get away, camping is a fun, relatively inexpensive activity that brings you closer to nature. Camping has long been a tradition, here in the U.S. It's great for kids and families. In fact, the average age for a camper's first camping trip was age 10. Outside of a tent, a few safety supplies, food and water, and an off-road truck or Jeep, you don't need a lot of fancy equipment to go camping.
If you're new to camping or looking to head out on your first adventure, we'll go over some basic safety precautions for you to keep in mind on your trip. Protect yourself and your loved ones from the great outdoors with these camping dos and don'ts.
Protect Yourself Against the Elements
When you head out on a camping trip, you can expect to be one with the elements, including sunlight, insects, and wild plants and animals. Depending on where you're camping, be on the lookout for poisonous plants like poison ivy, poison oak, poison sumac, and giant hogweed. Some plant species can also be poisonous to dogs and pets. If you're bringing along a furry friend, keep them on a leash when exploring unfamiliar areas.
You'll likely need to use bug spray on your trip to protect yourself from all kinds of pests. Use insect repellents made with DEET and apply them to all areas with exposed skin. Wear long-sleeved shirts and pants to cover exposed regions. Check for ticks regularly and remove them as quickly as possible.
Wear sunscreen to protect yourself from the sun. Reapply every two hours or every 80 minutes when sweating and swimming.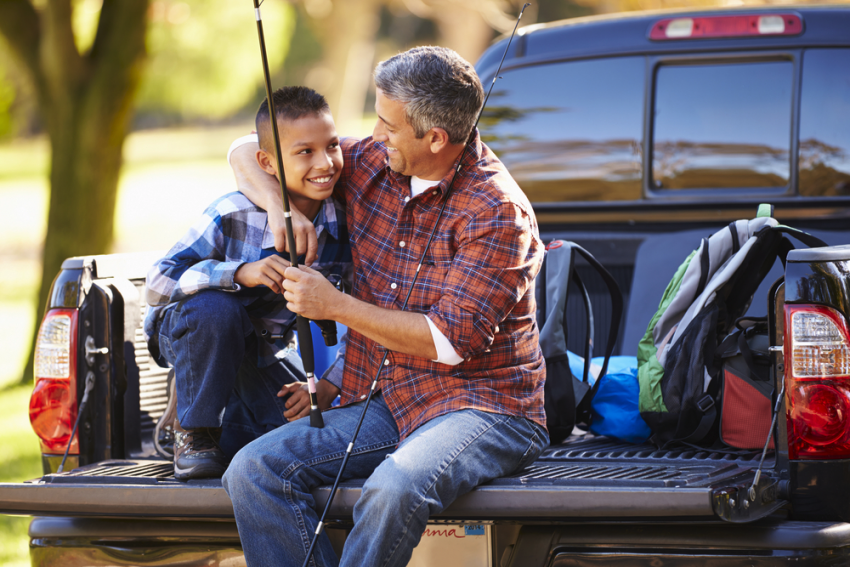 Handle and Store Food with Care
If you plan on cooking during your outdoor adventure, you'll need to make do without a refrigerator or stove, unless you have a modern, well-equipped camper on hand. Protect perishable food by storing it in tight, waterproof bags or containers or an insulated cooler. Don't eat perishable items if they've been sitting out overnight. When cooking, wash your hands as often as possible and use hand sanitizer if clean water isn't available. Separate raw foods from cooked foods and always cook your food thoroughly. Chill your leftovers promptly.
Once you've packed up your food, make sure there are no smells coming from the bag or container. If you leave food out overnight, you may leave yourself vulnerable to bears and other wildlife. Everyone in your group should know what to do if they encounter a bear.
Follow the Weather
Weather is an important factor during any camping trip. Plan ahead by keeping an eye on the weather using a weather app on your smartphone or by looking at the forecast in advance.
If your campsite gets hit with too much rain, the area could easily fill with mud, making it difficult to get in and out of the area. That's why it's best to have a lifted Jeep or truck when going off-road. You'll have more ground clearance and space for larger tires. Use mud-terrain or all-terrain tires to drive over muddy dirt roads and field with ease. You should also bring along traction mats or pads in case you get stuck in the mud. Just place the pad behind your wheels to get out of sticky situations.
Extreme heat can also be a concern. Remember to stay hydrated by drinking plenty of water and avoiding overly sugary and alcoholic beverages. Try to stay indoors during the hottest parts of the day if temperatures go above 100 degrees Fahrenheit. If you're camping during the coldest months of the year, bring along plenty of blankets and insulated clothing to stay warm and avoid hypothermia.
Bring Along First Aid and Safety Supplies
It's important to bring along a range of safety supplies on your trip in case anything goes wrong. First and foremost, make sure you have a first aid kit on hand with all the necessary supplies. Be sure to check your kit before heading out, as some items may have expired. Your kit should include everything to wash and stabilize a wound, including gauze, disinfectant wipes, bandages, a tourniquet, disposable gloves, scissors, and OTC medications like cough syrup, pain killers, and anti-nausea medication.
You'll also need items to find your way around and stay safe in case you get stranded, including a compass, flares, matches, flashlight, and a hunting or swiss army knife. Keep these items on hand and readily available.
When it comes to securing your vehicle, it's best to bring along a spare off-road tire in case you get a flat. Depending on where you're camping, it may be helpful to install a brush guard, which will help your off-road Jeep or truck move through thick shrubs and plants. You can also add a light bar to your vehicle for more illumination and visibility on the trail. Your factory headlights may not be enough when you're camping in complete darkness.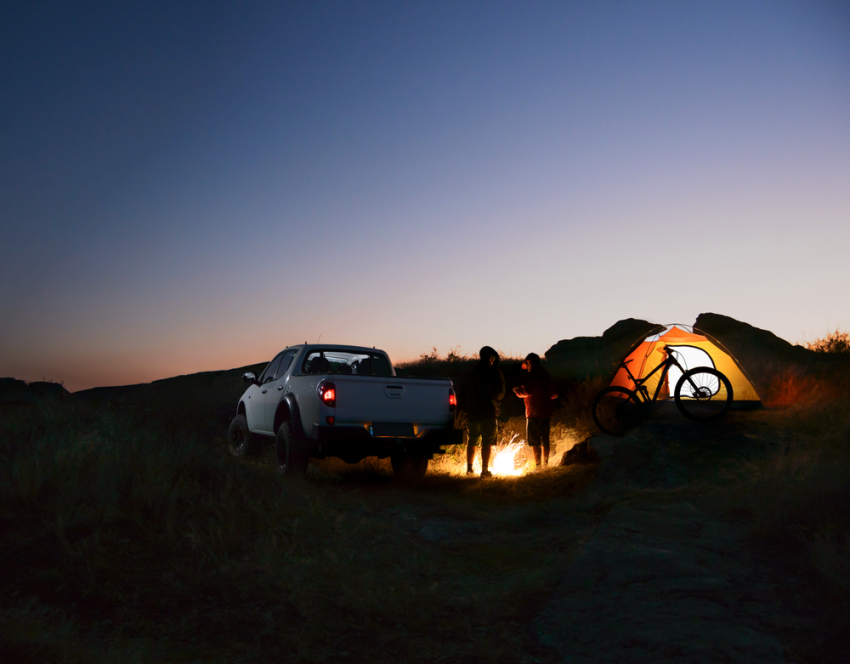 Leave a Reminder with Friends, Family, or Neighbors
Last, but not least, if you're going way off the grid, it's not a bad idea to leave information about your destination with friends, family, or neighbors. If anything happens along the way, your loved ones will know where to find you. Don't head out on the trail without telling someone where you're going and when you plan to return.
Enjoy Your Time in Nature
We could all benefit from spending more time in nature. As enjoyable as camping can be, plan ahead for your trip and make sure you have all the supplies you need to stay safe on the trail. If this is your first time, bring along a friend or family member that can help you master the basics of camping. Have fun and enjoy a little rest and relaxation.