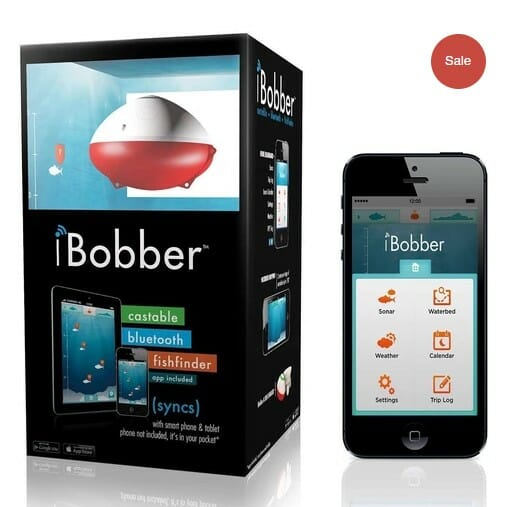 Fishing is not only a way of life but also a hobby that traced back to the history of humanity. The tricky fish is something of a mystery that must be caught and conquered, but one problem is finding the right fishing spot. Fishermen have been using fingers, eyes and nose for years to find changes in weather and water temperature. But now, we have devices like the iBobber Smart Fish Finder to help make the task easy. This gadget not just helps in getting a good catch but it also provides some important information that you need to know about the sea bed.
The iBobber fish finder is a wonder of modern science and technology. Think of living in a world that even fish cannot hide when searching the depths from either boat or shore. Just throw your transducer into the water and wait for the signal – it is that simple. With iBobber Fish Finder, anglers will accurately detect how far down the fishes are, which means you know exactly how much line to let out.
The iBobber Sonar can picture the contour of a waterbed, check the weather and water temperature. This device has the ability of showing you where to start searching and when using its powerful sonar beams, you will be able to cover an extensive fishing area, and provide more thorough bottom details.
You don't have to waste a lot of time going from one lake to lake, trying to find the perfect spot, or maybe quietly drifting within the water while waiting for a nipple, those days are likely to go forever with the use of iBobber fish finder. You will no longer have to speculate or hope to be within the spot of your prized fish.
We all know that fish don't stay in one spot for too long, so you need to have a complete picture of what's going on under your boat. With its accurate sonar readings of about 135 feet deep, a clear fascinating underwater view can be seen that helps determine the fish location easily. With the help of iBobber sonar fish finder, the underwater activity can't be missed; this gadget can detect the smallest underwater movement.
And maybe the particular bass or trout you are looking for prefer to live next to bigger structures for protection, or perhaps they like to hide under a large tree when searching for prey; iBobber fish finder will surely give you a clear view of the fishes location.
This fish finder can be synchronized through Bluetooth Smart using iPhone 4S, 6, iPad and Android phones and tablets. The Bluetooth Smart Technology gives a strong, low- energy Connection of about 100 Feet away and eight hours of battery life. There is a lot to love about the iBobber Sonar fish finder- it can check the water temperature, map the contour of a waterbed, and check the weather and lunar phases. And you can record the details of your fishing exploits with GPS tags, and can send the details back to friends or relatives.Get yours today online at www.WhatsTheFish.com