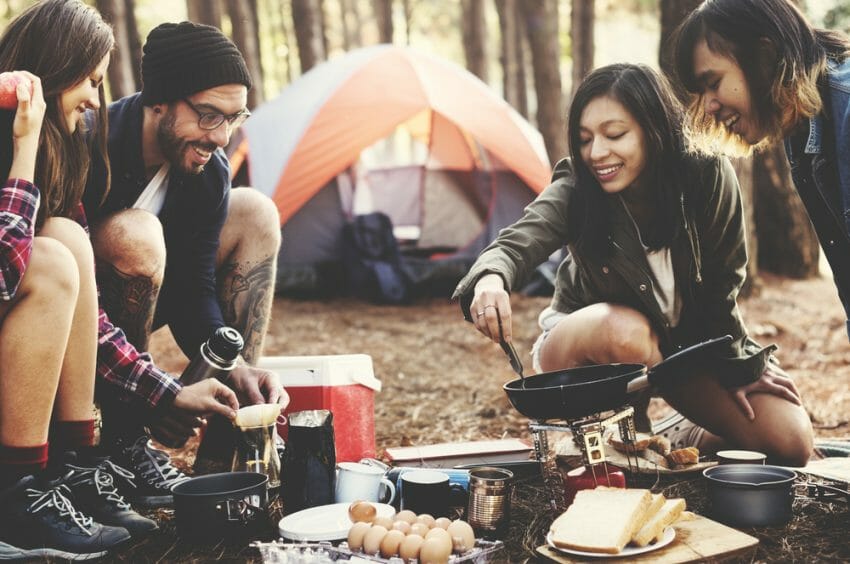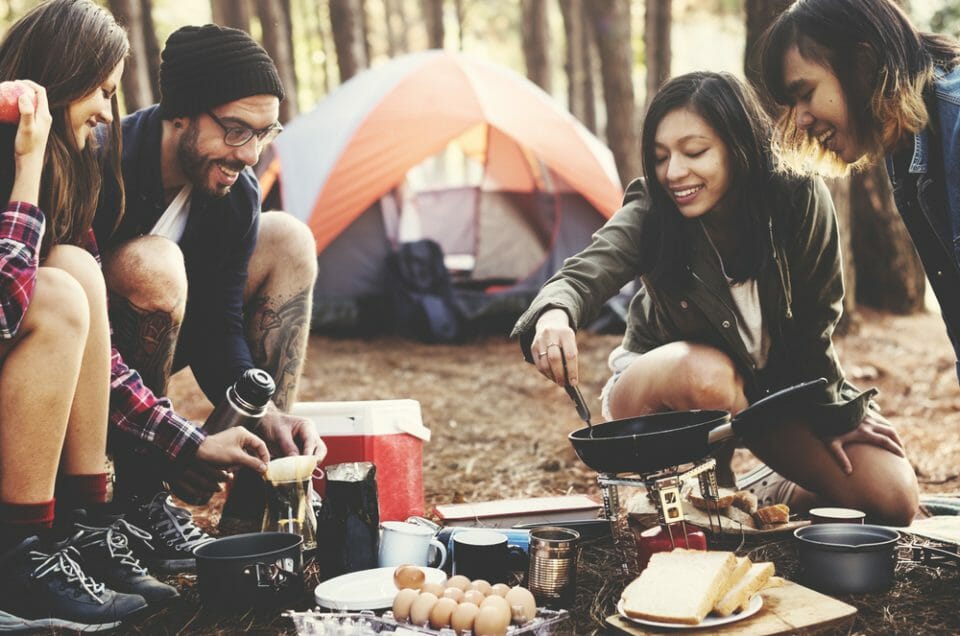 Packing your stuff is one of the most tedious things to do before camping. If it's possible, you probably wanted to bring everything inside your house. But, that is not the case when you're planning on camping outdoors; you have to limit the stuff you're about to bring.
It'll help to make a list of all your essentials so that you won't forget anything. It's going to be difficult if you've already settled in your tent in the middle of the night, and you just realized you forgot to pack your underwear.
To avoid making your camping experience a disastrous one, here's a list of 13 items to bring on a camping trip:
1. Tent
A camping trip is not complete without a tent. It's the most important thing to bring because it'll be your home for a few nights. Choosing the right tent is also vital before camping. You have to consider the number of people who'll sleep inside it and the weather in the campgrounds before purchasing a tent.
Your comfort would be at stake here if you bought a tent that's inappropriate for the weather. You also have to make sure that your camping companions will fit inside the tent. No one wants to rest and sleep on the ground without any sort of protection from bugs, sunlight, rain, and wind.
Tents provide privacy if you're camping with other people, too. If you're a first-time camper, practice setting up your tent before camping to avoid difficulties and arguments.
2. Cooler
If you're camping during the summer, it's recommended to bring packs of ice and cold beverages to keep you refreshed. Keep them inside a cooler and make sure to buy one that's durable for traveling and camping.
Using a cooler can also help you organize your food and drinks for the trip. It's difficult if bottles of water and soda will roll on your car floor when those have escaped from your grocery bags. Purchase a large-high-quality one, like a Yeti cooler, that can store your cold drinks up to 7 days. It's also perfect storage for frozen food, like hotdogs and sausages, that you can grill with friends and children.
3. Sleeping Bag and Pillow
Whether you like it or not, sleeping on the ground is still uncomfortable even though you're inside a tent. If you're used to the comfort of your soft mattress, the land is the complete opposite. Often, it'll be uneven and cold. That's why a sleeping bag is a must-have.
Don't forget your pillows. You don't want to wake up with a headache and stiff neck when there's a long list of planned outdoor activities for you and your family. If you have children with you, this is something that you should bring to avoid tantrums caused by sleeping discomfort.
4. Flashlights
Some people think that there's no need for flashlights when they're planning on having a campfire. Without a flashlight, it's undoubtedly challenging to look for stuff inside your tent when it's dark. Flashlights are handy when it's already night time, and you need to cook, eat, clean, and do other activities.
Headlamps can also work as a light source, most especially if you're camping or doing stuff alone. A hands-free light is also used when walking and trekking in areas without ample light. Remember to bring extra batteries so that you won't need to recharge them regularly.
5. Camp Stove
If you're a fan of cooking outdoors, a camp stove is an essential camping item for you. Most backpackers rely on the campfire to grill and cook food, but camp stoves are reliable, too. Portable camp stoves can now be purchased on the market that's easy to carry and use. Similarly, you can buy portable gas grill for your outdoor activity but its better to read reviews of the products before making an investment.
It works like a regular stove, except that it's not connected to a gas tank. If you're planning on camping for a few days, stock up on gas cans because these are more expensive when bought from camp stores.
6. Cooking Utensils
You can't have a camp stove and not have cooking wares. It may be tempting to bring your funny apron and your whole kitchen, but avoid doing that by bringing only the essentials. You can choose to pack just one pan for toasting and frying, and a pot for boiling.
Other must-haves are spatula and kitchen knife. Don't bring too many dining utensils. You can always reuse them after washing unless you want to bring disposable plates, spoons, and forks. Packing a bottle of dishwashing liquid and a sponge may be handy if your camping location is far away from the stores.
7. Multitool
A multitool is a camper's friend when it comes to emergencies. You don't bring your toolbox when you go out into the woods, and a multitool is a great alternative for that. You can find camping multi tool buying guide at 99camping.
Bring one that you're familiar with. You can choose between Swiss knives, which include a screwdriver, bottle opener, corkscrew, knife, and scissors, and card multitools that can easily fit in your wallet or pocket.
It's recommended to bring one because it's best to be prepared for any circumstances while camping.
8. Canned Food and Bottled Water
Canned foods are your must-haves if you're not fond of cooking intricate meals while camping. They're easy to bring and cook, and they also don't rot and expire quickly. These are great for people who camp for weeks and months.
Dehydration is something that you should avoid while outdoors. That's why it's also essential to bring bottles of water. You can buy this at a camp store, but if you're camping somewhere far, like the mountains, bringing them is more suitable for you.
If you're staying there for a longer time than usual, purchasing a water purifier is your best choice. It may cost you a few bucks, but it's definitely worth it.
9. Mosquito Repellent
Bugs can be your number one enemy when camping outdoors. Bring mosquito repellent and bug sprays that you can use to avoid being bitten by these creatures.
This should always be in your bag if you have children and toddlers with you. They have weaker immune systems and are more prone to viruses, like dengue fever, when bitten by mosquitoes.
10. Matches
Gone are the days that you need to rub wooden sticks to create fire. To provide and maintain heat in the campground, people make use of a campfire near their tents. Back then, you have to do it manually. Things are a lot easier now since you can use matches instead.
Though building a campfire is not as easy as lighting a matchstick. That's why, before camping, research on how you can successfully create a campfire, from finding the perfect wood, creating a teepee, and lighting the tinder.
11. Toiletries
Going out of your house without basic toiletries should be forbidden. This is also the same when camping with your family. When you're with children, you'll never know how much mess they can make. Bring tissues, wet wipes, sanitizer, and hand soap that you can use to clean them up.
Don't forget to pack your bathroom essentials, like shampoo, hair conditioner, and body soap, because proper body hygiene should still be practiced even when you're outdoors. Another must-have is sunscreen/sunblock to protect your skin from harsh and harmful UV rays from the sun.
12 Clothes
Know the weather condition in your camping location before packing your clothes. Your clothing and footwear should be weather-appropriate for maximum comfort. Bring jackets and sweaters, if the temperature's about to drop. If you think it's going to be humid and hot, bring light clothes and hats to protect your face from getting sunburnt.
Pack swimwear if you're planning to take a dip on lakes. Use appropriate footwear if you're planning to hike or swim. Most people use durable waterproof shoes when camping.
13. First Aid Kit
Cuts and scratches are inevitable when you're camping in the woods. That's why it's crucial to bring a first aid kit to make sure that wounds can be cleaned thoroughly. You can purchase these kits in the pharmacy, which already include band-aids, antiseptic solution, cotton, gauze, scissors, and disinfectant wipes.
These are items and tools that are important, most especially if the nearest clinic or hospital is miles away from your camping location. Remember, it's always best to prepare for emergencies to avoid panic among your camping companions.
Conclusion
You can always modify this list to make it more suitable for your situation and lifestyle. If you don't know how to cook and you're planning on munching ready-to-eat snacks while camping, you can ditch the camp stove. If you're bringing a baby with you, you should add diapers, baby soap, and rash creams on the list of your toiletries.
Making a list, preparing your stuff, and checking them before leaving are must-dos to ensure you're going to have a fun camping trip with your friends and family.