You don't need the sweat-stained walls and crowded rooms of a commercial gym to enjoy a fantastic workout. What better way to harness the great outdoors than to include your workout regime into your camping trip?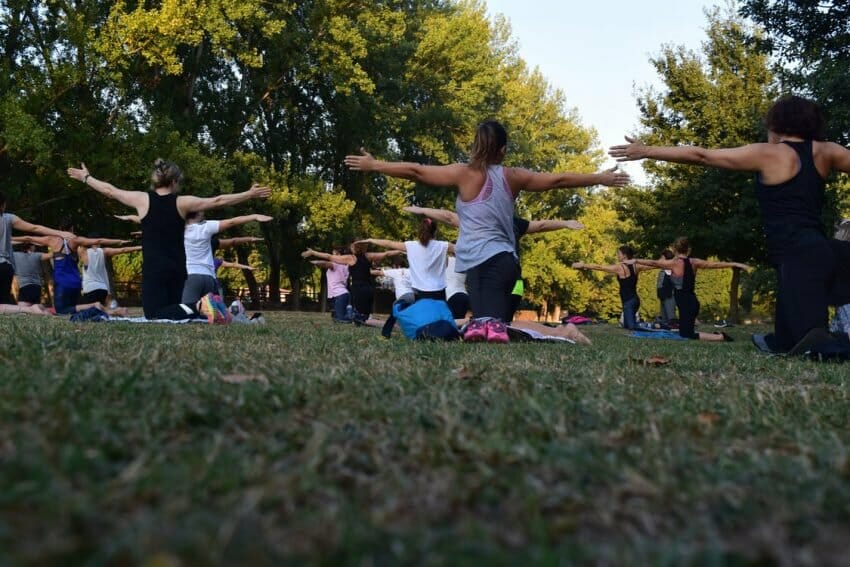 A study carried out by the Peninsula College of Medicine, and published in the research journal Environmental Science and Technology in 2011 showed that exercising outdoors, not only had physical benefits, but also helped reduce levels of stress, tension and depression. The study found that most trials showed an improvement in mental well-being and that doing exercise in natural environments was associated with greater feelings of revitalization, increased energy and positive engagement.
So while you're taking a break from it all, throw in a workout or two to maximize on your relaxation. 
Branch pull-ups
It's a common fact that pull-ups are a great upper body workout. They build core strength, while also working the back and arm muscles. Find a branch in a tree that has the similar height and width of a standard pull up bar. Make sure it will hold your weight. With palms facing away from you, grab the branch and pull yourself up so your chin touches the branch. Keep repeating this as many times as you can.
Walking Lunges
A favorite for the legs, this exercise is both a great cardio workout as well as a fantastic workout for the upper legs, thighs and buttocks. You can do it at any time on your trip as you'll have plenty of space.
Hiking or running trails
Do some research before your trip to check for any hiking or running trails in the area. Hiking is a low-intensity workout that can be great for the cardiovascular system, while also helping with weight loss. Some hiking trails can be used for running, but be careful of steep cliffs and loose ground or stones as these can lead to injuries.
Stand-up paddleboarding
If you're heading towards the water, a fantastic way to have some fun, as well as stay in shape, is to try stand up paddleboarding. Some places might hire them out, but many top brands make inflatable boards which can be packed into a bag the size of an average rucksack. The designs these days are incredibly strong and durable and pumping it up can be a good workout on its own. Paddleboarding is known to be great in building core strength as well as toning muscles in the arms, shoulders and back.
Jump to it
Jump ropes are light and easy to pack. They also offer a great all body workout. Jumping rope tones muscles in the upper and lower body and is also an effective cardiovascular workout. Jumping rope can burn up to 1300 calories per hour, making it one of the most effective weight loss exercises out there.
Exercising outdoors not only allows you the physical space, but gives you the mental space as well. Enhancing your trip with some great workout regimes can leave you coming home more refreshed and revitalized than ever.
Article Written By; Sally