CONCEALED CARRY AND THE OUTDOORSMAN
Article Written By; Don Gasaway,
https://dongasaway.wordpress.com/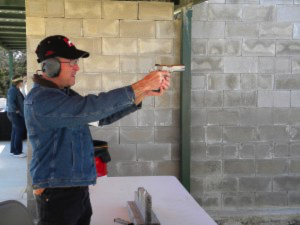 Kevin and his two pre-teen sons find a scenic camping location with a waterfowl in a remote location. As they pitch their tent, have dinner over an open fire and settle in for the night, four drunken teens announce their presence.  The location is a favorite drinking location for them.
The teens, embolden by their drinking decide to evict the family. As the discussion becomes more threatening and the teens encroach on the campsite.  Kevin pulls his pistol and points it suggesting that perhaps the teens may want to find another location.  They decide to leave rather than risk a shot from an angry father.
Once the invaders are safely out of sight, Kevin packs up his children and gear. They safely leave what could have been a very serious situation.
This parent protected his family thanks to his right to concealed carry.
Stories such as this spotlight the need for concealed carry for the outdoor recreationist as well as potential victims of crime in urban areas.
However, before you carry your concealed weapon on your next outing there is some precautions needed.
To begin with some states have laws prohibiting carrying while in the field. For instance a state might ban bowhunters from carrying a firearm in the field regardless of the reason.  Some governmental agencies prohibit handguns at all times on their parks and refuges.  Still other states do not recognize concealed carry permit from other states.  This is reciprocity.
If you are traveling from one state to another it is important to know the law in all the states through which you are traveling. Your permit might be valid in your home state and the destination state but you might be traveling through another state where it is not valid.
How can you keep up with the ever changing laws that might affect your carrying protection while in the field? One of the best sources of current information regarding concealed carry is the website of United States Concealed Carry Association (www.USCCA.com).
They also have an App there as well so that you can access the information on your phone while in the field.
One of the easiest ways to get information on reciprocity is the State Reciprocity Map (www.usconcealedcarry.com/travel/).
Another valuable website is the Safe Gun Travel site (www.safeguntravel.com/).
To see the original article, go to https://dongasaway.wordpress.com/2017/06/23/concealed-carry-and-the-outdoorsman/