If you like beachside campgrounds, breathtaking views over the sea, mountain scenes then a kayak could lead you to the shore of the achievement. You could think about a morning ride on the lake or having fun with the kids on the beach when you own a kayak. You can use a kayak on versatile tasks and therefore you need to know some specific answers over this thing, In the next segment, we will discuss some common questions and their answers about touring kayak.
Where to use Kayak?
Well, boats are not categorized by water type but as it is a special boat then you should know where to ride this.
Lakes: You can use your kayak over the local lakes. If your destination is small and there is perfect weather then you can sit on your boat and have some fun.
Coasts: This is actually a perfect place where you will be able to see wind, waves, currents, tides and more all come into play along. If you are not likely to have a swim then this place could be your best choice.
Rivers: We are not talking about monster rivers with the high tide if there is a calm and small river beside your location. You could go there with your kayak to have a perfect journey.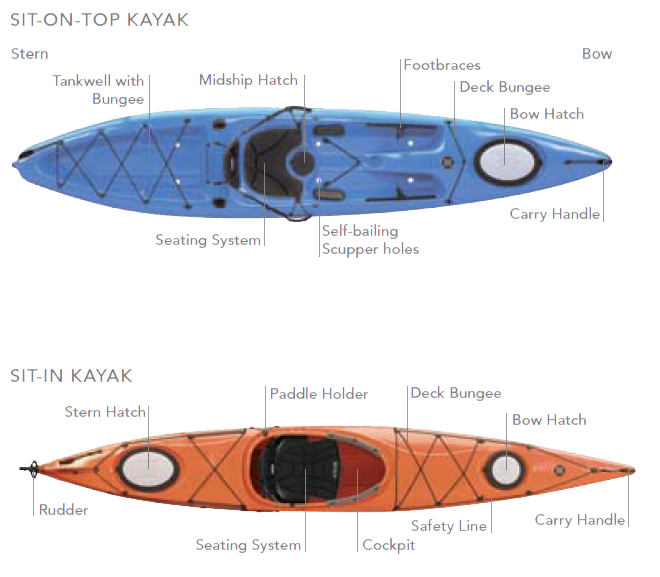 Types of Kayaks:
There are usually two types of kayaks you could see over the market.
Sit-On-Top: Some primary and casual boat to ride on lakes or in easy flowing rivers. For a longer sit portion, there is a enough space for rider. These types of boats are easy to get on and off, comfortable when there is warm water and you do not need to pump water. If you are interested in fishing then it could be your boat.
Sit-in-Kayaks: Recreational boats and better for a long trip, when the water and air are cool these types of boats could be considerable. Some of your body portions will inside the boat and some outside. With a proper balance itself, it could be a better choice for long-distance and these boats are more efficient to paddle than a sit-on-top
Considering facts before buying a Kayak:
Weight: The gear of the boat, body and you. If the boat is overloaded, it will create situations while padding
Length: If you are having a longer boat that will cruise more efficiently than the short one and you can get a bigger space to take your goods.
Depth: Deeper hulls offer more room for long-legged kayakers, and you will get a little more storage, on the other hand, Shallower hulls are less affected by wind
Width: narrower hulls can go faster and if you have wider hulls, it could give you a slow move.