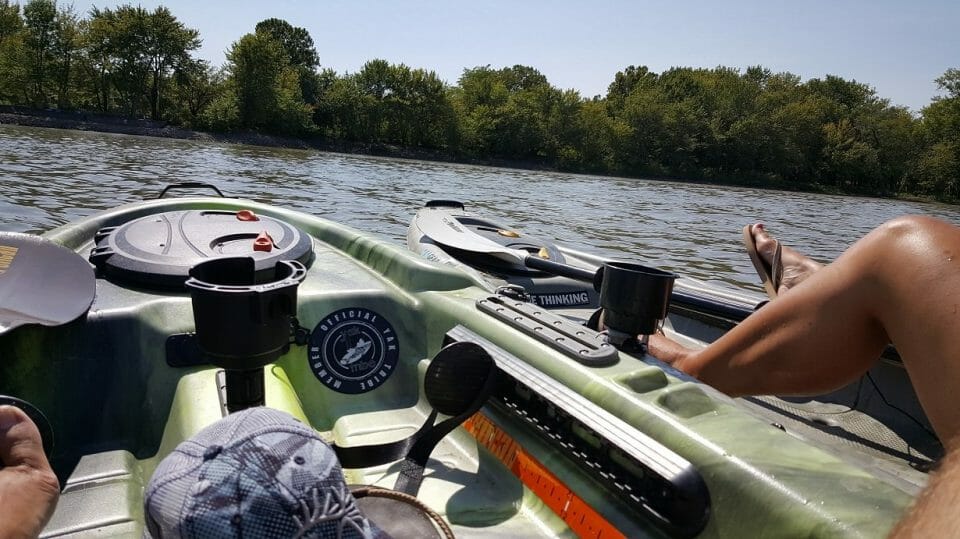 Are you looking for a significant and adventurous activity that you can enjoy with your friend? Well, how about you try out kayaking? There is no better way in having a fun day on the water, than kayaking. Kayak is a water vessel that people use to explore the water and also carry out other water activities. You can use a kayak for fishing or even for competing. There are different types of kayaks which are designed for these activities. But, the most comfortable kayak to buy is an on top kayak. This kind of kayak is comfortable and easy to operate as well.
Ocean Kayak Frenzy Sit-On-Top Recreational Kayak
This is the best sit on top kayak for beginners since it is easy to carry around and use as well. The kayak weighs about 43 pounds, and measures nine fit long. So, anyone can ft comfortably without squeezing the legs. The kayak comes with a comfortable seat which has removable covers for easy cleaning. It can be used by people who weigh up to 350 pounds. Note that the position can be adjusted according to the user's size and for better comfort too.
Sun Dolphin Bali SS 10-Foot Sit-On Kayak
This is an ideal kayak that is also recommended by bestkayaks.reviews for fishing. The kayak has a back storage space where you can keep your items like the phone and the keys plus its measures 10 feet long which is suitable to fit all people. It also has a back storage space which is designed with a hook for hooking other items like the fish. The sides of the seat are extra padded to protect your hip area, and you can still adjust it to the required size for comfort. One drawback found in this kayak though is the fact that it can only be used by people who weigh not more than 250 pounds.
Perception R15 Pescadores 10.0 Kayak
The sit-on-kayak is recommended for light kayaking or for use in the more shallow river. The kayak has an ample dry storage space which comes with a lid for covering. It can withstand people who weigh 350 pounds, and it is 10 foot in length for an efficient fitting of the feet to avoid straining. You can leave the paddles on the kayak when not in use since there are side straps which secures them when the kayak is not in use.
Lifetime Manta Tandem Sit-on-Top Kayak
This is a suitable kayak for deep rivers since it is designed with heavy weight for easy propelling in such waters. It can be used by a majority of people since the maximum pressures that kayak can withstand is 500 pounds.The seat of the kayak is double padded to offer support and comfort to the user plus it also consists of storage space where you can keep your personal goods. The kayak allows you to carry two more people on the equipped back seats. Other accessories provided on the kayak include; a drink storage space and other spaces where you can keep your other necessities.
The above reviews are top best top- sit on kayaks on the market. If you want to explore with your friends, consider getting a large kayak that consists of more than one seat and also checks on the amount of weight it can withstand for comfort as well.