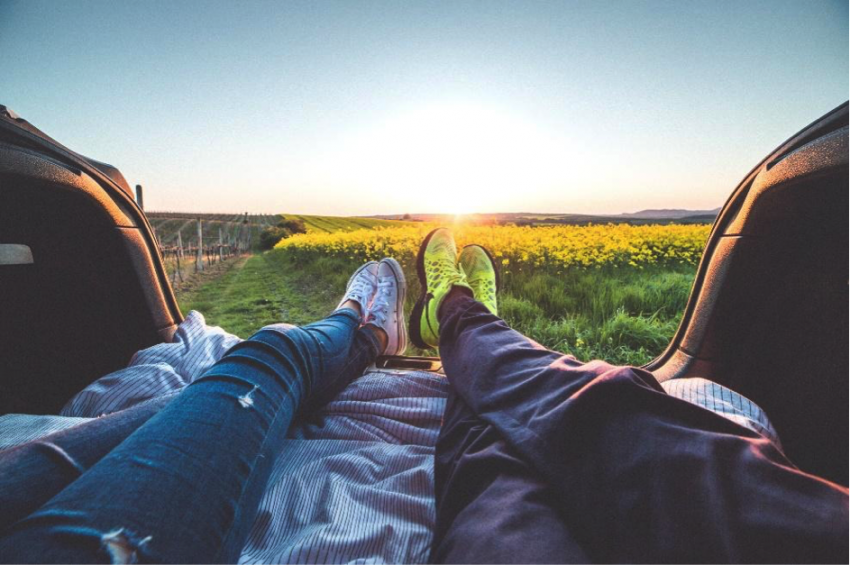 There's no better way to experience the beauty of nature than to go on a car camping trip.
You'll be able to breathe fresh air, gaze at the stars, catch the sunrise, and hear the faint sounds of the forest. In the middle of the woods, it's just you, your friends or family, the car that you've transformed into a small camper like reviewed at Crow Survival, and the great outdoors waiting to be explored.
Planning for a camping trip can feel daunting especially if you have not done it before. Apart from the location and carving out time for the trip, there are a handful of other things that you have to worry about. The good thing is that you probably already know the basics, like packing light, preparing food beforehand, and setting up the equipment.
To ensure that you don't have a hard time and to make your camping trip a little bit better, read on for seven genius tricks that have been compiled for your convenience.
Sage as a Mosquito Repellent
Mosquitos are an awful part of camping in the great outdoors. The fresh air and magnificent views may be second to none, but getting mosquito bites every other minute definitely spoils the fun.
Try adding a little sage to your campfire. Not only is it an essential kitchen herb, but it's also a natural mosquito repellent when burned. The incense that sage gives off smells really good to humans but can be quite strong for most species of insects.
As long as you are near the smoke, you don't have to worry about mosquitos and other creepy crawlies. Rosemary is also a good alternative.
Tumbler Lantern
One of the many highlights of car camping is getting to experience nature at night. The moon and stars are out while you eat s'mores and sing your favorite songs. If you plan to go on an evening trail, you can turn your tumbler or any transparent jug into an improvised lantern that will illuminate your way.
Just grab your headlamp, and strap it to your tumbler with the light pointed inward. You can also do this with a flashlight or your phone's flash, but it might be trickier. You can say that it's a cool and inexpensive way to light up your world. 
String Lights for Ambience Lighting
Car camping is a perfect date idea for the adventurous couple. Far from the hustle and bustle of the city, you're treated to a five-star experience only nature can provide. And for that Instagram-worthy camp space in your car, just drape the interiors with battery-powered string lights, and you're guaranteed a romantic night with your beau.
The only way you can make it better is if you pop open a bottle of red wine. To ensure a cozy evening and a good night's sleep, put floor mats before you roll your sleeping bag or comforters on your car floor. If you own a Toyota Tundra, you can buy customized floor mats you can use to make sure that you're sleeping on a clean surface.
Alternative Fire Starters
A bonfire or a fire pit is a staple in any camp trip. It warms you on a cold night and lights up your space. But it's quite tricky to start a fire, and it can get frustrating after how many failed attempts.
A foolproof way is to use a hand sanitizer as a fire starter. Depending on the alcohol content, the sanitizer will help burn your chosen tinder for a good minute or two. Lint is a good tinder that you can also try. And those birthday candles that don't seem to burn out, they're great as fire starters as well.
Keeping Warm
Sooner or later, you'll have to put out the fire you painstakingly built and face the real challenge of sleeping outdoors, the cold night. If the thick blankets and the layers of sweats are just not enough, you can fill your tumbler with hot water and place it at the bottom of your sleeping bag to warm your feet.
Make sure to securely close the lid so you won't wake up soaked. Or you can stuff your next day's clothes inside your sleeping bag for added insulation. Plus you're keeping them warm as well for the cold morning ahead.
Install a Tarpaulin Porch
The disadvantage of car camping is that you don't have enough covered space in case it suddenly rains or gets too hot. So create a makeshift porch with a tarpaulin.
Using bungee cords, tie one side to the top of your car and the other on the ground. This extends your shaded space so you won't have to cram inside the vehicle and close the doors just in case the weather turns for the worst. You can also upgrade the space by putting up one side of the tarp on two poles or sticks, for sitting and eating.
Bring a Shoe Organizer
Nothing ruins a car camp trip more than having to search for a small item in a clutter of things. Save time by having all your essentials in one place by putting them in a clear pocket shoe holder.
Small things like your keys, water tumblers, electronic chargers, and flashlights will fit snugly in the organizer's pockets. Hang the shoe holder on the side of the car or at the back of the front passenger's seat for easy access. Now you have no excuse to lose any of your smaller things because you have propped up a home for them.
Before You Go
There you go, seven tricks that you can try on your next car camping trip! There are tons of other things that you can do to make your camping experience better, but at the end of the day, it's totally up to you to find out what works and what doesn't.
Car camping is about adventure and the excitement in the uncertainty. Try out these tricks, but don't be afraid to innovate and experiment. You never know, you just might discover a hack that has not been done before. Happy camping!
Article Written By; Jeff Oxford