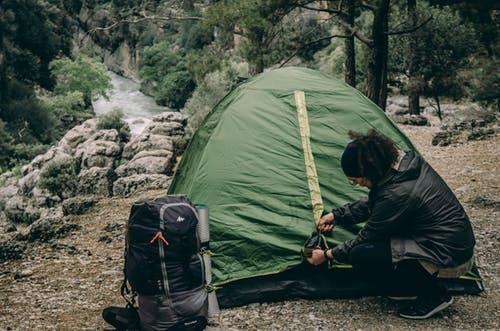 Venturing out into the wild to explore nature, to live amongst the trees, animals and bright blue sky, you feel replenished, fulfilled and stress-free. You gaze upon the singing birds, happy in their nests and singing cheerfully and you start to wonder to yourself, is your nest as happy as theirs?
When going out into the wilderness, it's important to keep the small details in mind too, before heading out. Being out there and forgetting important factors that will cause you discomfort with your living situation might just turn a magical trip sideways.
Here are 4 things to keep in mind when choosing a tent for your camping trip:
1- The Weather You're Going to Be Facing
Nothing's worse than enjoying your summer day out camping with your friends, and when it comes time to go to sleep, you realize that the tent lacks enough ventilation and it is steaming inside because there isn't enough airflow. The same goes for when it's really cold outside and your tent has too much airflow that's keeping you chilled the entire night. Choosing a tent with the right specifications for the weather you're going to be facing is crucial for you to get a good night's sleep.
2- The Number of People You're Going With
Being outside in nature, feeling absolutely free from anything that you are going on back home because out there in the wild, none of it matters. You find yourself feeling so free, but then you might run into a tiny problem. The tent you're in feels like a can of sardines as it is packed in there. Picking the right tent that can provide a comfortable living space for everyone inside is a key to enjoying your time outside camping, as your freedom in the wild must continue even within the tent itself. A Dome tent, Tunnel tent, family tent or cabin tents can all hold a large number of people comfortably, along with a good amount of space for storage. So when keeping in mind what type of tent you're going to be choosing, always account for how many people are going along with you to the trip you're going on. To find other considerations, visit coolstuffforcamping.com.
3- The Amount of Times You Go Camping
When thinking about what type of tent you would like to have, you generally also must be thinking of how many times you usually go camping. Picking a sturdier tent when it comes to a person who goes camping frequently will probably be way better than choosing a tent that's not so durable and long-lasting, and vice versa.
4- Special Specifications
We all have certain things that we can't go a single day without, ensuring that your tent offers those things is crucial for your enjoyment in the wild. Having enough storage space to store your favorite blanket or enough headroom if you're tall will change your comfort levels exponentially. The same goes for anyone who's sharing the tent with you, you must always ask them for any special specifications they'd want within the tent and look for one that provides it so that no one would have any issues with the living situation in the wild. If you're a person who has trouble setting up a tent, get one that's easy to set-up that saves you the time and the trouble instead of getting frustrated during the time it takes you to set it up.
Being out there, camping in the wild is a great experience that shouldn't be painted over by a bad experience with your tent. Picking the right tent that will help you overcome whatever circumstance you might encounter will ensure that you get a good night's sleep and that you can feel as comfortable as you would back in your very own home.