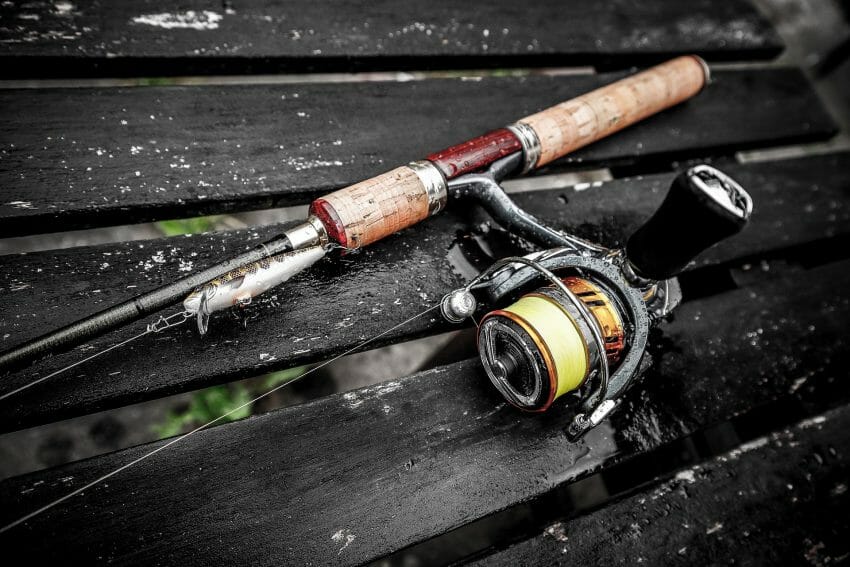 One of the most important gear choices every angler needs to make is choosing the right fishing reel. And when it comes to this, the first challenge is deciding whether or not to use a spinning reel or a baitcasting reel. So, what does a beginner fly fisher need?
Especially if you're a beginner, it's essential to choose the best reel type. If you make a bad choice, it's likely you'll end up having a bad experience on your first fishing trip. And as a result of that negative first impression, you may drop the sport completely.
On the other hand, if you choose the right fishing reel, you'll have a much better time, and are more likely to stick with fishing as a hobby.
But the problem with choosing the right reel is that each fishing reel type has its own advantages and disadvantages, so it's hard to choose one single model that is ideal for all fishing scenarios.
The two most important types of fishing reels
While there are four main types of fishing reels (Zebco 33 Spinning Combo, baitcasting reels, spincast reels, and fly reels), here we'll only focus on the first two – spinning reels and baitcast reels. This is because these two-reel types are by far the most popular, and between them account for 99% of all fishing reels.
In other words, as a beginner, you only need to choose between spinning reels and baitcast reels, which already narrows down the choice for you.
In general, if you're new to fishing, the most important characteristic to look for is the ease of use. The easier a reel is to use, the less you have to worry about operating it correctly, and instead, you can focus on enjoying the overall experience of fishing, which is essential on your early fishing trips.
Now let's take a quick look at the pros and cons of baitcasting and spinning reels, which will make it easier to decide which of these two-reel types is best for beginners.
Spinning reel advantages
Easy to use: spinning reels are much easier to use, which is why many beginners love to use them. Even if you've never fished before, you can learn the basics of using a spinning reel & rod in less than an hour, which means you can start fishing right away, without wasting a lot of time practicing with your gear.
More versatile: spinning reels are extremely versatile, and can be used for almost any kind of fishing. This is in contrast to baitcasters, which tend to be used for more specific applications. This is why most fishermen like to use spinning reels as their all-round reels.
No backlash: Unlike baitcasters, which easily generate backlash during casting, spinning reels very rarely generate backlash or birds nest formation.
Better for ultra-light fishing: in contrast to baitcasting reels, spinning reels are very good for casting with very lightweight lures and tackle, which is why many trout and panfish anglers like to use them.
Baitcaster reel advantages
More accurate casting: baitcasters have a much higher degree of casting accuracy than spinning reels, especially if you know how to master them. Unfortunately, learning how to use a baitcasting reel takes a bit of a learning curve, but once you get really good at it, you can place your lure within 1 or 2 inches of the exact spot where you want it to go. This is really great when you're casting lures coles to cover, such as overhanging trees.
Faster retrieval speed: baitcasters tend to have much faster retrieval than spinning reels on average, with gear ratios that go up to more than 9.1:1. This is very useful if you want to do high-speed lure retrieval, or need to retrieve your tackle over a long distance.
The lightness of weight: especially low profile baitcasters are much lighter than spinning reels of comparable size, which is great if you like to cast lures all day long without getting arm fatigue. Combined with their accuracy and speed, this is one of the big reasons why professional bass anglers prefer casting reels
Better for power fishing techniques: baitcasters are better for casting extra-large baits, such as over-sized crankbaits, swimbaits, or spinnerbaits. This is why muskie anglers love them, as well as many bass anglers. For more details on power fishing, click here.
Greater line capacity: especially round baitcasting reels have more line capacity than spinning reels, which is due to the fact that they have a larger spool size. This is why they are often used for deep-sea fishing, where you have to lower your bait down to 200 feet, or even even more. Round baitcasting reels are also used by many surf anglers since they can cast a long distance from the beach.
Conclusion
Based on what we discussed above, it seems quite clear that spinning reels are by far the best choice for beginners. This is because they are much easier to use, they can be used for many different types of fishing, and they are very reliable.
Baitcasters, on the other hand, offer more advanced advantages that don't really make a difference until you're experienced enough to make full use of them.
So if you're a beginner, the best plan is to start your fishing journey with a spinning reel, and as you become more experienced, then it's time to add a baitcaster or two to your fishing gear collection.