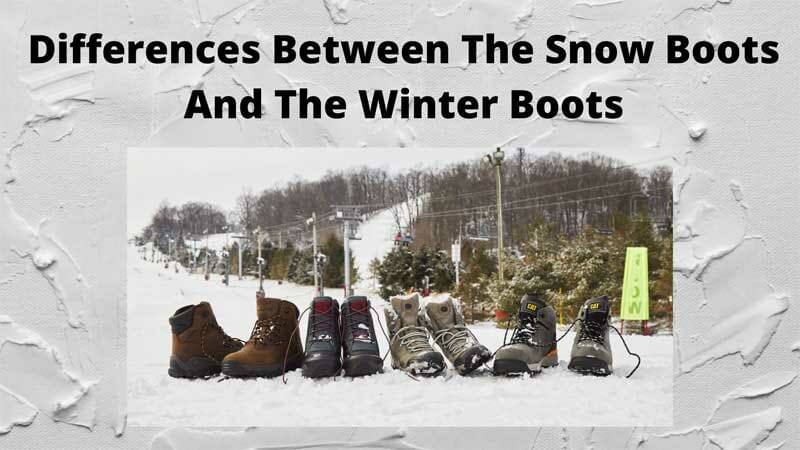 Hunting in cold weather requires specific types of footwear for extra comfort and protection! For this, you must pick up the right pair of hunting boots to keep your foot warm.
Many of us have a misconception that snow boots and winter boots are the same. But they are absolutely wrong! Though there are some similarities between the snow boots and the winter boots, there are also some discrepancies between them.
In this article, we are going to show you the differences between winter boots and snow boots.
Key Feature Of Snow Boots
Snow boots are designed for those who go hunting in wet and snowy weather conditions for a long time. They are heavier than winter boots, not fashionable but protective! The features of snow boots are below.
When it is snowing outside, you have to wear such protective boots that can protect your feet from snow and icy-cold weather. For this, the upper parts of snow boots have protective shields that can protect the feet from not only the snow but also water. The shield is made of rubber, leather, or a blend of rubber and nylon.
The outsole of snow boots is made of rubber or other waterproof materials. Rubber is 100% waterproof and ensures maximum comfort in cold and wet conditions. In the snowy area, the boot gets dirt easily. Keeping this problem in mind, snow boots are made of rubber or leather which is easy to clean only by rinsing off.
Snow boots are higher than the additional boots so that it can prevent the snow from getting inside the boot at the time of walking through the deep snow. It is extended above the ankle, almost to the knee. Many snow boots come with a cuff and closure to stick the boot tightly with the foot. As a result, no cold can get into the boot and to keep inside warmer. Some of the boots come with a built-in gator. The gator prevents the snow from entering the boot.
Key Feature Of Winter Boots
Winter boots keep your feet warm in cold weather but don't protect from snow and water properly. Some of the high-quality winter boots are water-resistant and prevent water and snow to get inside the boot. Here are some of the important features of a winter boot.
The main key objective of winter boots is to keep the food warm while wandering in the cold weather. For this, they have built-in insulation inside the boot. Though some high-quality winter boots that can prevent water or snow from entering the boot, they require separate snow gaiter to use in deep snow.
Winter boots are more fashionable and gorgeous to look at. They are usually made of leather, nylon, or GORE-TEX. Another feature of a winter boot is its breathability! But the winter boots which are made of only leather are not breathable at all. So we recommend buying breathable boots for the winter season to keep your feet dry.
They are lighter than the snow boots and allow you to hike in different places easily without burning more calories like snow hunting boots. Though lightweight, winter boots support your ankle and toes properly. Moreover, the upper part of a winter boot is not as high as a snow boot.
Besides cuff and closure, it has a lacing system too. That's why it can protect your feet from cold but not from snow or water.
What Is The Perfect One For Hunting?
What type of boots is perfect for hunting? Maybe it is the common question of many hunters.
We recommend you to buy a pair of hunting boots depending on the weather conditions. For hunting in cold and wet weather conditions, snow boots can be the best choice. If you want to hunt only in dry and cold weather conditions, winter boots are good enough. Rubber hunting boots are the best choice for hunting in versatile weather conditions.