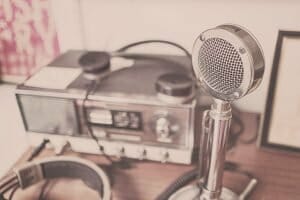 Two-way radios aren't like walkie-talkies. They're complicated radios tailored for weather resistance, clarity and range. Some offer features like vibrate mode for incoming calls. Others have eavesdrop reducers and privacy codes to filter broadcasts from other radio users.
So how do you pick the best weather radio? What factors should you consider? What are some of the benefits of owning a NOAA weather radio?
Weather Radio Buying Guide
Here are some of the factors that you should consider when in the market for a radio:
Range
Range tops the list of considerations you need to make. Most modern radios feature range of from 2–35 miles based on power profile and model. When you're in the bush, you must have a radio that blows through interference.
Battery life
The second factor to consider is battery life. Since you'll not always within the range of your charger, opting for units which operate on AAA or AA batteries is an excellent choice. Radios with a signal booster gives you an extended range. Nonetheless, they eat up batteries faster when using the boost.
Ease of use of the headset
The ease of use of your radio's headset is another factor you need to consider. Whether Bluetooth or wired, you'll certainly find a headset to be almost indispensable when hunting with hands full. The situation is particularly true when hunting with a compound bow or a recurve bow.
NOAA weather alerts
Most if not all radios hunters use provide NOAA weather alerts. Some radios lock automatically into the nearest weather channel. A good number of units scan automatically for nearby weather channels.
Others
The other two important features you need to consider are whether the radios are water-resistant or waterproof.
Finally yet importantly, you need to consider privacy codes. Privacy codes enable you to discover a chatter-free frequency when out on a busy hunting day. All you need to do is select a privacy code and a predetermined channel. Doing that enables you to communicate with anyone using a similar privacy code and channel. Still, if someone is tuned to the channel you have selected but have their privacy code turned off, they will be able to hear you.
VOX (Voice-activated talking) – With this feature, there's no need to push to talk when at the middle of something.
Call alerts – This feature is handy to assist you choose specific tones to tell you of incoming calls from the group.
All hazards alert – With this feature, your radio boasts the ability to receive emergency alerts like landslide and fire warnings.
Group/Direct calling – This feature is highly important when hunting in groups or teams.
Final Thoughts
Choosing the right radio is highly important. It can help from the perspective of a hunter. It can also go miles in saving the life of a user especially if he or she happens to be on a tough spot. Obviously, it's not something that any expert would advise skipping out on expense over if he or she has to choose between luxurious or pocket friendly radios.