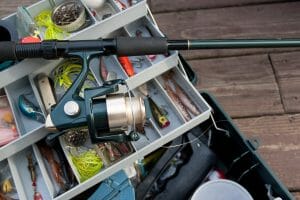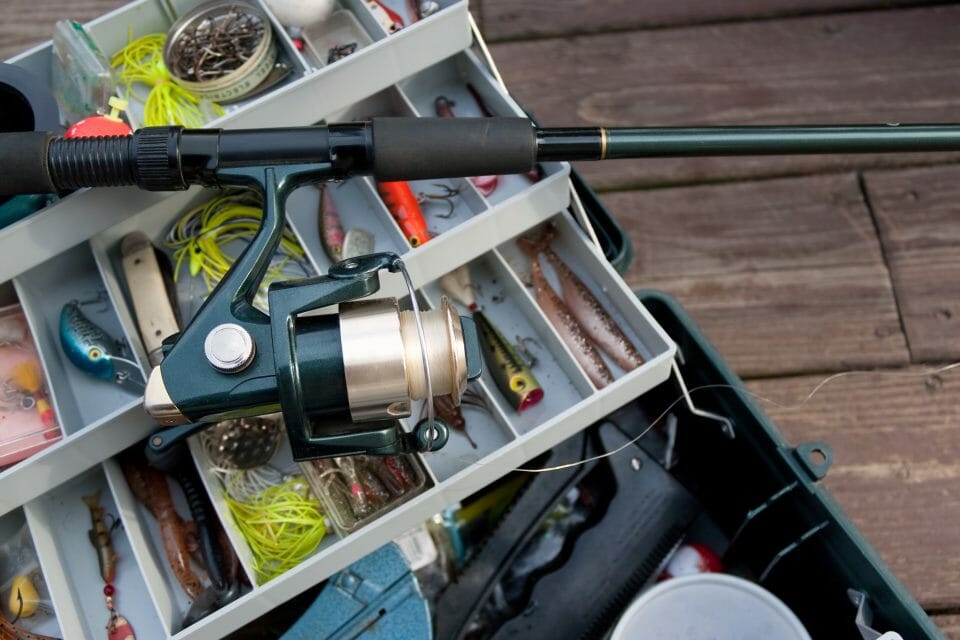 Hey Y'all, looking for a travel trip along with your fishing tackle? There are some questions and confusions related to this, and here in this blog I'm gonna break every portion into pieces and going to discuss these topics. My main intention is to make it simple to you as much as possible.
Imagine you had a busy month or work schedule, totally stressed out with the same monotonous job for days and looking for some peace! Exploring the world a bit more with your sweet family or alone, dive deep into nature or interacting more intimately with nature? What could be a better way to make this happen than fishing? Maybe some fun fishing on a coral-filled paradise. Or some bonefishing in the sunny Bahamas? Maybe some trout or salmon fishing in cold Alaska?
Whether you go for a weekend fishing trip or traveling somewhere far from your home, it demands some knowledge prior to this especially when you are taking your fishing tackle with you. So let's share you some superb travel tips that are definitely going help you make your trip a memorable one! Let's get started.
Can I take my fishing rod on a plane? Airline tips and guides
Yes, you can. It's the most asked question comes into mind when we are thinking to travel with Aeroplane with fishing gears! According to the TSA, U.S Department of Homeland Security. Feel free to visit these sites.
"Fishing rods are permitted in carry-on and checked bags; however, passengers should check with the airline to confirm that the fishing rod fits within size limitations for carry-on items.
Sharp fishing tackle that may be considered dangerous, such as large fish hooks, should be sheathed, securely wrapped, and packed in your checked bags. Like other high-value objects, you may wish to pack expensive reels or fragile tackle that does not pose a security threat (small flies) in your carry-on bags."
For further details, please check their links! But what we could understand is, packing all your fishing gear properly is what you should give your focus on! It's not only what they require, but also very essential for you! After reaching your destination you can find out that your expensive and fragile rod tip is broken or the reel is pretty damage! Even Taking a box full of large hooks, lures and flies is bound to give you trouble at airport security.
Lastly, wherever you are going, know your airline first! Some airlines, such as Alaska Air, are more accommodating when traveling with fishing gear. Some destinations are more accommodating to traveling anglers than others as well. So it's wise to check about yours too!
Pack your bag wisely
I know you do pack your carry-on bag wisely but I also consider that it's so exciting to go on a vacation to somewhere heavenly! So here are some quick reminders.
Don't forget to take
essential medical items such as medications, EpiPens, inhalers, etc.
laptops, cell phones, tablets, camera gear
pack enough to wear for a day on the water
Alaska requires different gear than a day in the Bahamas
Fishing wader pair of long underwear or fleece pants (must need for places like Alaska or British Columbia)
A glass, sun hat (for sunny places like the Bahamas)
pair of flats pants (for a tropical region)
Don't take
Knives
liquid fly floatant
metal rod holders
pliers, nippers, forceps, hook sharpeners, or knot tools
All about fishing Rods
Either you are going for guided fishing trips, trout fishing trips or fly fishing trips for beginners in Montana or Bahamas, you need to pick enough fishing rod to carry on baggage. Here I'm gonna talk about a few effective packing tips and quantity of rods that you should carry for your next trip!
For Mine and most of the traveling anglers experienced that, fly rods are more accepted by airlines. There are some issues occur with rod tubes, especially the metal or fiberglass factory tubes that come with the rod. Even we don't know why plastic rod tubes with codura coverings seem to cause the least problems.
Now there's a confusion between travel vs trolling rod! What you should carry, should you carry a single type of them or both? Here's the answer. If you want the full fun out of it, you should carry both.
You can carry 4 pieces of travel rod, you can perform unlimited light fly fishing or small lures. But how about adding some versatility? What if you want to go after something bigger?
Any pro angler who travels a lot around the globe will suggest you take at least two heavy trolling rods for the charter boat. The 4 pieces of travel rod will cover the fun part in a beach. And these 2 rods will allow you to do some serious fishing!
Pack your fishing rod
The best option is to use the fishing rod tube offered by most of the fishing rod companies. The large 46-inch tube offered by several rod companies works well and can hold several rods. Although these tubes don't fit in the overhead compartment, typically the flight attendant has no problem storing it in the closet at the front of the plane.
As I mentioned before and also proved that you can take travel rods as carry-on luggage with you. Just group them together in a short rod tube and you are out of trouble with flight attendants.
Note: must tape them together or pack them in their original packaging so there won't be any chance of damage while traveling.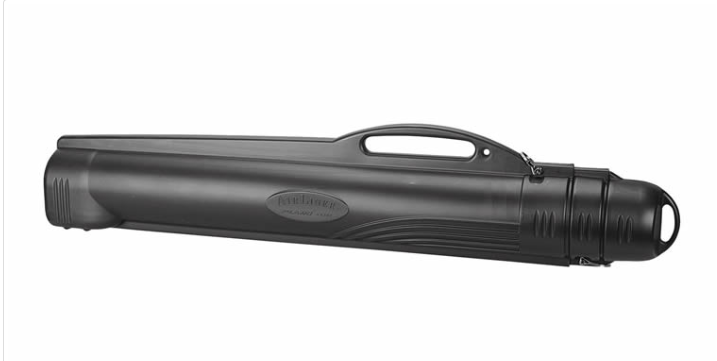 The Plano airliner telescopic rod case- available at Amazon
For few bucks
For heavier equipment like trolling rods, it might be a problem to get through airport security. They usually resist you to carry them with you on the plane. But don't you worry, not a problem at all! You can check them in as sports equipment and to my experience, most airlines will not charge you an excess baggage fee.
Extra security to avoid theft
It's so unpleasant fact but happens sometimes. It's not going to make you happy if you find that your tackle box was stolen! So avoiding that, buy a hard-shell one that supports a padlock. Or you can drill two holes into a soft-shell tube so you can lock the zipper in place to avoid getting your rods stolen.
How to Pack Reels
Packing reels are not a hazardous job at all! They are little pieces of equipment, can be fit anywhere. Just simply put them into your carry-on luggage. It won't be a trouble at all when traveling within the U.S. and the Bahamas. Therefore, I would recommend packing any expensive fly reels in your carry-on.
But here's an issue, I have heard of folks having trouble packing fly reels loaded with the fly line while traveling to destinations in Canada. So contacting your airline would be a wise decision.
Reel performance check
It's so annoying if you find out that your reels are not working smoothly, it quacks or nor performing well! That surely will damage your vacation mood vibe. So before leaving, why not run a quick performance check to all your reels. See if it works perfectly or not, smooth enough to catch fishes in any situation!
Please make sure that-
Pull line off the spool with some drag so you know its smooth
Check the drag carefully. Any fluctuation in the drag as in stop and go can cost you a fish
Wind your reel and make sure it feels smooth
Check your side plate screws to make sure they are tight
Some quick tips
Pack reels in their original case, padded with a few socks or pairs of underwear
Trolling reels will rarely fit into your carry-on luggage, so be sure to pad them well in your check-in bag.
Consider packing line separate in hold baggage
Hey here's an article about The 9 best bass spinning reel under 100$, though if you need some good preference! Feel free to have a look.
Lures & Flies
According to TSA (Transport Security Administration)
"Expensive reels or fragile tackle such as fly's should be packed in your carry-on baggage."
-TSA, Travelling with special items
Regarding this, I read an article where they said,
"I disagree with this. Just check all sharp items. Taking a box full of large hooks, lures and flies is bound to give you trouble at airport security. They might let you enter the plane in the end, but only after a 30-minute argument with the security officer who's probably clueless about fishing, and why you need a 3" fishing hook in your carry on luggage.
If you absolutely must carry your lures with you, write an email to the airline asking about carry-on regulations for fishing lures/flies/hooks. If the response is positive, print it out and be prepared for a talk."
To my knowledge, according to the TSA website, flies are allowed in carry-on luggage if under a certain size. Smaller ones such as trout flies or smaller saltwater flies in the 4-8 range can make it through. But Larger salmon or steelhead flies may not make it through. So pack a box small enough of a few tried and true patterns in your carry. That will keep you on the safe side.
I found this very helpful, so thought why not sharing this little information with you which can save you from unwanted trouble!
Label your Bags
This may be considered not necessary, but to me, it's very important to label all your checked bag and your carry on. Imagine that something happens to your luggage, this simple step can make all the difference when trying to track down your luggage and reach to you safely.
Wrap up
We tried to share almost all the information related to traveling with fishing tackle as much as possible. Cause we don't want your vacation to spoiled for any silly mistakes. It's the excitement, the vacation vibe which always makes us doing some mistakes and then destroys our mood for a bit! So, before any Travel and fishing trip to somewhere in nature, please Organize all your stuff.
However, if you want to know more about fishing gear review and tips then TopReviewGeek is one of the best places where you can find everything that makes your fishing trip easier.
So you can hit the ground running in vacation mode as soon as you reach the spot. Happy journey folks!