Two-way radios have always been a popular piece of technology, whether you are a casual user or a professional. The main reason is due to how versatile this piece of gear is as they can be used in a lot of different and useful ways.
Whether you are running an outdoor event and you need to coordinate with your staff, are a keen explorer who loves being out in the wilderness, or you simply want to make your office life that little bit easier, the two-way radio is an amazing piece of kit that can be useful with whatever scenario it is placed in.
In our guide, we are going to show you the top two way radio communication devices that are perfect for use in the outdoors ensuring you are always connected even in harsh situations.
A great place to find even more information on these amazing outdoor survival pieces of equipment is thewalkietalkguide, here you will find all the relevant information in buying your new two-way radio communication device, written and reviewed by some of the best experts in the field giving you their first-hand take on these brilliant outdoor communication devices.
1. Motorola TLKR T92 Licence-free Two Way Radios
The Motorola TLKR T92 H2 is pretty much identical to the previous model, the T80 Extreme. It has a maximum range of 10km with a rugged design that is extremely weatherproof, and pretty much all the same features that the old model included.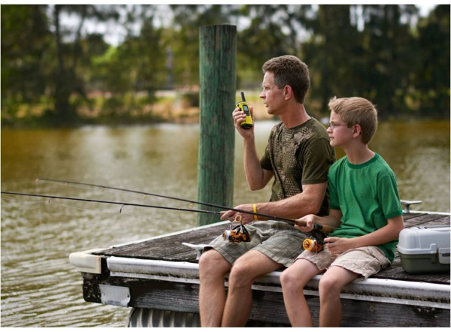 Specifically designed to be able to handle the elements, the TLKR T92 is one of the most durable two-way radios currently on the market, this is promoted with the floating core that it contains making it the perfect two-way radio for water-based sports such as kayaking and canoeing.
There is also a host of other special features such as an integrated torch which will help save you space in your backpack, and also give you one less thing to think about. There is a 16-hour battery life which is great for any kind of adventure, the combination of durability and a sleek design make these walkie talkies the perfect choice for any kind of user.
A reliable and affordable choice that will keep you connected when you need it the most, the Motorola TLKR T92 is amazing and one of our best buys.
2. Cobra AM645 Twin Walkie Talkies
The Cobra AM645 twin walkie talkies are another example of a pair of walkie talkies that are robust and durable all inside a compact shell yet still offering great value for money. These two-way radios come at a mid-range price with a great range of features such as a backlit LCD display, VOX, rechargeable batteries, 8 different channels, and 121 privacy codes.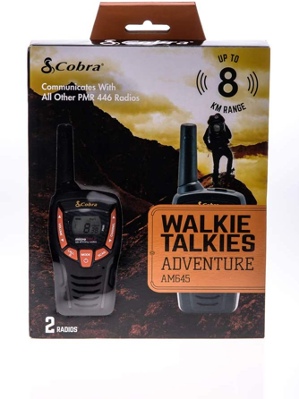 A great feature with these two-way radios is that they are compatible with other PMR 446 two-way radios, this is great if you already have some existing equipment that you want to add these into.
No matter if you are looking for a low-cost solution for hiking, skiing, camping, or work the Cobra AM645 is a great choice that is compact and dependable with some great performances given.
3. Binatone Terrain 850 Walkie Talkies
If you are looking for a simple set of two way radios then this user-friendly option from Binatone is great. It is license-free with rechargeable batteries that are always ready to get straight into the action. On a single charge, these walkie talkies have an impressive 20-hour battery life.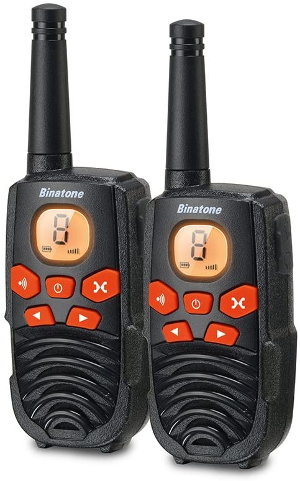 Although Binatone is one of the lesser-known brands they have a solid reputation within the two-way radio community mainly due to the high quality of their devices. The sound that the Binatone walkie talkies deliver is amazing, it is crisp and clear with no distortion at all, even when pushed to the maximum range of 8KM.
The Terrain 850 also features noise-reduction software that is one of the best found on the current market making sure that this high-end model is perfect for any situation whether that's on the trail or at home.
4. Motorola TALKABOUT T82 Extreme Two Way Radios
If you are looking for the ideal walkie talkie for outdoor use then you can't go wrong with anything from Motorola, they have been in the game for a long time and it is no surprise that they have been mentioned more than once in our guide of top outdoor two-way radio communication devices.
The T82 Extreme two-way radios are waterproof and rugged with an IPX4 rating ensuring they will work even in some of the harshest conditions. There is a hidden screen that can be lit up making navigating the menu a little easier.
With a total range of around 10km, these two-way radios are ideal for skiing, hiking, and pretty much any outdoor activity that you need to have contact with someone. Plus, there are lots of extra handy features such as an LED flashlight which will not only save space in your bag but give you one less thing to worry about when you are packing.
Another great feature is the vibration alert function, this lets you work without disturbing anyone around you perfectly if you need to be more discreet. One of the best features is the iVox function, it allows you to enjoy automatic activation by voice and hands-free communications, something not always found in these two-way radios.