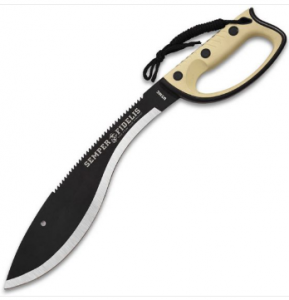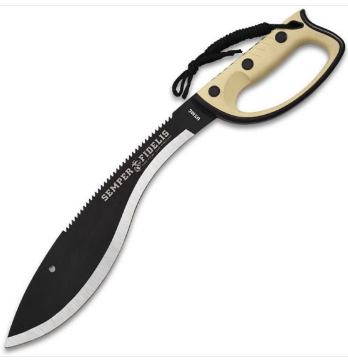 What goes through your mind when you hear the word "machete?" Scenes from horror movies? Or a bunch of people exploring the jungle, cutting down vines, trees, and bushes? Machete was once conceived for the above uses many decades ago, and they are now considered multi-tools of invaluable purchase.
So if you are opting to buy a machete, whether for practical purposes, survival situations, or show off.
We have compiled a list of things to consider before getting that machete you desire.
Blade Style
Blade shape or style, for some people, is the most significant feature of a machete. Machete shape varies depending on their uses. Machetes are quite popular in the rural areas of the world and are used often. This makes the style vary. But the style sometimes overlaps. Depending on the part of the world you are in, each blade differs. The style of the Rawit is called Kukri, and the style of the Golok is referred to as Sable.
Sometimes, the style can be a subjective matter. Most people purchase machetes based on the styles that they come across or used in the past. All machete styles are not standardized, as one style can be melded into another easily.
You may consider the following blade styles:
1. Bush machete
This is a multi-purpose machete that features a stout and evenly weighted blade. It is easy to carry around in a sheath, cuts well through green vegetation, and is the perfect utility tool.
2. Bolo machete
The bolo machete is a workhouse. You can either use it as an axe or a knife, and its weighted tip makes it the perfect tool for slicing through thick vegetation.
3. Kukri machete
This blade is made up of three parts. It has a broader midsection perfect for chopping, a narrow handle part for whittling and carving, and a sharp pointed tip for easy penetration.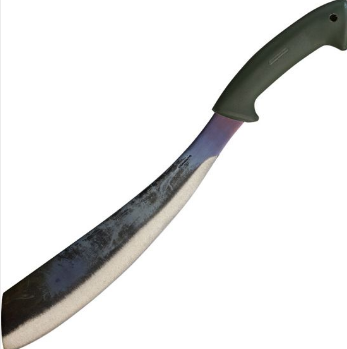 Length of Blade and Machete
The length of a machete ranges from about 25cm – 70cm. The average machete has a length of 45cm. Any machete with a size smaller than this will have a lesser reach, but it'll have a thicker blade, and it'll also be more portable.
Longer blades, on the other hand, are challenging to carry around. But they are efficient when it comes to clearing a large expanse of land quickly and easily. Its centrifugal force is greater than that of the small machete, so it generates more power.
The Composition of Machete Blade
One major difference between machetes is the composition of the materials used in making its blade. Machete blades are made from either stainless steel or carbon steel. You may come across hybrid version blades produced from high carbon stainless steel. The hybrid blade combines the features of both stainless steel and carbon steel.
Carbon Steel
Harder and stronger than stainless steel
Retains edge sharpness better
Must be oiled frequently to prevent rust
Difficult to sharpen
Stainless Steel
Edge retention is not good
Not as hard as carbon steel
Easily sharpened edge
Easy to maintain
Stain-resistant
Tang
Tang connects the blade and the handle. It is that part of the machete that extends into the grip of the blade.
Handle Material
Although the blade is the most important part of a machete, we can not understate the importance of the machete handle. Below are some popular machete handles:
Wood: The wood grip gives you a firm grip and superior comfort.
Polymer: This is the most affordable and needs less maintenance.
Rubber: It offers a good grip.