If you're like me and love to hunt, then you may want to bring your furry friend along as well! After all, they are one of the best animals to be with because of their great senses and loyalty from the house to the field. And because the hunting season is fast approaching, it makes you wonder about how you can prepare your dog to go hunting with you! Obviously, good nutrition is going to give your dog a major advantage, so check out Ultimate Pet Nutrition to find the perfect food for your loyal companion to keep them healthy before the season starts. Besides packing your items and weapons, you're going to need to train your dog and prepare his stuff like a waterproof dog bed as well. But the question is: How?
Read on as I show you the four best tips to do when preparing your dog for hunting season.
How to Prepare Your Dog for a Hunt
Obedience is Key
Before camping with dogs, you will need to train your dog in both obedience and drills. Train him with basic obedience lessons to keep them under control while hunting. Teach them how to sit on trees, stands, or in water for long periods of time.
Other drills include steading, marking caught game, lining (running straight to the game), and handling. Use bumpers for this. That way, your dog will know how to hunt properly.
Depending on the age and breed, training your dog might take months, which is why you should start training them as early as possible. It'll be easier for you to keep track of your dog and ensure their safety if they know how to follow your commands. Their obedience can become the ticket to the success of your camping trip!
It's also important to choose a suitable name for your duck-hunting dog that reflects its purpose and personality. Some popular names for duck hunting dogs include Drake, Gunner, Mallory, and Teal. It's important to remember that the name should be easy to pronounce and distinguish from other commands during the hunt. Additionally, you can mention that a well-trained duck-hunting dog can greatly enhance the hunting experience and increase the chances of a successful hunt.
Stay Cool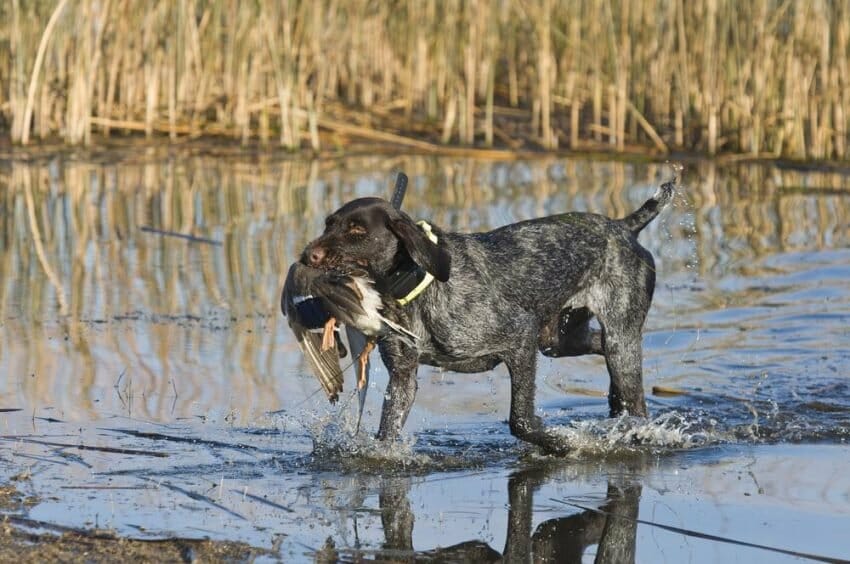 While you are hunting, you need to be prepared for the weather. To ensure that you and your dog will remain dry throughout the entire hunt, make sure to bring the necessary gear. If you're going to hunt overnight, prepare a high-quality tent for you and your dog. You can also bring some sheets to ensure you and your dog's comfort at night. 
Always make sure to stay hydrated and that you are away from the direct heat of the sun. It's worse for dogs, which have fur and no foot pads. Bring several bottles of clean water if you're planning to stay overnight. Opt to hunt early in the morning and under trees. This will give you and your dog the opportunity to stay in the shades to cool down. 
If you're going to bring a bigger dog, a cooling mat might also help. There are countless cooling mats available in the market today, so make sure that you choose one that suits your dog's size and weight. The cooling mat should be large enough for your dog to sit and stand comfortably.
Prepare Everything Your Dog Needs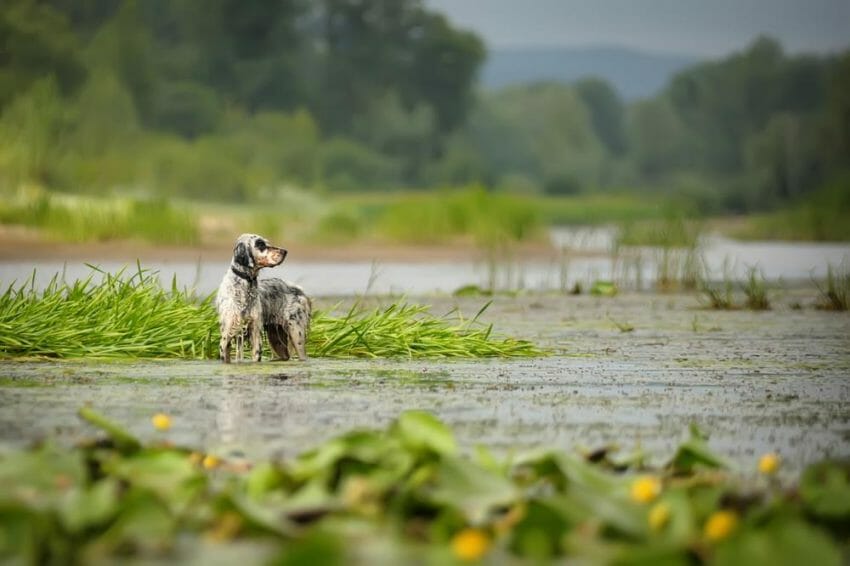 Remember that your dog will require a few items in his pack as well, particularly his dog food, medication (if necessary), his dog training collar and tags, folding dog steps for car, as well as vaccination records in case he will be traveling with you to the fields by air.
If you're planning to play with your dog during the hunting trip, bring some of their treats with you. Since you'll be camping with your dog, it's important to pack their essentials as well.
Aside from those mentioned, make sure that your hunting trip will also include activities that are suited for your dog. If your dog is small and their first time going hunting, it might not be best to engage them in rigorous activities right away. This might cause too much stress, which will take a toll on their health. 
Camping with dogs can be a fun and memorable experience if you also think about their needs and wants.
The Right Food
Just like humans, your furry one will need the right dog food that has him running quickly and with the strength to catch the game, may it be in the waters or fields. If your dog gained a bit of weight before the hunting season, have him on a diet before training and hunting. Cut down the protein and fat he consumed, feeding him once a day during the evening.
In Conclusion
And there you have it! Four helpful tips to keep your dog safe and hunting efficiently. I hope I helped you out! If you've got any questions or comments, then share them down below. I would love to hear what you have to think.