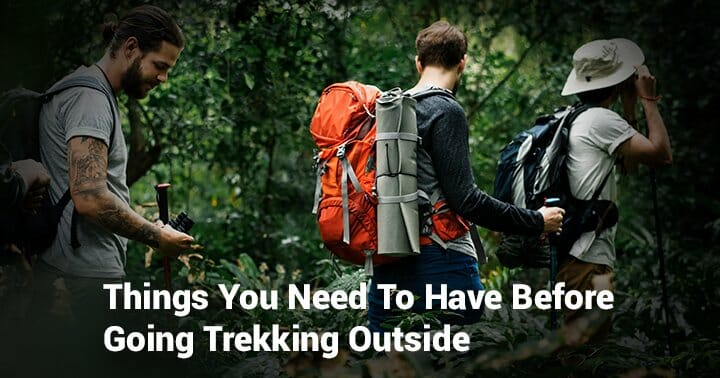 Trekking requires a lot of effort and hard work. Whenever you decide to go trekking, please don't forget to take essential things with you. Here, we will provide you list of all the important things which you should carry with you during trekking.
Important Things you need to have before going trekking outside:
1. Water
This is the most basic requirement for trekking. Many people forget to carry water on their trails. Not drinking sufficient water can cause altitude sickness. Users, you already know this, but there are other things to consider: in case you are taking your friends and family to a higher altitude than normal, take an extra water bottle for them. In order to avoid dehydration, drink water slowly and regularly every few hours. If you find any symptoms of altitude sickness, then drinks with electrodes can help you to recover.
2. Food
This is yet another most basic requirement. Don't even think that only lunch is sufficient for trekking. Trekking burns more calories than you could ever imagine. Trekking by carrying a lightweight pack can burn around 500 calories an hour.
If you start trekking early morning, then you will be hungry by 10 A.M. If you are going trekking for the entire day, then don't forget snacks. Whenever you feel like you can't move further, a snack with sodium will help you recover.
3. Navigation Tools
Apart from food and water, you should also bring a map for navigation. Also, you should bring a compass and altimeter to read your map. Always check the GPS and Compass before you start your journey.
4. Rain Protection and shelter
Bring Raincoat as it helps you to protect from heavy rain. Weather changes instantly in hilly and mountain areas. In any case of emergency, a raincoat will protect you from a thunderstorm and heavy rain.
Also don't forget to carry a tent, in case you need shelter to protect yourself from different conditions and also for sleeping quietly.
5. Extra Clothing
If you have a plan to hike about 10,000 feet, then bring a coat and long pants. Please ensure that you wear proper clothes and boots on the terrain. As per U.S. Forest Service, temperature decreases 3-5 degrees every 1,000 feet of elevation gain.
Don't wear cotton T-shirts and jeans as these materials require more time to dry. Hence, carry nylon clothes with you at the time of hiking.
6. Sun Protection
You must have at least one of the items with you during trekking: a hat, sunscreen or sunglasses. Don't even think that there is a cool temperature hence you will not require sun protection. A higher altitude can burn your skin.
For each and every 1,000 feet, there is a significant increase in the percentage of UV rays. Hence, you should protect yourself from the sun.
7. First Aid Kit
Always carry a small first aid kit if you are going on a one day trek. In trekking, you will come across various rocks, tree roots, holes and fallen branches. All these things are the cause of pain in ankles, cuts and other hazards.
A kit should consist of things such as adhesive bandages, gauze pads, adhesive taps, disinfecting ointment, pain medication, pen, and paper. If you are trekking with a group of people, then each and every person should have a kit, in case you get separated.
8. Illumination
If you begin your trek later in the afternoon, then you should carry a torch or headlamp to ensure that you reach your campsite in dark without any kind of trouble.
If you start your trekking mid-afternoon, there are chances that you complete it at night, to get protection, carry a small and lightweight torch or flashlight which you can carry in your backpack easily.
9. Repair Kit
Anything essential to repair the trail gear along with Swiss army knife or other multi-tool, duct tape, shoeless, needle and thread, scissors, wire, rope, and many more.
9. Proper Footwear
Whenever you go trekking, footwear plays a very important role. If you are going on a well-maintained terrain, then sports shoes will work. But if you are going on a heavy terrain, then you should wear hiking boots.
10. Backpack
If you are going on a small trek, then a backpack having a capacity of 15-20 litres will work. But if you are going on a heavy trek, then backpack having a capacity of 30 litres or more is required.
If you are going hunting, then you should carry with your hunting fanny packs. A fanny pack is enough to carry all the hunting tools.
11. Trash Bag
It is also important to carry a trash bag. In the trash bag, you can put all of your used items. It is suitable to carry a small zip-long bag, in which you can keep all of your trash.
12. Fire making supplies
Always carry a box of a matchstick in case of an emergency. It is more suitable if you carry waterproof matches. To keep waterproof matchsticks dry, keep them into a waterproof bag.
13. Power bank, Batteries and Memory Card
You might think that you will get electricity on the journey. Instead of just assuming, just ask your guide about it. A better practice is to carry a large power bank to charge your mobile.
If you are going on a long trip, it is essential to carry more batteries for your camera, so that you don't get run out of it. Also, it is better to carry an extra memory card, so that you don't run out of storage.
14. Watch
It is best practice to bring a watch with you. If you have a watch, you will be able to estimate your speed, distance remaining and return time. As per the Naismith's rule, an average person hikes about 3 miles per hour, plus an additional hour per 1,000 feet elevation gain.
Here, you should track yourself on each trek so that you can calculate your actual speed. Naismith's rules don't include any breaks. On the basis of estimated time and distance, you can your watch to measure from where you are now to where you want to reach.
So these were some of the things you need to have before going trekking outside. If you found this information helpful, then please share it with your friends and followers.