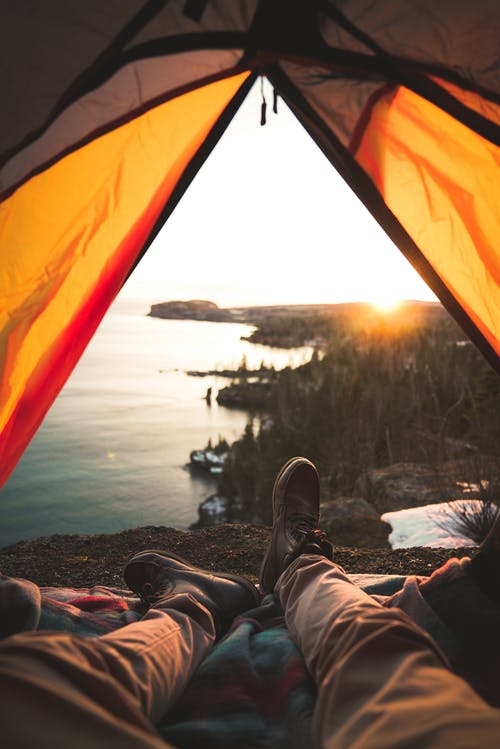 Are you getting ready to go on a camping trip but not sure what to pack? No matter where you are going, warm or cold, we've created a list to help you pack for all of the elements you may come across.
Cold Weather
Recent buyers of Banff homes for sale may be surprised by how many tourists choose to camp in this area. Frigid temperatures may be easily tolerated with beautiful snow-covered mountain views. However, those who plan to camp in a colder climate must be prepared to keep warm in wintry elements such as frost, snow, and ice and place their focus on preventing frostbite.
Items to include in your camping gear should include a closed-cell foam sleeping pad and a sleeping bag that is designed for low temperatures to ensure your warmth while you sleep. To ensure your tent can withstand the elements you'll want to bring wind-resistant tent stakes and a tent brush to eliminate snow build-up. To keep yourself warm inside of your tent or out, pack synthetic or wool base layers, socks, gloves, cold-weather hat, and weather-appropriate shoes.
Hot Temperatures
Going from one extreme to the next, camping in the heat can be tolerable if you pack wisely. First, you'll want to ensure your tent is well vented, and having an added shade to anchor above is a great idea. Your sleeping bag should be made of polyester fleece for a cooling effect. Clothing-wise, you want to make sure they are loose-fitting and lightly-colored. Packing a pair of sandals to wear when not exploring is also a good way to keep your feet cool. Don't forget to keep your food cool and safe with a bear-proof cooler. 
Safety
No matter the climate at your camping destination, you will always need to pack for safety purposes. In hot climates, you'll want to protect yourself from the sun by having an appropriate SPF and accessories to limit your sun exposure such as hats, neck guards, and sunglasses. With warm temperatures also come bugs. Repel bugs by having proper bug repellent on hand.
Other important safety supplies to include in your camping gear is a first aid kit. If you happen to cut yourself, obtain a bug or animal-related bite, or sustain any other type of injury one of the first things you will need is a first aid kit. You'll also want to pack reliable lighting, a method of navigation such as a compass, matches or a fire starter, a knife, and a repair kit for any items that need to be fixed.
Be Prepared
Regardless of where you are heading be sure to check out what the expected weather conditions and hazards are. Following this guide will help you pack efficiently and appropriately if you are well prepared and educated on the area you are headed to.