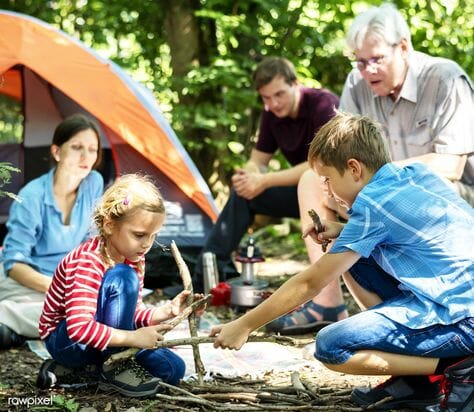 Family camping has forever been the most popular activity during the summer holidays. The kids are off school and have mountains of time to kill, spending it outdoors is one of the best ways to do so.
Not only this but it helps in the children's development and creative thinking, by spending time outside and away from the loom of modern technology. Finally putting down that iPad.
However, there are multiple problems when considering your first trip. One of the most important ones being, which tent should I choose?
Now let's say you are in a family of 5, the average number. With 3 kids or 2 kids and perhaps a dog that will be joining you. Then we at thetenthub (outdoor specialists' team) suggest you opt for an extra-large, 12-person tent.
Some of the best 12 person tents on the market have all the features you need for family camping. Specifically designed with large camping groups in mind, it will make the whole experience much more convenient. And a ton less stressful, with these practical tents giving you a helping hand.
Most of the tents that we reviewed have great features, such as the removable dividers. These are often curtained or paneling that are integrated into the tent's interior. They allow you to cover and divide up the huge space in these large tents.
Allowing you to crate multiple sleeping areas, a dining area or a safe haven for storage. Not only this they are fully meshed, blocking bugs and mosquitoes. And also, they provide privacy via the no-see-um meshed fabric. Perfect for diving the kids and parents up for changing and bed time.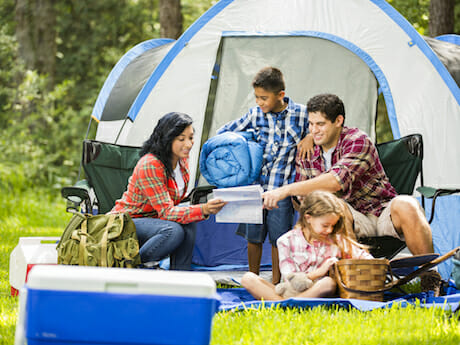 Another option that is seen in the some of the top 10 person tents, is the blackout technology that is evident in the Coleman model. One of our favorite family friendly attributes. The blacked-out material reduces the heat from the sun all afternoon Then at night, reverses this and uses the stored heat and energy to then heat the tent up during the cold nights.
A few other things to consider would also be how to assemble them. There are many variations to choose from, with the old traditional pole set up being the norm. But also, with modern technology you can choose form pumping an air tent up with a foot pump, or throwing a tent with a spring coil into the air and watching it explode into shape, known as a pp up tent.
A happy medium between the 2 would be an instant tent, which is a tent with a pre-assembled framework fresh form the manufacturers. This is as stable as pole tents but sets up as fast as a pop-up tent. Without losing its strength.
All in all, choosing the right tent for your family trip is conducive to having a pleasant experience, so make sure you choose with family friendly features in mind.