Take Me to the River, Put Me in the Water! What Anglers Have Learned About Gold Medal Fishing in Colorado's Arkansas River
Anglers everywhere may remember Big Mouth Billy Bass, the comical cultural sensation that sang, "Take Me to the River" as he wiggled against a wooden plaque on countless walls across the country. His enthusiasm was infectious!
Fishing fans from near and far are just as enthusiastic since the Colorado Parks and Wildlife Commission designated 102 miles of Colorado's Arkansas River as Gold Medal Trout Waters in 2014. The designation makes the Arkansas one of the best rivers to fish in the West.
WHY GOLD MEDAL DESIGNATION MATTERS
Gold Medal Trout Waters are any river, stream segment or standing water which produces a standing stock of at least 60 pounds per acre and at least 12 quality trout (14 inches or longer) per acre on a sustained basis. River or stream segments designated as Gold Medal waters must be a minimum of two miles in length and standing water must be a minimum of 50 acres in surface area. The Arkansas River has met or exceeded those standards since 1999.
Andrew Petersen, owner of The Colorado Angler Fly Shop and Guide Service and a member of the Arkansas River Outfitters Association (AROA) says, "The Gold Medal designation is the highest level of quality fishing experience you can have in Colorado. Only 300 of 9000 miles in Colorado are Gold Medal. Anglers look to that – it's top shelf."
Opportunity is the name of the game. Petersen continued, "It's true. We've got a great river here. And right or wrong, visitors may equate the Gold Medal designation to having the best possible experience on that section of river. People do look at where they will have the greatest opportunity. As recently as ten years ago, I think it was the most overlooked fishery in the state. I'm a glass is half full guy – I don't see overcrowding happening. On a river like the Arkansas where people can spread out and explore Central Colorado, I think the experience is fantastic!"
There is indeed a lot of room to spread out in. At 1,469 miles long, the Arkansas is the sixth longest river in the United States and the second-longest tributary in the Mississippi-Missouri system. Two water sources for the Arkansas River include Mt. Elbert at 14,431 feet and Mt. Massive at 14,418 feet. They are the second and third highest peaks in the contiguous 48 United States and offer a spectacular backdrop.
COLORADO'S ARKANSAS RIVER HAS HEART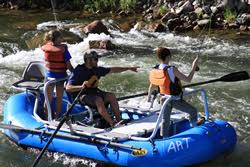 But beautiful scenery isn't the only Arkansas River attraction. Paul Schickler, who has fished throughout Colorado for decades, finds the solitude and country experience refreshing and a big stress-buster. "It's as good as it gets for me. We have awesome fly fishing all over Colorado, but the most special thing about the Arkansas is that it's in the heart of 'quiet country.' You get to experience real, rural Colorado mountain life, far away from the glitzy areas. I also like it because it has a homeyness to it. There are lots of open areas between quaint towns and historical homes along that stretch of the Arkansas. It's unique because it's so accessible to float and fish. The relaxed pace and genuine people give it a good feel."
Petersen agrees that there is a personable feel to the Arkansas River. "Being in Silverthorne we go all over; we guide on a multitude of rivers. Every one of them has a different feel and offers a different experience. Even within the Arkansas, you have multiple types of experiences – small towns and stretches that are more remote. In Colorado, the river valleys offer the easiest mode of travel because road access is close by. You can float through Brown's Canyon for ten to twelve miles with access at the top, middle and bottom."
WHY A GUIDE WILL STEER YOU RIGHT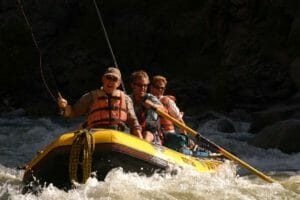 "Since 102 miles is a lot of water to cover, it allows a fisherman to find solitude," said Bob Hamel, fishing outfitter, owner of Arkansas River Tours and AROA member. But not everyone wants to go it alone. Members of the Arkansas River Outfitters Association at http://raftthebest.com/outfitters/ are a great resource for fishermen seeking experienced guides who are familiar with the Arkansas River.
Twenty three years of guiding has taught Petersen that familiarity with the river and expertise is important to a memorable fishing trip. "Hiring a guide can shorten the learning curve. We fish rivers all over the place. You want to know the primary food source (for the fish), where you want to be on that river and at what time. There are guides for all angler abilities and they have local knowledge of the river. In 102 miles, there's a tremendous amount of change as you go down the river throughout the year. For example, water temperatures can vary. It's important to hire someone who knows where the public water on the river is located and what's happening on that stretch."
Jeff Schickler, brother to Paul and an avid fisherman in his own right, also recommends going out with a guide. "I have fished from Seattle to Florida, Montana and Idaho. I think Southern Colorado has some of the best fly fishing in the state, hands down. If you have a guide they will put you on fish — you fish while they paddle. That way, you can cover a lot more real-estate."
Petersen explained, "There's a big difference between a raft and a paddle boat. On a paddle boat, everybody has a paddle. On an oar boat, just the guide is rowing. A raft can be either an oar boat or paddle boat. They are configured a little bit differently. We run strictly rafts set up as an oar boat, with a guide. There are two fishing clients, one in front and one in the back. There are seats, a hard diamond plate floor where clients can stand up and lean against the brace. Clients are higher up; its easier to see and the cast is easier."
IT'S ALL ABOUT THE BUGS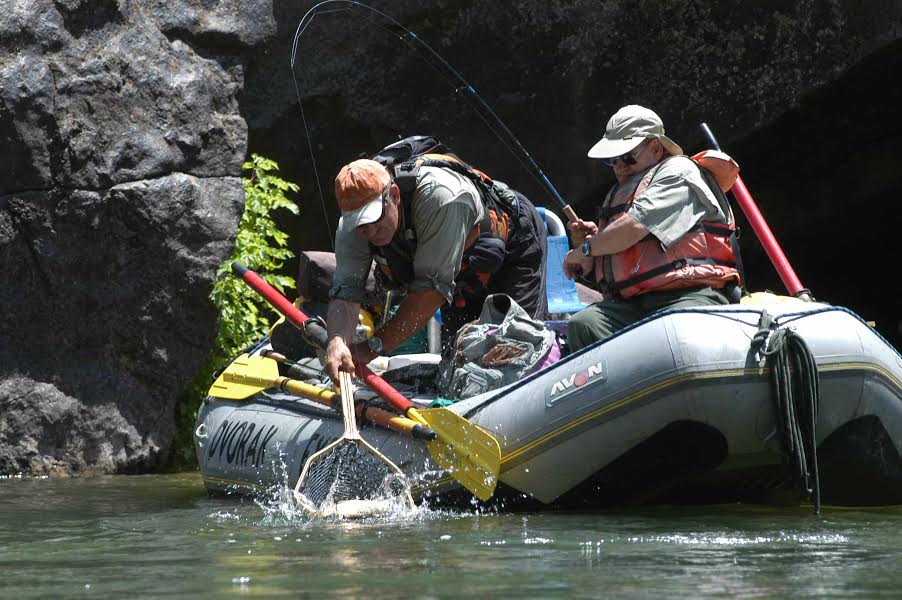 Guides are also adept at answering a wide range of questions including, "What kind of food is available and what are the feeding patterns?" This is another reason why the Arkansas River is such a great fishing destination — the bugs!
Petersen says, "Different insect hatches occur on different sections of the river at the same time of the year. In mid-to-late April we'll see the caddis flies — that hatch is one of the great rites of spring. And having that information regarding where and when is beneficial to all levels of anglers. The Arkansas has enjoyed a tremendous comeback based on cleanup efforts from the history of mining. So we've seen improvement of water quality, resulting in a very diverse offering of insects on the River now.
Indeed, the rocky waters of the Arkansas nurture major insect hatches each year, especially the famous Arkansas River Mother's Day caddis hatch, known to attract anglers from near and far.
Petersen added, " But we no longer just rely on the caddis. Probably the biggest factor in the Arkansas gaining its Gold Medal status is that fish have access to and can thrive on multiple food options throughout the year."
ADDITIONAL RESOURCES
More than 65 percent of Colorado's Arkansas River is open to the angling public via federal and state managed lands and numerous state-controlled fishing leases and easements. Many public fishing access areas are leased from private landowners. Green signs posted along the river alerts anglers to private ownership.
Anyone over the age of 16 who wants to fish in Colorado should purchase a license. Call Colorado Parks and Wildlife at 1-800-244-5613 to do so.
Visit the Colorado Parks and Wildlife fishing page for links to buy a license online, access the license agent list and find fishing events at http://cpw.state.co.us/thingstodo/Pages/Fishing.aspx?
Get familiar with current fishing regulations. Most refer to barbless hooks or mandatory catch and release. You can download the Colorado Fishing Brochure 2016, published by Colorado Parks and Wildlife at http://cpw.state.co.us/Documents/RulesRegs/Brochure/fishing.pdf
Get the latest statewide fishing conditions from Colorado Parks and Wildlife at http://cpw.state.co.us/thingstodo/Pages/StatewideFishingConditions.aspx
Read Fishing Reports and access archives from Colorado Parks and Wildlife at http://cpw.state.co.us/thingstodo/Pages/FishingReports.aspx
Subscribe to Colorado Parks and Wildlife Fishing Report to have it sent straight to your email box at
http://cpw.state.co.us/thingstodo/Pages/Fishing-Report-Signup.aspx
How to approach fishing on the Arkansas River by Ark Anglers at http://www.arkanglers.com/how-approach-fishing-arkansas-river
The Royal Gorge Anglers Fishing Report can be found at http://www.royalgorgeanglers.com/arkansas-river-fishing-report
Visit Dvorak Expeditions (owned by AROA member Bill Dvorak) and review a range of fishing trip adventures at https://dvorakexpeditions.com/fishing-trips/arkansas-river-fishing/
Visit The Colorado Angler (owned by AROA member Andrew Petersen) at http://thecoloradoangler.com/ for fly fishing trips statewide. Their Fishing Report is at http://thecoloradoangler.com/fishing-report/
Visit Arkansas River Tours (owned by AROA member Bob Hamel) for information on their Walk/Wade and Float Fishing Guided Trips at http://www.arkansasrivertours.com/fly-fishing/
Anglers who fish the Gold Medal Trout Waters of Colorado's Arkansas River experience a soul soothing Rocky Mountain adventure worth singing about. And if you listen closely, you may even hear Billy Bass, that frisky fish, let out a few lines of "Don't Worry, Be Happy!"
Arkansas River Outfitters Association partnering with Colorado Parks and Wildlife (CPW) and Chaffee County Visitors Bureau Recipient of the 2016 CTO Matching Grant