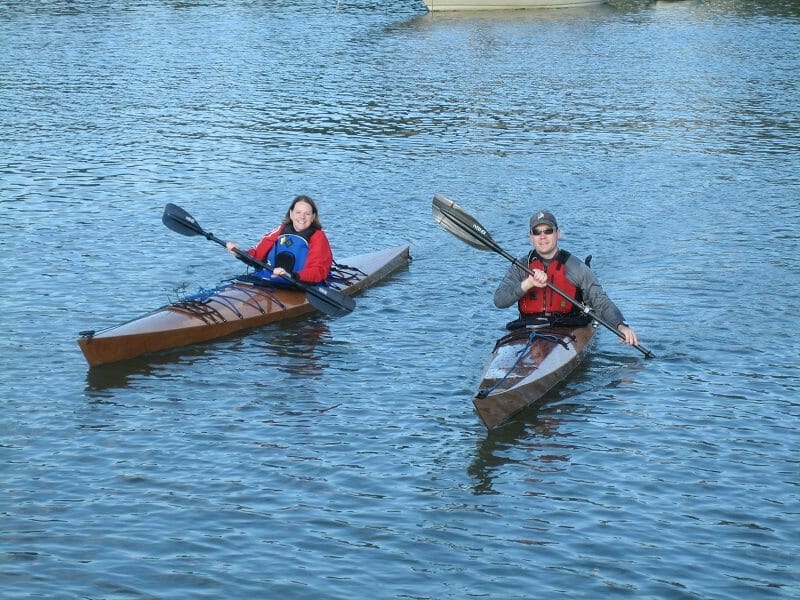 ANNAPOLIS, Va., October 6, 2014 – It may be sunny outside with blue skies above, but waters are deceptively cold and unforgiving in the fall. For paddlers with just a few inches of freeboard to spare, getting wet this time of year can have serious consequences, so the BoatUS Foundation for Boating Safety and Clean Water has these seven tips for fall paddle craft safety.
Know how to re-board: All paddle craft are different, so before you hit a lonely, remote stretch of river or bay, learn (in a safe place) how to get back in the boat quickly and efficiently as hyperthermia is a threat that increases by the minute. Some paddlers add extra floatation inside the boat as it can help reboarding. (Tip: this can be accomplished simply by inflating a beach ball or purchasing aftermarket float bags). If you do ever fall out and can't get back in, stay with the kayak or canoe – it's a bigger target for rescuers to see.
Don't keep it a secret: Tell people where you're going by filing a float plan. It could be as simple as telling your spouse, in writing, where you are going and what time you plan to return. Writing it down makes it become habit. Be as specific as you can – this isn't the time to forget to mention you're heading to your hidden fishing hole two miles off the beaten channel.
Understand the basic rules of navigation: You may not be out there with icebreakers just yet, but there may still be some recreational boating traffic and potential ship traffic. The simple challenge is the smallest boats are hardest to see. One simple tip to help visibility is to spray the tips of your paddles a bright color. Paddlers also can help themselves by understanding some basic rules of navigation.
Don't leave without a bailer: With low freeboard — or the distance from the water to the gunwale — paddle craft are prone to getting water aboard. Once it starts, it's only a matter of time before your canoe or kayak becomes ever lower to oncoming waves. Keep water out and buoyancy up by having a bailer ready (Tip: tie one to each seat).
Thermal up or down: Neoprene gloves, a drysuit or wetsuit tops and hats are the ultimate protection in retaining body heat this time of year. However, have outdoor gear that offers versatility by being able to cool down or warm up when appropriate. Even if it may feel like summer, never leave shore in just a t-shirt and shorts. It only takes just a short change of weather or a dunking to drench you and the hypothermia clock starts ticking. A bright colored rain parka can also be seen at great distances.
Going remote? Go Personal Locator Beacon (PLB): Advances in GPS technology have brought down the cost of personal locator beacons, but if your budget is tight you can still rent a PLB from the BoatUS Foundation for $45 weekly, plus shipping. There are no additional subscriber fees and paddlers going to remote locations can order online at BoatUS.org/epirb or call 888-663-7472 (Tip: mention code "DISC10" for a 10% discount on the weekly PLB rental rate through December 1, 2014).
Keep it secure up top: If you need to get your favorite kayak or stand-up paddleboard to the lake on your car or truck's roof this fall, go to BoatUS.com/addingpaddlecraft for a quick read on the three basic types of roof rack systems and ways to safely tie down the load. Your kayak has no desire to meet the road or become a hazard for oncoming vehicles.