If you are someone that doesn't know much about hunting knives being able to choose from the various options can be a struggle, to say the least. With all of the different models to choose from, you really need to have a full understanding of your needs in order to identify the right one for yourself.
Without doing your due diligence, buying a knife can turn out to be a complete waste of time and money.
Here are the Different Types Of Hunting Knives
Hunting knives can be classified into two distinct categories. One would be folding knives and the other being fixed blade. These two types can be further classified based on their blade design including drop point knives, clip point knives, and even skinning knives. These various types of knives are designed for different tasks. Therefore, you might actually require multiple knives depending on how you are planning on hunting.
To go along with this, the total sharpness the blade offers is another major consideration that you want to make to identify the right knife. The material makeup of the blade can determine the extent of the knife's sharpness.
Any blade made up of the very best material should be both tough and resistant to both corrosion and wear. Likewise, it should feature high edge retention.
Key Tips To Choosing The Best Hunting Knife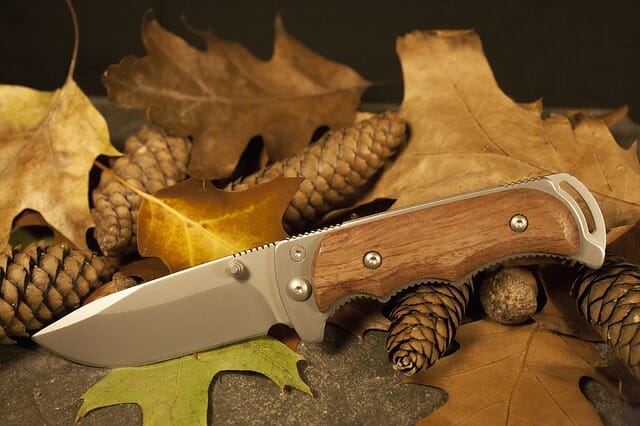 When it comes to choosing the right hunting knife, there are a few considerations you must make. Firstly, you will have to decide on the type of hunting knife that's appropriate for the animal you are looking to hunt because there will be major differences depending on whether it's large or small.
If you are looking to hunt big game, you will require a much larger, stronger, and more durable knife like a thicker stainless steel blade. If this holds true for your situation, it might be best to opt for a drop point knife which features a curved blade which can help with removing the skin of large game with the edge of it.
The biggest advantage of this knife is the ability to easily separate the meat from the skin much more efficiently while damaging the meat very little if at all.
When talking about the job of skinning an animal, it can be much easier when you have a knife suited to the task. This is where a skinning knife comes into play. As the name implies, a skinning knife is well suited and designed specifically to help skin an animal.
That being said, a lot of hunters use this knife for other cleaning tasks along with it. These knives are typically equipped with very curved, sharp, and thin blades which make them very efficient at removing skin from the game with a simple sweep of the blade.
For those that aren't necessarily as enthusiastic about hunting, getting a knife that caters to various hunting tasks along with other general tasks could be the better option. A clip point knife is well suited for this.
A clip point knife is designed with a much flatter blade which makes it very versatile and it makes it much more useful for other purposes beyond hunting use-cases.
Another key thing that you need to decide is whether or not you need one that is completely fixed blade or one that folds. If you are a very avid hunter, you are likely going to want to seek a fixed blade as they offer greater durability and they are much longer-lasting. On the other hand, if you are someone who really only hunts on occasion, you might want to instead opt for a folding knife as it is much more versatile.
Knife Handles
A lot of people make the mistake of ignoring the overall design of the knife handles when they are making their buying decision. It is very important to have a steady and strong grip on your knife when you are hunting.
Thus, you don't want to choose a hunting knife that is either hard or uncomfortable to hold. The last thing you want is having your knife slip out of your hand while you are hunting. Ideally, you want to attempt holding the knife in your hands prior to purchasing it. That way, you can ensure that the handle is suitable for your hands.