The saltwater environment brings with it different challenges, especially for the avid angler. Different elements demand that you adapt in order to be able to fish in saltwater. When it comes to fishing equipment, this is especially true.
The main difference between fishing rods that are designed for saltwater and those that are created for freshwater is the ability to withstand corrosion and rust. Because of this, the materials need to be different.
This makes the process of buying a saltwater fishing rod a bit more complex. It is easy to grab the wrong rod from your fishing rod holder that does not suit your purpose if you are not well equipped with the right information. Do not worry however, we have put together a comprehensive buying guide with all the tips you need to make the right decision.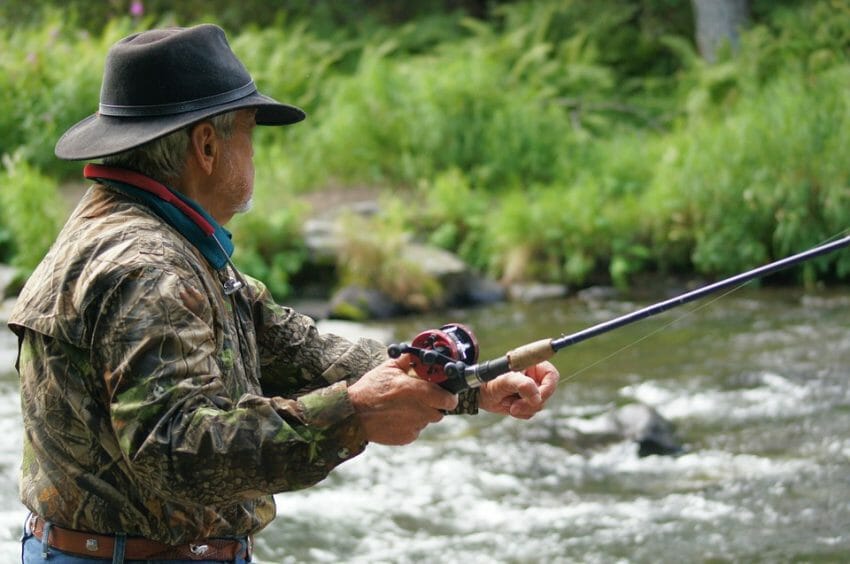 Features of a good saltwater fishing rod
There are few factors to consider when picking the right rod and reel. Let's look at these below.
Construction material
The material used is one of the most important things to consider. The right materials will keep the rod from rusting from the humidity and corrosion. This may come from the boat lubrication, fuel, and other chemicals. The best rods are made from either graphite, fiberglass. These come with their own set of advantages. If you are looking for even more enhanced equipment, one made from a combination of both will do a much better job.
One main benefit of these materials is that they offer lightweight and durability.
Fishing rod handles
Saltwater fishing involves a lot of rigorous activity. The fishing rod is constantly bashed against the side of the boat as well as chairs and fight belts. All this activity can easily damage any standard handle. This is why saltwater fishing rods need to be made from a strong material. If the handle is easily destroyed, the rod will be of no use.
Design
There are two main types of construction designs. These are collapsible rods that can be taken out into different parts and single-piece designs. Saltwater fishing rods need to maximize strength. One-piece construction is often the best bet.
Selecting the best reel
Saltwater is particularly damaging to the reel if it is made from the wrong material. For example, magnesium does not do well in saltwater environments. It will corrode easily and within no time you will have yourself a useless fishing rod.
To prevent this, ensure the best fishing rod is made up of either graphite or aluminum. These are highly durable while being rust and corrosion-resistant.
Types of reel
Fishing reels are of three main types. These include baitcasting, spinning, and spin casting reels. Each has its own set of advantages. Depending on your method of fishing, you can opt for any of the three.
Baitcasting reel. This is the best for pulling in heavy fish. They hold strong lines and are typically used for short-range casting.
Spinning reel. This is to be used with smaller fish. Spinning reels carry less heavy lines and do not require precision casting.
Spincasting reel. These are used for small fish. They have light lines and are ideal for shore fishing.
Summary
As we have seen saltwater fishing needs to be approached from an informed position. The best type of saltwater fishing rod depends on a variety of factors. One of them is the size of fish you plan to pull in. the bigger the fish the larger and stronger the rod. For example, if you are after merlin and tuna, a baitcasting rod is best suited. If on the other hand, you want to go snapper fishing in Melbourne or sardine, the spinning rod is advisable.
Experience level is also a major factor. Beginner anglers are advised to use spinning rods as they work towards gaining more experience. More experienced anglers work better with baitcasting rods.
The type of material will go a long way in determining the success of your saltwater fishing. The wrong rod will breakdown and you won't be able to pull in your catch. The right rod will be constructed with special materials that can withstand rusting and corrosion.