Since ponds are smaller than lake or river, catching species like bass, catfish, and trout isn't a hard thing. To optimize your fishing rewards, don't miss out these best baits for pond fishing.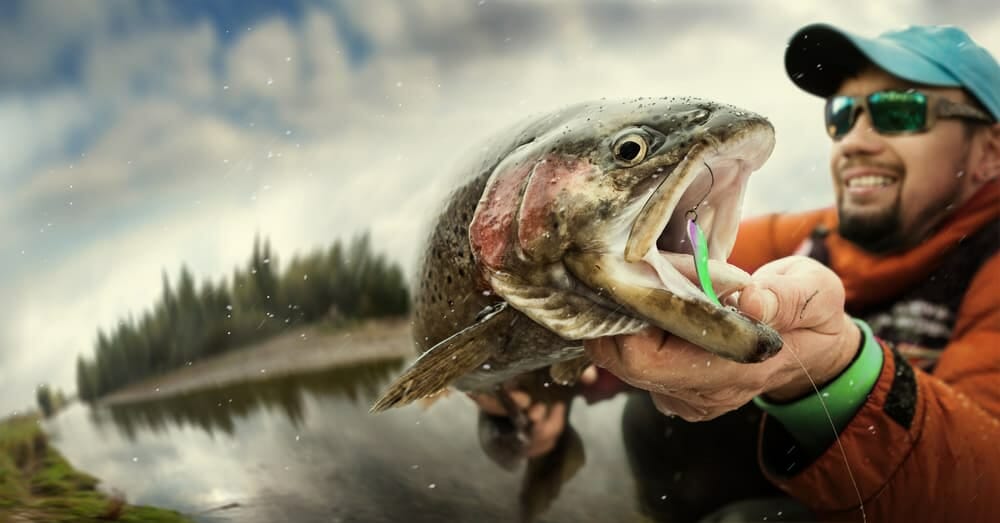 Which are the best baits for pond fishing?
It seems like an easy question but many anglers struggle to find the answer because this factor depends on your budget, fishing type, and which breeds you're going to fish. Fears not! In this article, I'll make it brief and easy to understand which ones to choose for your case.
Read on!
Type of Baits
There are two common types:
· Live baits: Take your time and efforts but cost from little to no money
· Artificial baits: Cost more but give more free time and effort on your hands.
Rest assured that both of them bring the same result of fishing rewards so just consider your preference and budget to pick the most suitable one.
Some common baits for every fish breed
Worms (Nightcrawlers)
One of the most basic baits out there and it's unbeatable on any breed. This type of bait is available in most places, especially ponds. They are well-loved because of affordability if you buy them or costlessness if you dig them up.
Worms aren't difficult to use either.
All you need to do is suspending from a float or bobber, then, add to a trout lure, drift in the current, or float off the bottom.
Frog baits, soft swimbaits, topwater plugs, and sinkos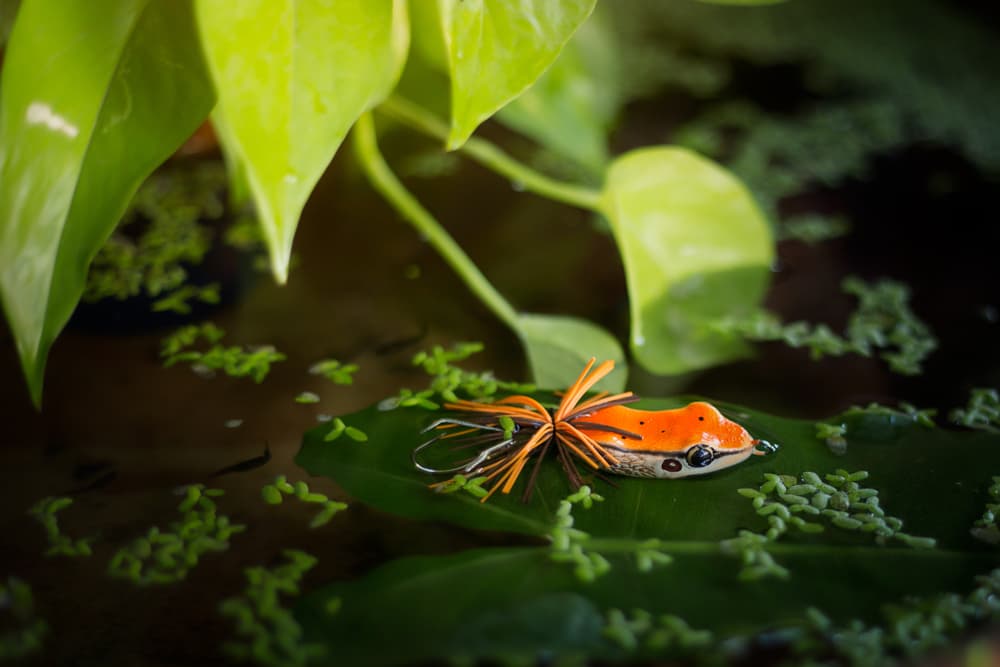 Depend on how large of the pond that you should consider choosing the suitable size of these artificial swimbaits. Color does matter so, it's critical to pick the ones that are closely mimic the color of structures around the pond or the water.
Fish on ponds don't like a vast array of food sources or baitfish. Instead, are smaller bugs, frogs, and fish. Either, never go for too flashy or extravagant baits since they might be very erratic in the movement to keep fish from baiting them.
Specific baits on different fish breeds to get more success
For bass
Crankbaits
Due to your quick stop at a local pond after work or your concern about weight, three common types of crankbaits for bass are:
Deep divers: Used for popularly in rivers and lakes where bass are feeding and hiding deeper, especially during the winter.
Lipless: Usually used around lily pads and cover or in shallow waters
Square bills: The same as lipless

Spinnerbaits
Spinnerbaits deliver a wide range of colors, sizes, weights, and blade types. Three common blade types are:
· Indiana
· Willow
· Colorado
They will give different sounds in the water to draw bass. Out of various colorways, the most favorite is black, white, chartreuse, or a mixture of three.
Jigs
This type is often used for bigger bass. Like other baits, it varies in colors, designs, weights, and heads, such as:
| | |
| --- | --- |
| Type of jigs | Best for |
| Flipping jigs | Rocky bottoms |
| Finesse jigs | grass |
| Football Jigs | muddy bottom |
| Swim Jigs | open water |
| Casting jigs | around lily pads |
The common colorways that are used by most anglers are PB & J, black and blue, green pumpkin, chartreuse, bluegill, and white.
The only thing you need to keep in mind when throwing a jig is to choose a matching-colored trailer to prevent spooking the fish.

Others
· Wacky Worms
· Dingers
· Senkos
· Trick Worms
For catfish
Catfish prefer live baits more and here are some best-of-a-bunch options:
Bluegill cut bait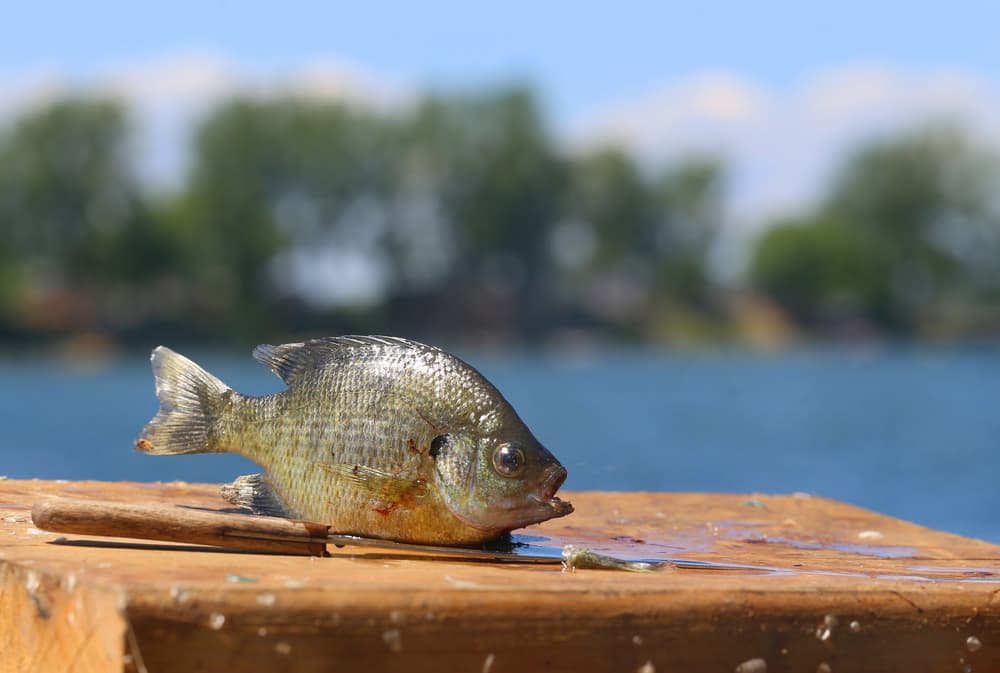 You should consider the size of catfish that you want to fish to decide how big of the bluegill cuts. The larger the catfish, the bigger the bait.
Since you never know which size of fish you're going to catch, prepare different sizes of baits for the best results.
Pro tips:
· Use a medium to small sizes of a hook with a bobber and worm on your fishing line to catch fresh bluegill more efficiently.
· Keep them alive for a better result in catching catfish by utilizing a cage or simple fish string
Liver, Weiner, & Cheese
If your target is on small-sized fish, chicken liver, Weiner, and cheese are the best go-to. They are all affordable as well as take less time and effort to keep fresh, at least compared to the bluegill cutbaits.
For trout
Corn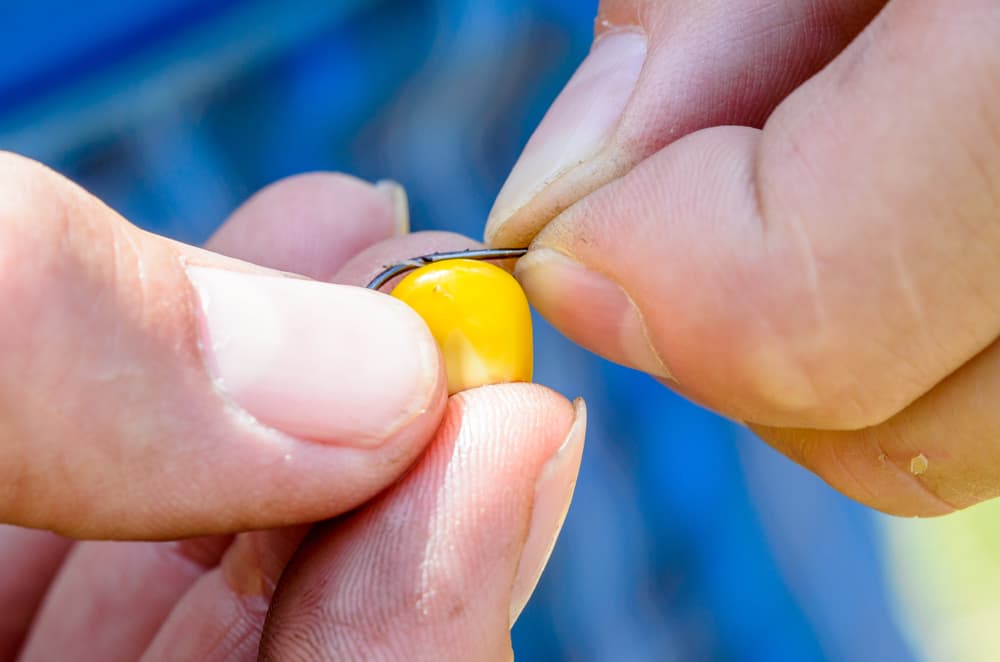 Yes, you can use canned corn to use as cut baits trout. I highly recommend this kind for tight-budget anglers, especially beginners.
They are too cheaper than other baits and moreover, trout love them a lot because in the fish food served to trout, cornmeal is a vital ingredient. I myself like to use corn since their stiff kernels stay better on the hook than other soft trout baits.
Honey worm
For small-sized fish, the honey worm is something that they can't resist since the smell of this bait mimics perfectly insect larvae.
Salmon eggs
Though trout love this kind of bait like crazy, I still rank it as No.3 because of the expensive cost. That's also the reason I only save this special bait to allure fish on special occasions.
Because of their small size and to save as much costly salmon eggs as possible, using smaller hooks (size 10-14) is highly recommended. Each time, taking 2-3 eggs is enough.

Powerbait
For those lazy days, using artificial baits seems not a bad idea.
Powerbait is my suggestion if you have no idea of which brand to choose. Their baits are not only durable and soft but also effective in attract fish thanks to the reinvented designs.
A typical example is Mice Tails. It's a combination of worm and single egg pattern to bring a unique shape that trout really like. It's measured 3" with a wide range of color. The price is also budget-friendly so, let try!
Conclusion
Some last tips for beginners. If you intend to try live baits, learn how to keep them alive during the fishing trip, like a water bucket. Conversely, for artificial ones, it might require you to equip a tackle box to organize them orderly.
Hopefully, this article was helpful to you. Thanks for reading!