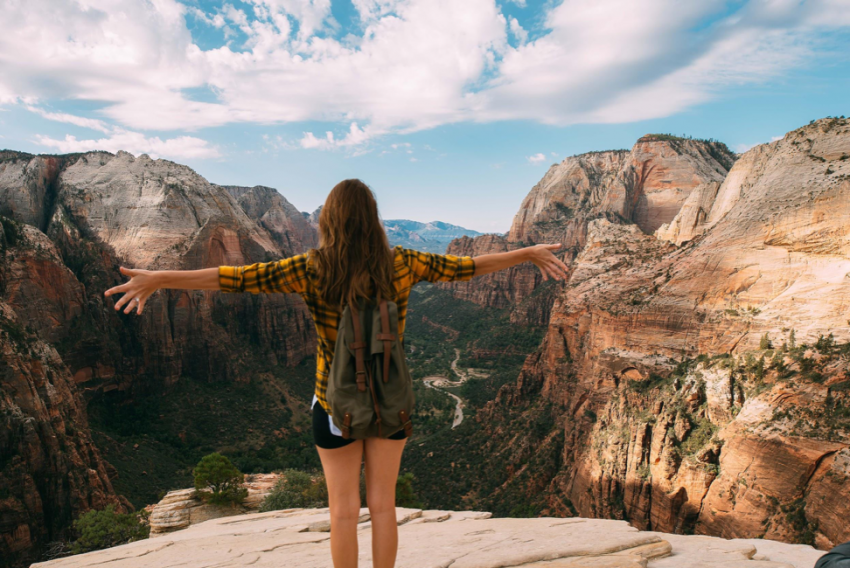 Hiking looks like a daunting task, but it's pretty straightforward and done freestyle. You can do an urban hike, go backcountry, explore a nature trail, and acclimate to Mt. Everest.
Your first-ever hike can take hours, days, or an overnight camp — the length of time, together with level of experience and location, matters in the planning and packing.
Setting aside the specifics of the trip, clothing plays a huge part in your comfort, safety, and protection when you hike. What to wear for today's outdoor adventure?
1. Shoes
As expert hikers would say, the lack of "proper hiking shoes" shouldn't stop you. Your old athletic shoes or sneakers can work. Take them out for a walk to test the comfort level. If you have the means to buy a new pair, break them in beforehand to avoid blisters and painful feet. Should you want to get serious with the activity, you can invest in trail runners and hiking boots. Your goal is to find shoes that provide support, good grip on the bottom, and comfort.
2. Socks
They go with your shoes and changing weather conditions. The ultimate goal of socks is to keep your feet dry and far from sweaty. Long socks also serve as protection from insects, tall grasses, and seeds. Bring an extra pair, or wear two pairs if you are prone to develop blisters.
3. Pants/shorts
Pants ward off the cold in your legs, while shorts make you feel fresh despite the heat. Experienced hikers usually wear pants that can transform into shorts, as needed. Whether you go pants or shorts, wear something comfortable, particularly in the waist area. It should allow you to move, bend, sit, or climb. This article of clothing must also be lightweight and breathable.
4. Shirt
You can put on an old shirt that you are not afraid to get stained, or one that is designed for outdoor activities. If you are shopping for a hiking shirt, consider the material. Merino wool often comes up as a good base layer material because it keeps you dry and warm. Clothing from this material is an investment. For sun protection, wear long sleeves that you can roll when it gets too hot.
5. Jacket A windbreaker or rain jacket protects you from the elements on the trail. There may be no signs of rain, but it can get cold. A casual weatherproof coat can offer basic functionality and breathability for your outdoor trip. It's a plus if this jacket is easy to pack. As your hikes lead you to extreme weather conditions, you will need something more durable and packed with all sorts of functionalities
6. Hat
No matter how short the trek is, that's still hours of outside exposure. Always bring a hat to protect your head from the sun, rain, snow, and even dust. Those with wide brims effectively block the sun's UV rays. However, traditional hats are tricky and incompatible for those who have to tie their hair. This headband with ponytail opening serves the purpose of securing hair from tangles and keeping sweat away from the face. There also beanies that cover ears and compatible with ponytails.
More Tips for Beginners
Unless you are living out of your backpack, pack light. Sunscreen protection, sunglasses, a small first aid kit, water, healthy snacks (fruits and nuts), and a paperback or journal cover the essentials. Get a Luxe Performance Sport Cord as it will keep your glasses in place everywhere you go.
More pointers:
Tell someone your whereabouts, especially if you are on your own.
Drink lots of water so never go out with a bottle of water.
Bring a phone for emergencies and directions. A whistle will also help.
Prepare for the weather.
It looks like you are all dressed and set for your first-ever hiking trip. Exercise and enjoy the scenery!