Many people think of camping as a primitive activity where you leave all technology behind. With so many innovative products always at our fingertips, it's hard for some campers to imagine being in the wild without any tech.
However, that doesn't necessarily have to be the case for a camping trip. These 8 gadgets will help you have a sophisticated camping experience where you may even forget you're in the wilderness. Take camping to a whole new level with these fantastic devices.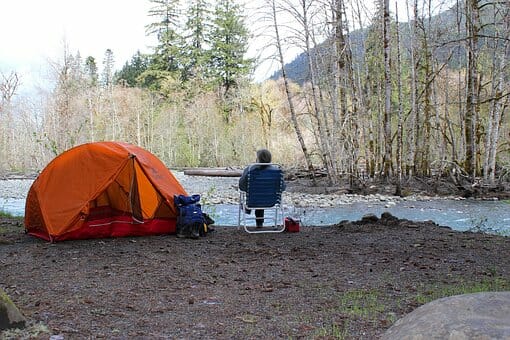 Glow in the Dark Rope
Even though it is one of the more straightforward items on the list, this rope is incredibly helpful, nonetheless. Now you won't have to worry about tripping over your tent and sending it crashing down in the middle of the night because you can't see the support ropes.
Camp Stove Power Charger
If you are the kind of person that can't go more than a few minutes without checking your phone, then you might want to invest in this product. This camp stove takes the thermal energy of fire and transforms it into electricity to power any small device you would like to charge. Even if you want to use your camping trip to disconnect from the outside world, you must keep safety in mind. This device can keep you safe by ensuring you always have a functioning lifeline to the outside world through your cell phone.
Wearable Sleeping Bags
You will never have to worry about feeling cold every again with these cozy sleeping bags that match your body's shape. This fun product will allow you to take the covers with you. Now you won't have to worry about being cold anymore no matter where you go.
Portable Fire Pit
If you are camping in an area that is prone to forest fires, this product will help keep your environment safe by producing a contained fire. Additional benefits for the environment include design elements that allow this fire pit to consume less wood and produce less smoke. Even when you aren't camping, this fire pit can serve as a functional centerpiece for any backyard gathering space.
Dehydrated Camping Food
Packing dehydrated camping food is a handy way to get delicious meals in the middle of nowhere without lugging around tons of ingredients and equipment. Easy to prepare, this product will allow you to keep the focus on fun camping activities rather than cooking food.
Portable Washing Machine
While camping, it is almost a given that pretty much everything is going to get dirty. However, this product gives you a way to wash your clothes in the wilderness so that you can have a more comfortable experience. With no electricity or equipment required, this product is perfect for camping.
Bunk Bed Hammock
Make sleeping under the stars more fun than ever with a bunk bed hammock. Bond with your family or friends in this ingenious hammock that will allow you both to comfortable, warm, and dry while still being close to each other.
Firestarter Keychain
The ability to start a fire is imperative to one's survival in the wilderness. With this device, you will always be ready to get a fire going where you are to stay warm and drive. Who would have thought that a keychain might have the ability to save your life while you are in the middle of nowhere?
Camping doesn't need to be difficult and old-fashioned anymore — spice up your adventure with one of the clever products above. The possibilities are truly endless. Don't limit yourself to only the traditional camping tools when there is so much more out there of which you can take advantage. You can even check out Outdoor TV Antennas for Rural Areas. Happy trails!