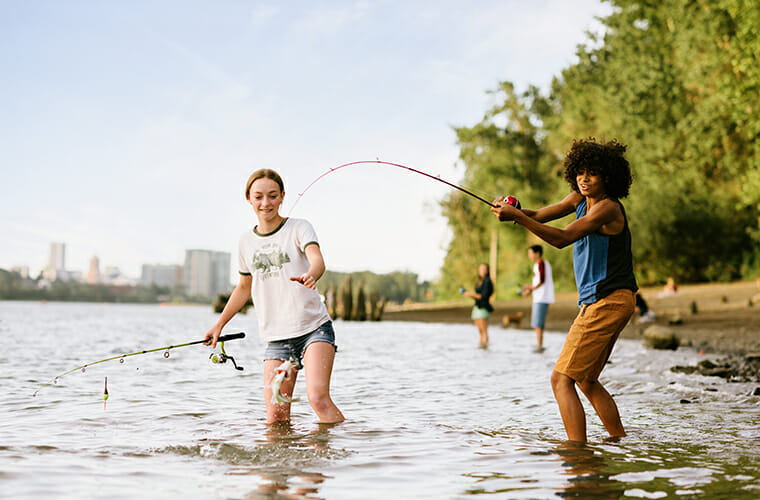 Fishing is rapidly gaining popularity. But 9 out of 10 girls are skeptical of this type of relaxation. Typical reasons that make women refuse the offer to go fishing: "It is a tedious task," "It is uncomfortable," "I don't know how to fish, and, therefore, I will not catch anything." So, how to make your woman love your hobby?
1.    Explain to her that this is a great hobby
Fishing is not just a hobby, catching fish from a reservoir. This is an extensive concept that includes outdoor recreation, love of the beautiful things – to the river, sea, red sunsets and foggy dawn, literature study, maintenance of fishing equipment, and more. This is a very extensive, rather costly but very pleasant and useful hobby.
2.    Don't insist
Don't force the woman to take a fishing rod in her hands, stab worms, and so on just because you go fishing and this is a prerequisite of the process. With the right approach, the woman herself has to take the fishing rod out of your hands and want to catch fish as you do. Better show her genuine emotions and excitement. By the way, you can hint her that fishing equipment is one of the best Christmas gifts for you.
3.    Catch fish often
You have to show your girlfriend fishing when the fish bite! This is important on the first 2-3 of your joint trips to the pond. The woman has to be interested and understand what is happening and what the point in this is. You can explain to her for a long time that the fish are not biting now, the weather is not right, or it will be fun the next time, but it is doesn't work out. Just bring the girlfriend to the river and show how fun it is when you catch the fish one after another and not just sit on the shore for half an hour and wait for a bite.
4.    Get ready for fishing together
Well, if you can attract the attention of the woman at this stage, show how you assemble the equipment, tie the hooks, and inflate the boat. By the way, it attracts women's attention, albeit not for long. Dig up worms together, show by your example that they are not as scary as it might seem at first glance. Knead the bait together. Actually, all this can interest the woman with the right and sensitive approach. It is necessary that she not only stays nearby and beholds what is happening (she will be bored) but participates in the process. Ask her to bring something, hold, etc. Maybe after a good trip, it will be time to look for Fishing Wedding Rings.
5.    Show her that it is delicious
What could be tastier than a fresh fish? Trout, carp, perch, pike, and even catfish – you should try such fish not frozen. And where can you find it if you yourself don't catch it? Modern fishing recreation centers provide a real opportunity to return home with kilograms of fish.
6.    Show her that fishing is comfortable
Ponds are often equipped with walkways, gazebos for rest, toilets. But if there are no such conditions, buy a folding chair for a fisherman, a shelter against sun, or rain, and other useful things. Also, modern equipment includes the clothes that don't get wet and are not blown, and the good waterproof shoes make you feel comfortable on the pond in any weather. Explain all this to your woman. Fishing is quite comfortable nowadays.
7.    Show her that fishing is beneficial
The joys that fishing generously presents to us give tangible health benefits, as well as improves the quality of life. The one who loves fishing has no reason to yearn for vacation for six months. Rest by the water perfectly "cleanses" the soul. That is why men love this activity so much. You can go to the pond for one day from early spring to late autumn, and during this day, you can relax. Quiet water at the evening dawn gives a feeling of peace and endless happiness.