We all look forward to summer. But, once it comes around, many of us find ourselves hiding away indoors.
That's because we don't always know what to do. We're sick of our normal activities and not sure what to try next.
Luckily, there's plenty of exciting activities you haven't tried yet.
Here are 7 ideas to get you outside this summer.
1. Archery
Lots of people have never tried archery, but it's one of the best sports out there!
While it is super fun, it is more physically exerting than you might think. See if you're up for the challenge by visiting a local shooting range.
2. Pickleball
Ever heard of pickleball? This sport is very popular among older crowds, but people of all ages enjoy it too!
Pickleball is the perfect combination of tennis, ping pong, and badminton. The game is simple enough while still offering a fun, competitive experience. It lets you play with friends, get a good workout in, and become a part of the fast-growing pickleball community.
Best of all, the sport is easy to start playing. All you need is a specialized paddle, a whiffle ball, and a pickleball court. If you don't have a pickleball court near you, invest in a portable pickleball net! This will allow you to easily play on a tennis court or patch of concrete.   
3. Kayaking
Kayaking is a great way to explore new parts of your area. Of course, this activity is perfect if you live near the ocean. If you don't, see if there are any picturesque lakes or rivers nearby.
Some people might shy away from kayaking because of the cost. Fortunately, one-day rentals are pretty affordable. And, if you are going to start kayaking regularly, the cost of a boat or two will be well worth it.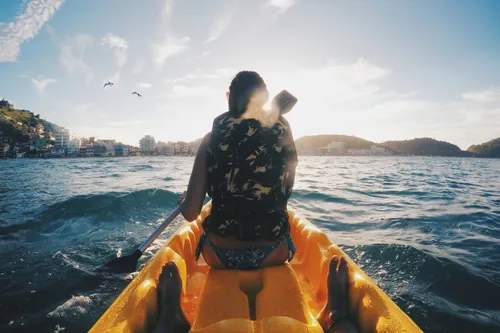 4. Ultimate Frisbee
If you've never played Ultimate Frisbee, you're missing out!
This fun sport combines elements of American football and soccer. It involves passing a disc down the field with non-stop movement. The game is exciting and competitive while emphasizing values of good sportsmanship.
Players typically play on grass, but beach Ultimate is also very popular. See if there's a league near you so you can try it out for yourself.
5. Disc Golf
While we're on the topic of Frisbee, we should mention disc golf!
Disc golf is just as it sounds – players get together on a course that's similar to a golf course. Instead of hitting balls into holes, players throw discs into baskets.
Grab some friends and discs and give it a try! See if there are any disc golf courses near you. If not, you can create your own. Choose a landscape with lots of obstacles and designate targets to hit as the "holes."
6. Rock Climbing
Most people have been indoor rock climbing at least once. Why not attempt the real-deal?
Do some research to find natural rock formations near you. Beginners should rock climb with the help of a guide to ensure you have the right equipment and don't take on a formation beyond your skill level.
7. Mud Runs
5Ks and marathons are fun for a lot of people. Aside from offering plenty of exercises, they are very rewarding.
If you think these races are too "boring," try a mud run. Mud runs take running to a whole new level.
Courses vary in length and have lots of muddy water. Runners have to power through rough terrains and military-style obstacles. Mud runs are super fun and offer an adventurous twist to traditional races.
Bottom Line
With these 7 ideas, you have no excuse to spend your summer indoors. Get outside and try one (or all) of these activities!