When the weather outside turns cold, we are all tempted to head indoors. However, cold weather should not keep you from being active. While there are some activities that you might not want to do during the winter months, you can take on new sports and hobbies to keep moving. What exactly should you try to take on this winter season?
The following are popular outdoor sports which primarily takes place during the winter months:
Hockey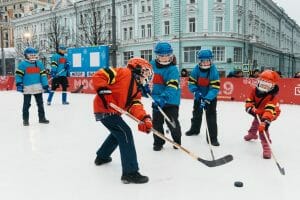 Although you may be a novice on skates, there is no time like the present to get started. Kids and adults can take on this fun activity with a team or just for fun. The best way to build up some skills is to take some ice skating lessons. Most local rinks offer lessons for people of all skill levels. After you've learned some of these basics, it's time to head out onto the ice.
Keep in mind that hockey can be a contact sport. If you're worried about injuries, you may want to play for a league that limits roughness. It is especially important to have the right equipment for protection. If your kids want to join any teams, get them the gear they need to play without getting hurt.
Cross-Country Skiing
This is also an activity that can be enjoyed with a group or by yourself. The next time you have a few free hours, you can head out to a local area or just ski on your own property. Always stay safe when driving in snowy weather, especially as there are many winter driving myths which can be hazardous.
This low impact activity burns a lot of calories and is less stressful than downhill skiing. It is fairly easy to get started also. You can check out locations in your area to get started if you have never done this before. Many areas have local clubs or groups so consider joining a group.  Checking sites like hankinmtn.com can also help you gather knowledge about these sports.
Curling
In recent years, curling has become a more popular sport in the Olympics. It is actually a fairly strenuous sport when you do it competitively, so you may want to try your hand at this activity. Many areas have a curling club that you can join and learn the specifics of the game. You may be surprised to find out that this sport involves both cardio and strengthening activities.
This is also a sport that you can take on at home if you have cold enough temperatures and a pond or other body of water that freezes over during the winter. Do some reading before you head out and you can make your own curling area with just a small amount of work.
As a summary, if you are looking for sports to take on the winter months, then you may want to try one or more of these outdoor sports. If you are new to the great outdoors in the winter, join a local club or consider taking lessons. After a short period of time, you will likely be able to set off on your own.