When you plan a camping trip, your sleeping place will be the last thing on your mind. You will surely prioritize the food that you need to take, the space where you can build your tent, the medicines or first aid kit that you need to bring to keep you and your fellow campers safe and healthy. Am I right?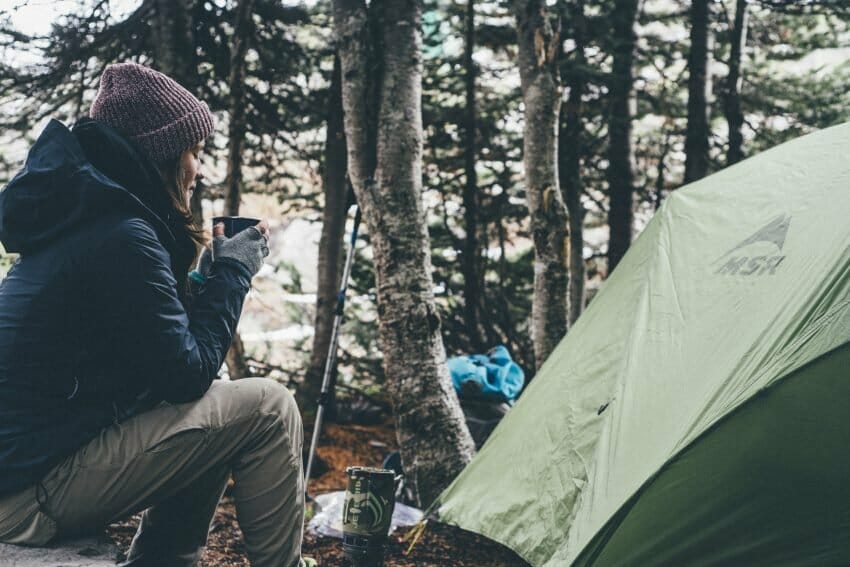 Well, that is what most campers would do. After all, camping is not about being comfortable—it is about roughing it out in the woods. But what if you can do both? What if you can spend the entire day hunting and fishing and enjoy the night lying down on the most comfortable mattress ever?
Yes, you can enjoy these perks—with the help of a great camping air mattress. So why you should use an air mattress for your camping trip? And how to choose the best camping air mattress for your needs? Read this article to find out!
Why Use an Air Mattress for Camping
First things first, why should you use an air mattress for your camping trips? Well, there are a lot of reasons why.
First off, air mattresses, as well as you know, are inflated with air and offers a taller sleeping surface as compared to regular sleeping pads. This delivers a bigger barrier between your body and the rough ground.
The second point is the thickness of the mattress provides a higher level of comfort and offers better back support to people dealing with arthritis and other back problems. Because of its air filling material, the mattress adheres to the natural curves of the body, relieving certain points in your body of unwanted pressure.
Third, this option delivers adjustable firmness. All that you have to do is inflate or deflate the mattress according to your preference.
Fourth, it delivers a warm sleeping surface for campers. You can find air mattresses with flocked surfaces that can regulate temperature and prevents you from sleeping cold at night.
Last but not the least, the air mattress is more portable and offers convenience to the camper. Standard camping mattresses are a bit bulky and need to be rolled up. Because of this, it is harder to bring and carry to the camping site. This will not be a problem with air mattress since the mattress can be deflated and folded into a smaller size that is a lot easier to carry.
There are a lot of ways on how campers can sleep comfortably and using an air mattress is one of those.
How to Choose Air Mattress for Camping and Hunting
An air mattress is an excellent option for your camping trips. But please bear in mind that choosing a camping air mattress is not as easy as you think. For this purpose, you need more than the best air mattress for everyday use. You need to choose an air mattress that is specifically designed to survive the hardships of camping and the rough terrain in the woods.
You can do that by keeping in mind the factors that are mentioned below:
•   Types
Air camping mattresses come in four types. To determine which type is suitable for you, here are some of the information that you need to know:
–   Standard
In general, standard air mattresses are light and small, so it will be easy for you to transport them. These are also the most affordable type of air mattresses in the market.
However, this type of air mattress comes with two downsides. First off, you need a pump to inflate it, so you need to add the price of the pump to your cost. Second, these often have poor insulation properties and may not be able to keep you feeling warm at night.
–   Self-inflating Air Mattresses
From its name, you already have figured out that the use of this mattress no longer requires a pump. Aside from the fact that you no longer need a pump, you also do not have to confine yourself in places that provide power sources to the pump so you can use this even in the wild.
While most of the self-inflating mattresses are also not adequately insulated, you can find some that have foam layers which can deliver minimum insulation properties.
–   All-in-one Bed
While you browse through your selection, you will find air mattresses with sleeping bags attached to them. This gives you the protection and insulation of sleeping bags while allowing you to enjoy the comfort and cushioning of an air mattress. In short, the best of both worlds.
–   Double-height Air Mattresses
If you are on the heavy side or you want to enjoy as much elevation as possible, this is the air mattress type for you.
However, this mattress is considered to be bulky and heavy because of the added thickness. Besides, you would need to use a battery-operated or an electrical pump to inflate this.
•   Support
Even if you are out in the woods, you should not neglect your body, most especially your back. This is why you should make sure that you choose a camping air mattress that offers enough support for you.
Well, there are camping air mattresses that are designed for this but please do know that they come at a high price. If you want a supportive mattress, go for a model that has an internal net of properly distributed air coils.
•   Comfort
This is a subjective factor. Some people like their mattresses to be firm while others like it to be soft and plush. To determine the comfort level of an air mattress, it is recommended that you test the mattress out.
•   Deflation and Inflation Process
We already know that a lot of campers go for air mattresses simply because of how convenient it can be to set it up so you should take the deflation and inflation process into consideration.
All air mattresses are inflated using a pump. Air mattress pumps come in different types, and these are as follows:
–   Manual Pump
These are used to inflate the air mattress manually. Of course, this type of pump would require more effort and will take more time to inflate the pump, but this is the most affordable option of all. More than that, this is an excellent option for camping sites that do not have an electrical source.
If you are trying to save money, you can go for this pump type. It is recommended that you invest in one that can be operated with your feet. Avoid the one that has to be operated by your hands as it may cause back strain.
–   Battery-powered Pump
This type of pump runs on battery and does not require any manual effort from the user. It may not be as affordable as manual pumps but also not as expensive as the electrical pump.
If you plan to go with this option, it would be best that you bring an extra set of batteries with you.
–   Electric Pump
This pump type comes with a lot of buttons, switches, and controls that can allow you to program and adjust the entire process according to your needs. While this might be the most convenient option of all, it requires an electrical source which may not be available in most camping sites. Moreover, it is also an expensive option.
–   Self-inflating Pump
You can operate this pump by twisting its outer nozzle or flipping its switch. A great thing about this option is that it allows the customization of the inflating process. Once the mattress has reached your preferred thickness and comfort level, you can turn it off.
To know how to inflate an air bed without a pump, watch this video: https://www.youtube.com/watch?v=nRZ8lxQpPJc
•   Thickness
One of the most notable benefits of an air mattress over a standard sleeping pad is its thickness. Well, the thickness of an air mattress falls into two types. These are as follows:
–   Standard Elevation
Models that fall under this category have a thickness of less than 10 inches. Mattresses of these mattresses are lighter and more portable and recommended for backpackers.
–   Raised Elevation
Mattresses under this category have a thickness of more than 10 inches. While these offer more comfort and support, it is a lot heavier and bigger and takes more time to inflate.
•   Weight capacity
The weight that a mattress can hold may vary. It is crucial for the user to consider the weight capacity because choosing the bed with the wrong weight capacity can cause sagging earlier than expected.
Most mattresses can hold up to 300 pounds while air mattress for heavy people can accommodate up to about 600 pounds.
•   Portability
To make things convenient for the user, most mattresses today have a collapsible design. Some models can be folded or collapsed into a size that can easily fit the trunk of a truck or at the backseat of the car.
Also, some mattresses even come with packing equipment like carrying sacks and cords.
•   Size and Weight
Mattresses come in three standard sizes—twin, full, and queen. Despite the existence of these sizes, it will be rare for you to find a mattress that is available in all sizes. Oftentimes, only one to two of these air mattresses sizes is available. It is vital that you ensure that the mattress you will buy can fit inside your tent.
Besides, weight also matters. After all, the camper will be carrying this mattress to and from the camping site. If you need to go on a long trek to reach your site, you would need a mattress that is lighter. If you plan on camping at the back of your car or in a nearby campsite, you can go for a heavier mattress.
•   Cover
Keep in mind that it is the cover that will come in direct contact with your body, so you choose it carefully. Most air camping mattresses feature textured or flocked covers. These are designed to maintain warmth but more than that, it adds resistance to the sleeping surface and can prevent slips.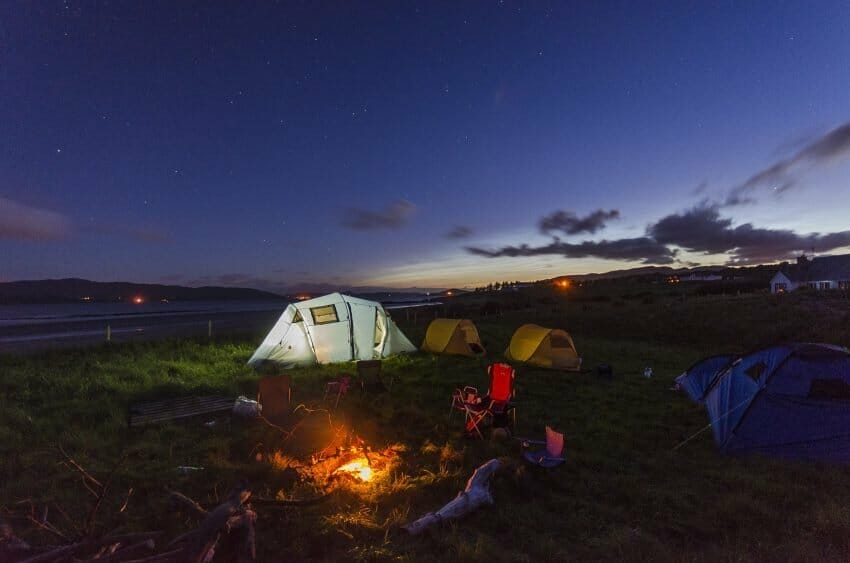 How to Take Good Care of Your Air Mattress While Camping
The price of air camping mattresses is no joke, and that is why it is considered to be a significant investment of most campers. With that in mind, I highly recommend that you take care of your investment by properly maintaining and cleaning your camping air mattress. These are the ways on how you can do that:
•   Inflate the mattress properly.
If you do not want the full thickness of the mattress, you can avoid fully inflating it. But you should never ever over-inflate the bed because it may cause leaks, tears and the seams to fall apart.
Also, it is recommended that you inflate the air mattress at least once before you use it. When you do this, you will not only be able to break in the air chambers; you can also determine any leakage problems before your trip.
•   Store your mattress the right way.
The storage area of the mattress can have a significant impact on its durability. You should be careful in choosing the right storage space for your mattress. It should not be humid or excessively cold or hot. Moreover, you should make sure that there are no sharp or pointy objects near it.
Before you store your air mattress, you should also make sure that it is fully deflated to maintain the integrity of its air chamber.
In Summary
There is no denying the fact that air mattress is one of the best accessories that you can have for your camping trips, regardless if you will be staying in the wild for just a few days or for weeks. Because of this, it does not come as a surprise that you will come across a wide array of options and be faced with all types of features so you should be prepared to make the right decision.
I hope that this buying guide has equipped you with the information that you need to choose the best air camping mattress for your needs and find the one that can make your camping trip much more comfortable and relaxing.
Article Written By; Kelly Joyner