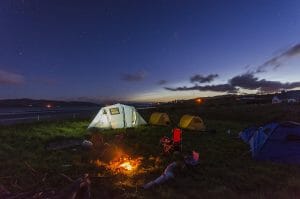 The warm days and nights of the summer can be long. You need to find an adventurous thing to do if you are looking to have an easy season. One of the options worth considering is going camping. The experience of spending time close to a campfire and preparing your own food is just magical.
However, according to Sportsmans Guide, the secret to enjoying a great summer camping adventure is having the right upgrades. They make all the difference. Actually, some of the upgrades are a must-have and you can get them from Sportsmans Guide. You even have the chance to join the membership club and be able to buy them cheaply. Additionally, you can use Sportsmans Guide coupon codes to make some purchases.
Here are their top 5 recommendations:
Deluxe Teepee Tent ( $179.99 for Members, $199.99 for Non-Members)
It's very important that you have a source of shelter when going on a summer camp. You need a reliable structure that will protect you from the storm and strong wind. This is what you get from the Deluxe Teepee Tent. This tent is easy to set up and can accommodate 8-10 people. So, it's a great option for group campers. Additionally, the tent is compactly-built and features a middle steel pole that's meant to give the entire structure support.
Dream Camp Pillow ($2.70 for Members, $3.09 for Non-Members)
It can be really uncomfortable to sleep under a tent in the middle of nowhere even if you have a sleeping mat. Your head can get tired and your shoulders can get stiff. That's why you need a Dream Camp Pillow to support you. The pillow is built for your comfort and comes with amazing properties. It's sizeable enough for individual use. The fill is polyester and the top is pure cotton. All these features are meant to promote maximum comfort.
Oversized Club Camp Chair ($76.49 for Members, $84.99 for Non-Members)
During the day, you may want to step out of the tent and relax somewhere to enjoy the beauty of nature. You can use this chair. It's comfortably built and come in amazing colors like navy, red, and brown. It's also foldable for easy carrying and storage. It comes with a storage bag that you can use to keep a few of your camping essentials.
Browning Portable Water Bottle with Dish ($13.49 for Members, $14.99 for Non-Members)
It can get really hot during a summer camp. So, you need a way to hydrate. This may mean carrying your own drinking water. This water bottle is made from aluminum, thus lightweight. The material also guarantees long-term usage. The bonus is that it comes with a detachable dish at the bottom. You can use this dish to feed your pet in case you take it to the summer camp.
Thermacell Trailblazer Repeller Lantern ($40.49 for Members, $44.49 for Non-Members)
Lastly, what's a summer camp without a way to control mosquito bites and a source of light? The Thermacell Trailblazer is a dual-purpose LED light and mosquito repellent that makes camping more comfortable. It can also repel bugs. It is water-resistant and can be placed outside if you prefer. It has a sturdy clip for simple hanging on the tent.
A camping adventure is supposed to be fun, but it can also be a nightmare if you don't have the right gears. That's why Sportsman Guide recommends the above upgrades for starters. They are the basics that you need to have an enjoyable summer camp. You can get them on their site at reasonable prices.