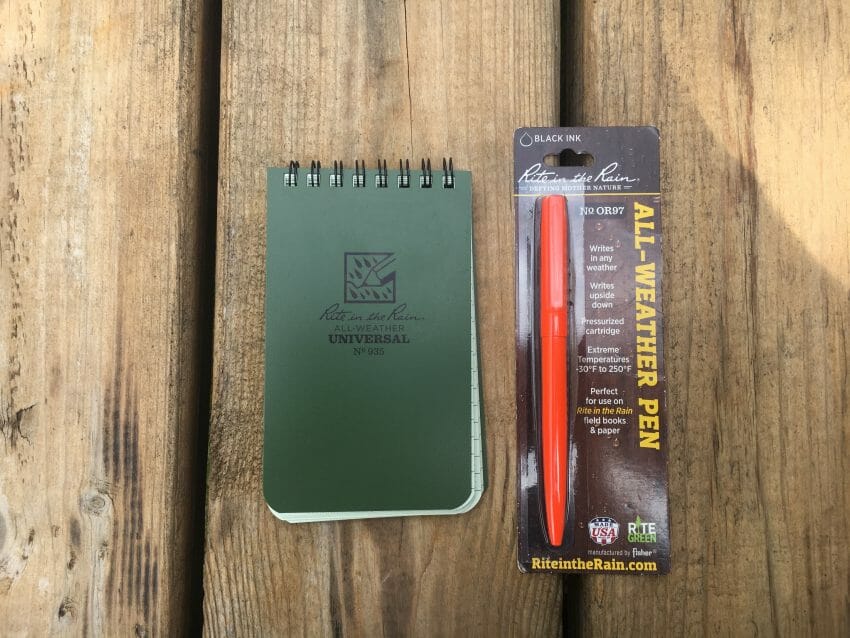 As their name implies, you can use their products in inclement weather. Can you really? Simply put, yes their products work as they advertise. To understand their process that makes it work you will have to visit their website using the link provided.
The paper on the Rite in the Rain notebook feels a little thicker than normal paper but writes just the same as regular paper.
You can use regular pencils and pens on the notebooks as well as their all weather pens. Obviously you do not want to use water-based products such as gel pens, fountain pens, most highlighters and water based paint.
There is not a big difference in pencils used. What does help though is the thickness of pencil lead. Rite in the Rain offers a pencil with a lead thickness of 1.1mm. Usually pencil leads are .5mm and .7mm thick. I found that in wet conditions the thicker the lead, the better. The big difference is when using pens when the paper is wet. When the paper is wet a regular pen will skip or smudge. The all weather pen will not do either.
The rain just beads up on the Rite in the Rain notebook paper.
What's really cool is you can wipe the raindrops off and it will not smudge the paper or writing. When you bring the notebook in out of the rain the water will dry off and the paper will not fall apart. This will ensure that whatever notes you take out in bad weather will still be there. Another cool thing I like about the Rite in the Rain notebooks is that they have a ruler on the back cover and measurement conversions and map scales on the inside cover.
The Rite in the Rain notebook and all weather pen makes a great addition for those who hunt, fish, camp, hike or enjoy boating.
They also come in handy for those who work outside year-round. I highly recommend the Rite in the Rain products for those of you who spend a lot of time in the great outdoors. Hint, hint, they also sell targets! You will not be disappointed.
Thank you for your time in reading my review and as always, if you enjoyed the read, please share the review with your friends on social media.
Have a great day and enjoy the outdoors,
Tim Collins.