Nothing can beat the fun that comes along with paddling. The feeling of getting out on water on those hot summer days is just out of this world.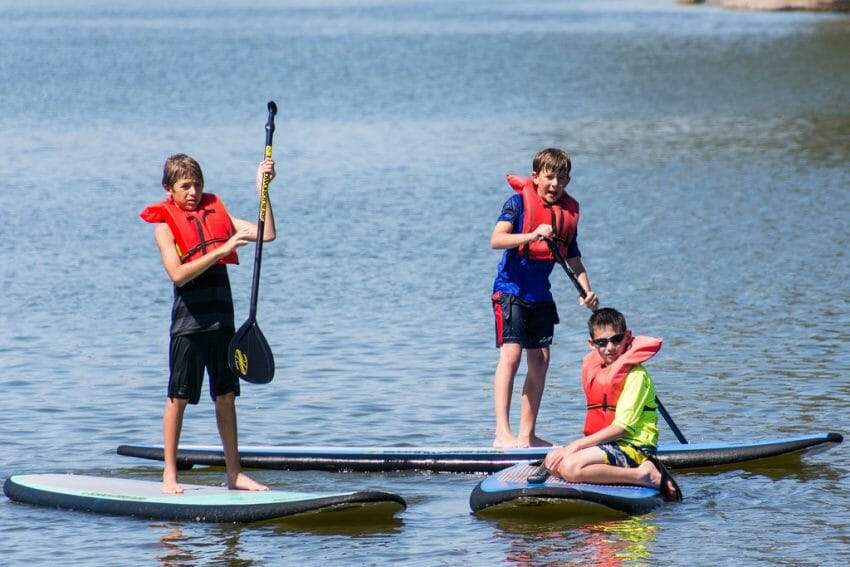 But the fun can be ruined when you do not know how to transport your paddle board for that adventure.
Whether you are traveling on a bus, plane or walking for long distance to paddle, you will need to be vigilant when carrying your paddle around. Knowing how to carry your paddle does not only help move around safely but also avoid any frustrations. This article will address different methods you can use to navigate through this.
Before we look at some of the different ways you can use to carry your paddleboard when on a trip, let's have a look at how you should prepare yourpaddleboardd before taking the adventure.
Paddle-boards are of different types and no matter the brand you intend to carry; you will require a paddleboard bag. This will allow you to transport your paddle with ease and prevent it from damage. However, you have to be cautious about the type of bag you choose.
Just like the boards, these bags are also of different types. You ought to be extra vigilant if only you care about your paddle board; otherwise, you will end up damaging it. Imagine a situation where you go out for an adventure only to unpack your paddle and realize it is damaged, simply because of your poor quality bag? I'm sure no one would like to experience that.
When purchasing your paddle bag, you should ensure it is of good quality, well-padded and of the right size. A small bag will expose your paddle or even limit you from packing other items like your paddling gear.
How to pack your paddle board
Packing your paddle board in a quality bag is not enough. You need to protect some of the delicate parts. Use a protective cloth or material and wrap the tail, nose, and rails.
Before you can even start your journey, ensure you have safety kits like helmets, life jackets. Some water bodies may not allow you to enjoy the adventure if you do not have what it takes. Do some research to get to know what you are required to have?
Without much ado, let us have a look at some of the ways you can use to transport your paddle-board.
Different ways you can travel with your paddleboard
Traveling by foot
If you live near the water body, you can walk to your destination by taking advantage of a backpack. However, if you have to walk by foot, ensure weight limits are considered. Carrying a heavy paddle can drain you especially when the distance to be covered is longer. Inflatable paddle boards are a great pick because they are lightweight.
Traveling by bicycle
This transport mode is ideal if you live near the water body. If you have a bike, you can take advantage of a bicycle trailer and pack your paddle board on the trailer. make sure the poaddke and board are packed properly to avoid costly damages. Before commencing your journey, you should ensure your board fits perfectly well at the back, and the trailer is securely attached to the bike.
Using a bike trailer to transport your paddle board is more convenient than using a backpack and does not require you to deflate it.
Traveling on a vehicle
Transporting your paddle is a little bit easy if you have a van. All you need is pack it nicely and slip it inside. However, just in case you do not have one, no need to worry because you can still navigate through. If your vehicle has a rooftop, you can utilize the space to pack your paddle board. To achieve this, you will require ratchet straps for securing your board.
Before tying your board, ensure you have placed foam or a padded material on the back and front side. This is to prevent any close contact between the board and your car rooftop. Once you are through, you can tie your board twice, on the front and back. One advantage of packing your board on your vehicle rooftop is that it eliminates any need to re-inflate when you arrive on your destination.
However, you will be forced to make stops to confirm if the board is in place. This method can be tiresome especially when traveling for long distances. The stress of having to stop over can be tedious and time-consuming.
If you have enough space of your vehicle you may consider deflating your board to avoid the need for stopping often. Ensure you have double-checked your board pressure before deflating it in order to make sure the same pressure is maintained when re-inflating it.
Traveling on a plane
In case you are planning to travel with your board on a plane, there are certain things you should consider if you do not want to encounter challenges. One of the things to factor is the airline luggage size and weight limits.
Airline luggage policies differ hence the need for more research. You can take advantage of the airline website and get to know their terms. If you have used the airline before, do not just assume. Double check to ensure the policy applies. Also, remember to calculate the airline baggage fees and plan early to avoid any disappointments.
When planning to take a flight, ensure you have properly secured your paddle board delicate parts. You may consider disassembling the hose, pump and gear and pack them separately using a thick padding or foam. Wrap your paddle with a soft cloth and pack it inside your suitcase away from other disabled pieces.
Final thoughts
With the above tips, you should be able to travel with your paddle board anywhere in the world. For more convenience, you may consider investing on inflatable boards as they are more versatile and easy to travel with. Check out some of the best inflatable paddle boards here.
Do not let your paddling fun to be ruined. Choose your travel mode wisely and ensure that all precautions have been taken when packing your board.
Article Written By; Kevin Fleeman