One of the best ways to enjoy the outdoors is with an outdoor kitchen. This is something that can be really simple like just bringing in an outdoor grill, but why do that when you can entertain all the way outside? Go big and entertain the masses with a great outdoor kitchen.
So, what constitutes an outdoor kitchen? Well, it is really simple – the outdoor kitchen features everything a regular kitchen has, but with some adjustments. For example, Outdoor built-in grills replace a stove, appliances function in a different way and they are a bit modified, and you will need cabinet and counter space as well.
Here are the eight different steps to take to set up your outdoor kitchen.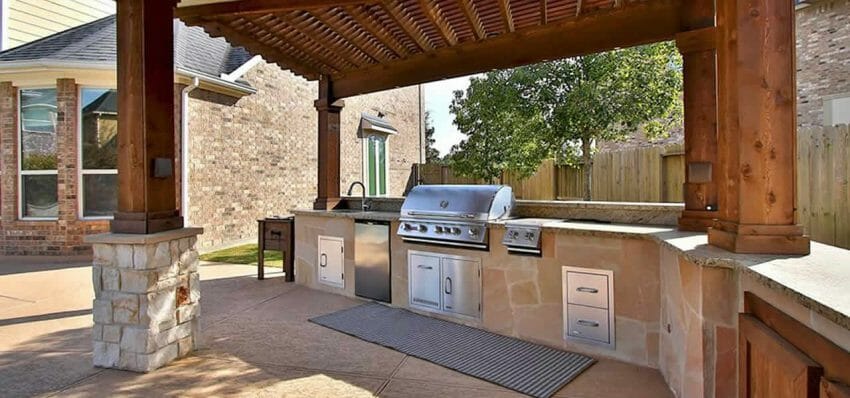 Make Sure You Have an Insulated Jacket for the Combustible Materials
Imagine doing a ton of work to build the outdoor kitchen of your dreams only to see the kitchen become the sight of a fire. The problem is that people who suffer this fate do so because they did not install the insulated grill jacket. The thing is, admittedly, the insulated grill jacket is not the sexiest part about the outdoor kitchen experience. That said, without an insulated grill jacket, it is just a matter of time before your outdoor kitchen goes up in flames. These grill jackets have several functions. The first is when you wrap them around your grill, you are keeping the outdoor structure cooler, which means that burning, warping, and other deformities won't happen. These grill jackets also provide protection for underneath the grill so that there are weathering and corrosion.
The reality is that you are getting an outdoor kitchen so that you can enjoy the freedom that comes from making food outdoors without the limits of an indoor kitchen. The insulated grill jacket is the key to keeping this outdoor space productive and safe.
Make Sure Outdoor Kitchen is Properly Ventilated with the Right Panels
There are a lot of things to consider when you are using gas appliances, and it is very important that you make sure your island vents properly so that you do not get any gas building up in the island. The problem with this is really simple to understand – if gas is building up in your island, it could lead to a deadly explosion. The problem people face is that they think they could save a few bucks by doing it themselves or by hiring a friend that is a handyman. Don't make this mistake. A licensed contractor knows the regulations and will make sure that you are safe.
As for proper ventilation, placement is a critical component to your safety. Install vent panels about every four to six feet. This will keep the gases from building up because the excess fumes will have an easier time escaping the island. The other thing is that panel placement and installation varies according to the different types of gas that you are using. For example, with natural gas, make to install vent panels as highly as possible, because natural gas tends to rise. With propane, make sure to install the panels as low as possible because propane is a heavy gas that will sink.
Understand that Enclose Storage Compartments May Not Work Under Sinks and Grills
Storage is something that every outdoor cook craves and having the right number of doors and drawers in your outdoor kitchen is something that is really important. The reality is that when you are building your countertops, you should understand that you can have storage everywhere, and that is why you need to account for plumbing and other pipes for gas if you are going to have an outdoor kitchen. This is the type of planning that is necessary to make sure that you are going ahead and getting the most out of your outdoor kitchen in terms of efficiency.
There are plenty of things to think about when you are planning your outdoor kitchen. Give your doors and drawers a lot of attention because depending on where they do, you can make sure to get the right amount of access without sacrificing much in the way of storage.
Get Outdoor Rates Appliances
Having outdoor appliances is great but if you want the appliances to last, get appliances rated for the great outdoors. Indoor use models can't handle the different things that come with the outdoors, including the elements. These appliances eventually become discolored and fail, and that voids the warranty. It is always best to get the appliances that are outdoor rated.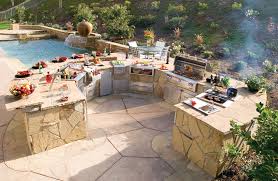 Keep Cooling and Cooking Appliances Separated
When you are designing your outdoor kitchen one of the things you must do is separate your cooking and your cooling appliances. One of the major issues is that you don't want these two elements coming into contact because the heat from the cooking element can mess up the cooling elements in the refrigerator, and vice versa. However, there are some things to do if space is a problem. One of the things to do is make sure that the appliances have one foot of space between them. Then you want to make sure there is a barrier between the two appliances, so they ventilate correctly. A good place to put your outdoor refrigerator is underneath one of the counters. By having it installed underneath, it won't bother you while you're working around your kitchen.
Don't Make Your Cut-Outs Before You Have the Exact Measurements of Appliances
When it comes to the outdoor kitchen, you need to do a few things, the first is to make sure that you have enough counter space. It is always better to have too much than too little. When you make the cutouts in your island, remember the adage to measure twice and cut once. Have the products on hand before cutting, this way you can get exact measurements, it will greatly help everything fit in better. Remember, you can only cut it once, and if you cut too much then that will be a problem going forward, so make sure you make good measurements so that you can enjoy your outdoor kitchen.