When looking at any product, the first things we all look for is quality, looks, comfort and how easy it is to use.  Usually most of us are satisfied if what we are looking for fits in a couple of those categories.  My review of the Grand Trunk Parachute Nylon Double Hammock place it in all of those categories.  A lightweight, high quality, VERY durable, looks great and instantly comfortable hammock that fits in any backpack for your trip to the outdoors.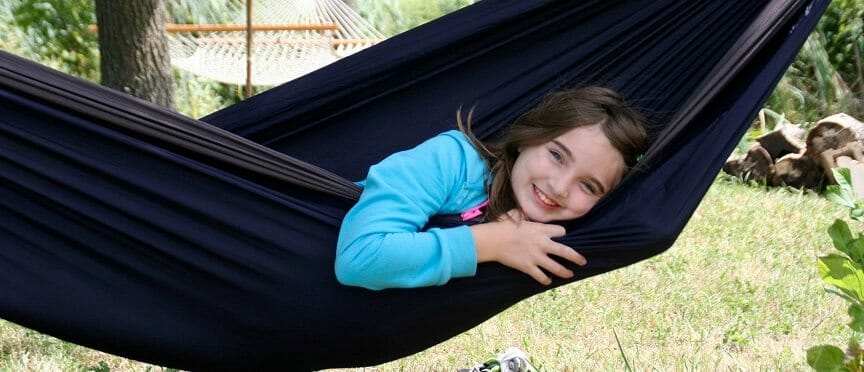 Specs and Features
– Price: $64.99
– Weight: 20oz
– Dimensions: 10.5″ x 6.5″
– Material: Parachute Nylon
– Weight Capacity: 400lbs
– Nautical grade carabiners
– Triple stitched seams
– Suspension System included (5mm rope)
– Attached stuff sack (can be used as a pocket for gear storage)
Using the Hammock
The hammock came packaged up in it attached storage sack that is sewn directly to the hammock which can also be used for keeping items while you're relaxing.  Hanging up the Grand Trunk Parachute Nylon Double Hammock couldn't have been easier with the supplied system included.  The 5mm rope is enough for most applications.  You may need to improvise if you are limited on trees to hang this hammock.  But that is still better than most.  Everything you need to hang the Grand Trunk Parachute Nylon Double Hammock and enjoy is included in the pack.  Once your done, it comes down easy and goes right back into the attached bag for next time.
Quality and Durability
The one thing that I enjoy testing the most is Quality and Durability.  This is the part where I get to recruit my kids and really put the test to any product.  Testing the Grand Trunk Parachute Nylon Double Hammock was especially fun.  I knew with the parachute material and triple stitching it was going to be tough, but I was surprised just how tough.  With any hammock, kids are going to have fun.  They are going to jump on it, swing as high as they can and if given the opportunity, put as many other kids in it with them.  We did all of that over a month time frame.  To add to the wear and tear testing with the kids and their friends, we left the hammock hanging outside the whole timeframe.  It made it thru the rain and sun with no problems and is still good as the day I got it.
In Review
Our time review the Grand Trunk Parachute Nylon Double Hammock has been a pleasure for the whole family and knowing the quality of this hammock, it will continue to be part of our outdoor activities for a long time to come.  Now its my turn to use it.

You can find more from Grand Trunk at
Facebook https://www.facebook.com/grandtrunkgoods
Twitter https://twitter.com/grandtrunkgoods
Website http://www.grandtrunkgoods.com/
---
Disclosure of Material Connection: I received Grand Trunk Parachute Nylon Double Hammock  for free from Grand Trunk  as coordinated by Deep Creek PR an Outdoor Industry Public Relations Company in consideration for review publication.