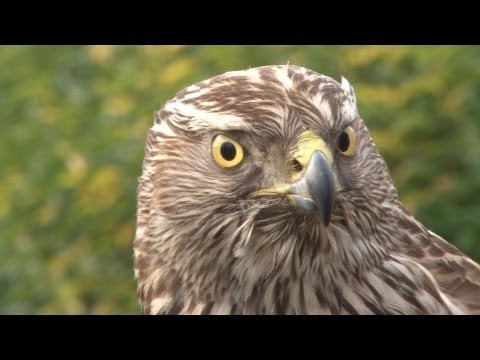 Roy Lupton's goshawk
A young female goshawk, a few 100 years ago she was the equivalent of Ocado, the perfect predator to put food on the table. Hares, rabbits, pheasants. She was a vital part of any kitchen's utensil drawer. So today we are off to God's larder to see what she can get her talons into and what we can get our teeth into.
Today we are with Roy Lupton, Goshawk expert. He wants to see if he can get a few bits and bobs for the pot. A rabbit and a couple of pheasant would be lovely. Jordan, Roy's apprentice is also with us today. He will be flying his young red tail. He started coming down to see Roy and Roy got him doing all the mucky jobs, clearing out and doing all the normal thing apprentices have to do for a year. At the beginning of this season he started off with his red tail. "For a ginger he is definitely not doing too bad. He has worked out quite well. He is turning into quite a good little falconer. I say little, he is actually huge. Have you seen the size of the boy's hands" teases Roy. Jordan responds by presenting his hand to the camera with a beaming smile on his face.
"Girls beware" warns Roy. His issues with red heads and men with big hands appear to be coming to the fore there.
Many people start their falconry career with a Harris hawk, but Roy commends a red tail as a starter bird for Jordan. It will be a bit more work but there are some long term benefits. It is a shame that apprentices don't start off their falconry careers with birds such as red tails. They are a little bit more difficult and take a little more understanding than the Harris hawk. For an entry level bird you can learn and gauge a lot more from red tails. A lot of people will buy a new bird and then move straight on after a year or two to something else. Whereas red tails are all fantastic birds and they will all last you a good 15 to 20 years of a hunting career.
Jordan and his red tail have first dibs to try and catch a rabbit. A lot of people do not bother flying red tails off the fist at pheasants and feathered game. However Roy thinks she has done very, very well so far on feathered game. If a pheasant gives them slip, Jordan has a chance to catch one.

Goshawk expert, Roy Lupton
Another essential part of this shopping trip is ferrets. Roy has brought along a few bright albino flavours. With young birds it is best to have these amazing feisty little creatures looking as unlike a rabbit as possible. The first set of burrows is tricky to manage as there has been some hedge trimming so we move on.
We have more success at the next spot. But the fences are a real problem in this part of the world and the rabbits are neatly evading the wire which could easily kill or end the career of a bird.
Unfortunately flying in this area of the country there is constant hounding by fences, they are something you have to be very mindful of and very aware of because your hawk can get badly damaged on them. Roy was hoping the rabbits were going to come out or go across to the opposite hedgerow. Instead they are just weaving their way down the hedge. The troop lifts up the ferrets and moves on.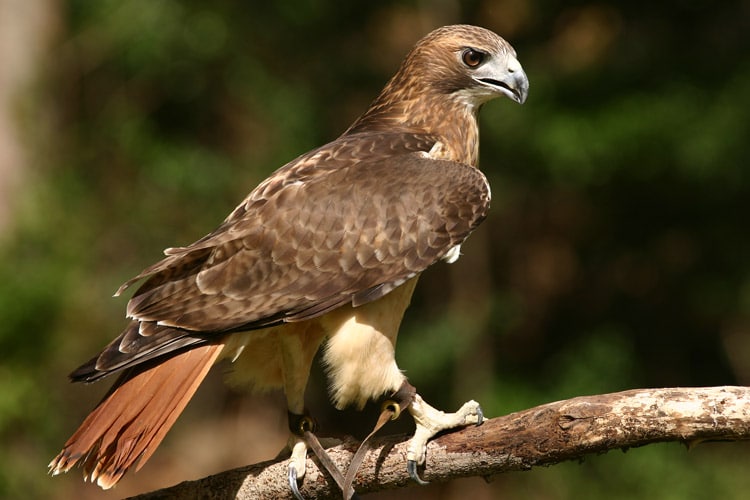 Red tails are a starter bird for a keen apprentice
Moving across the fields, Roy's other shopping assistant Atos, the pointer, looks like he's on point. It could be our first pheasant flight so we all get into position.
The hen bird flies along the ditch and manages to find cover, and the goshawk runs out of room. Roy feels it is a case of a fast pheasant and a young gos with a confidence issue. On we go and Jordan's red tail gets more of a dive than a flight as it drops onto a rabbit. Incredibly the bird is strong enough to keep hold of a bouncing bunny with a very sharp toe.
That is one of the advantages with a red tail, they are so robust and so strong. She has hold of that rabbit with one leg, yet manages to stop it from running down the hole.
Well at least we will not starve, there is a rabbit in the bag. Moments later there is another opportunity for the gos, she is a gnat's earlobe away from making contact, before a second dive. A nice effort but still not off the board yet!
Atos once more, smells a nervous pheasant and we're away again. However this super fast gos needs a bit more practise on the flying feasts as the pheasant edges an escape.
The last chance falls to Jordan. There are many holes to cover, from where a fleet-of-foot rabbit will dart, running for its life. It is hard, especially when there is a small tree in the way. The rabbit gets a good head start and the red tail has too much ground to make, but it's still a spectacle.


Roy surveys the open area, a good spot for chasing down rabbits
Not quite the day Roy was looking for. Unfortunately only a couple of pheasants kicked up. Roy has got some invites towards the end of the season on a few shoots, hopefully a little more success for the then. It is the first time his hawk has been flown on pheasants and the first time she has seen pheasants. Roy thinks she flew one reasonably well, but accepts that the first time you show them, they are not overly confident. At this time of the season the pheasants are much fitter.
"I am just getting my excuses in quick here," points out Roy.
A very short one with Jordan's bird was the luck of the bolts. There were couple of fantastic bolts that went right across the open field but it was a combination of being in the wrong spot and not seeing them. The moral of the story for Jordan's red tail is, must try harder.
To watch our film, visit www.youtube.com/watch?v=44oVq84KxZg