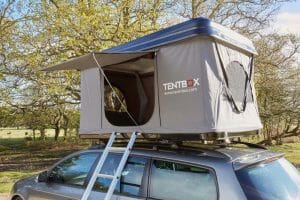 Most cars have a futuristic shelter which is well designed and installed in them for the sake of camping. It allows you to have a look at the wonders and mysteries of the world while comfortably relaxing on your car. The moonlit tent is far useful than regular tents since it has more features such as a panoramic top window, blackout windows, air conditioning and it is well secured above the ground.
The idea behind roof tent
The roof tent idea developed from the frustrations and complications associated with setting up a regular tent. This was when developers proposed a simple way to go camping without having to carry the voluminous tent. Therefore, this tent was developed with many features that make it easy to use and enjoyable. It, therefore, means that when you carry this tent with you, you have everything that you require for camping.
How does the tent work?
This tent is made in such a way that it can comfortably accommodate two adults. It is made up of the composite materials which make it be light. This makes it to easily extend up electrically when the vehicle is stopped to give a serene space and view to those who are inside.
It has two hard shells, the lower and the upper shells. The lower shell is composed of a built-in battery which acts as a power source to the tent. The battery is rechargeable, and it can be charged when the engine is on and driving or at home. The tent has an air conditioning device equipped to it which helps to cool the air during a hot day. It also has a heating system which warms the air when the night is too cold. It has a store where one can store his/her personal belongings in the lower shell.
The upper roof is made up of the smart glass which allows you to tint the window by flicking a switch alone. Smart glass makes sure that it will prevent light from entering the tent in the morning and therefore you will not have to wake up very early as a result of it.
The tent sides are made up of big fabric screens which allow adequate air circulation. You only have to flip down the zipping covers to close the fabric screens. There are tent models which are made to in a way that one can slide sunroof of the existing car and therefore one can move to different places without having to exit the car.
Importance of having this tent
These tents simplify the camping as people are no longer required to book for hotels or places to set regular tent while camping. It also saves time while setting because the whole process takes seconds. It also has heating and cooling system and can be packed anywhere which makes it be a preference to most campers.
On that note, it is clear that these tents make work easier and therefore they are next destination to the most people who will go camping in future. It is advisable to make use of this tent if you want a cheap, easy and enjoyable moment with your partner during camping.