Article Written By; Annette Doerr,
http://www.theshootingchannel.com/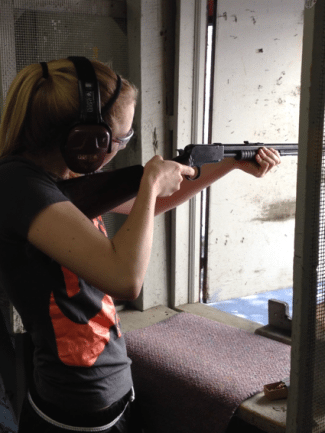 I am a huge advocate for getting kids outdoors. Too many pre-teens and teenagers find themselves inside on a beautiful day, on either the Internet or playing video games. One of the reasons that I joined my sportsmans club initially was they listed a "Junior Rifle Club" on their website. Great, I thought, a way to get my girls involved and possibly into competitive shooting! I was so disappointed to find out after I joined, that the junior rifle club had not been running for several years. No leaders, no kids, no club.
Fast-forward several monthly meetings and multiple inquiries later and I was able to find a member who had his NRA Rifle Instructor Certification and was willing to help! Between the two of us, we were able to assemble a small team of knowledgeable and qualified volunteers. As it turned out, a few other members of my club had children they wanted involved. We opened up membership to kids between the ages of 12 and 18, who had an NRA Junior Membership. Parents did not need to be members of our club; we were ready, willing and able to teach anyone interested (with parental permission of course), and to top things off, we made it free!
Our first meeting at the range had six juniors, ranging in age from 12 to 17. Three boys, three girls! Our volunteers came prepared with handouts, charts, etc., and we focused on firearm handling and safety. We went over common terms, parts of the rifle, and explained what we would be working on during our time together in the future. We made sure to bring extra eyes and ears, especially for the first club meeting to make sure everyone there (including parents) were well-protected.
NRA Safety Rules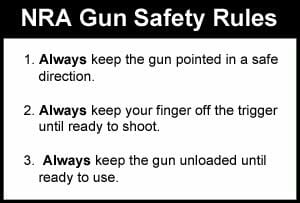 We discussed in depth the NRA rules for safe firearm handling.
We discussed knowing your target and what was beyond it, and how once the bullet left the barrel, there was no "undo button." I am sure the kids wished we would have skipped the less exciting safety lectures and move on with the actual live-fire shooting portion of the club, but we felt it important to stress the rules and firearm safety. So important in fact, that we taught the parents that weren't club members as well. (Our parents ranged from active law enforcement officers, to civilians who never touched a firearm before, let alone fired one). It was important that these adults learned right along with their children for a better understanding and education about firearms (and to give them some peace of mind that we did indeed know what we were doing!)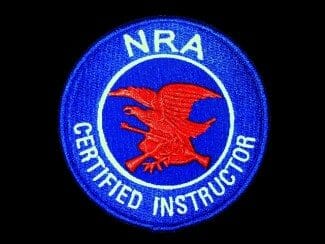 We are fortunate to have put together a great group of volunteers; some who have shot competitively and some while on the job as law enforcement officers. Each volunteer brings something different to the table when it comes to teaching a great group of dedicated young adults how to improve their shooting skills. Having different points of view from our instructors made it more interesting for the kids, as they shared their real-life experiences.
Each meeting starts with a safety briefly and a questions and answers segment. We review what we learned the week prior in order to catch anyone up who may have missed a meeting. Our juniors have come a long way in a short period.
Unfortunately, we have had to miss most of this year due to the ammunition shortage. As I mentioned in a previous article, we recently received a generous ammunition donation from one of our club members. We are working on a schedule trying to salvage what is left of this fall, hoping to get the kids on the range the maximum number of times before it gets too cold. My oldest daughter is now a freshman in college. My youngest daughter is now a high school senior and busy researching and applying to colleges where perhaps she can continue to shoot and compete.
Teaching our youth to handle firearms should be a must for preparing for adulthood.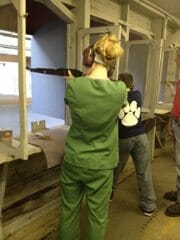 My goal for when we start back up, is to take the juniors that we worked with last year and have them start earning rankings in the NRA Winchester Marksmanship Program. The program is self-guided and we can work with each of them individually to obtain the various rankings. We can also order them rockers and pins as they progress through the levels.
Sometimes when you see a need that is not being met, you have to roll up your sleeves, jump on in and figure out a way to make it happen. The junior club had been stagnant for years, yet seemingly we had several members interested in getting their kids involved. The simple fact is nobody had taken the reins in order to get things rolling again. Without the initiative of my husband and myself our very successful junior rifle club would not be in existence today. Sadly, the kids would be missing out on a wonderful opportunity.
Our children are our future, and if we don't make the time to get them involved in the things that matter, no one will. It is our responsibility as parents to help them gain the skills necessary to be well-rounded adults. As a mother of two daughters, I was thrilled when both of them (separately) changed their social media profile pictures to them shooting. There are plenty of ways today's kids can be led astray and get themselves into trouble. Giving them a great foundation and education in shooting sports is one way to combat that. And let's face it, seeing the profile picture of a beautiful girl, shooting a rifle just might send the message to her would-be suitor that she is very willing and able to defend herself should she need to..it also helps when they know her mamma packs heat too!
To see the original article, go to http://www.theshootingchannel.com/getting-youth-internet-range/